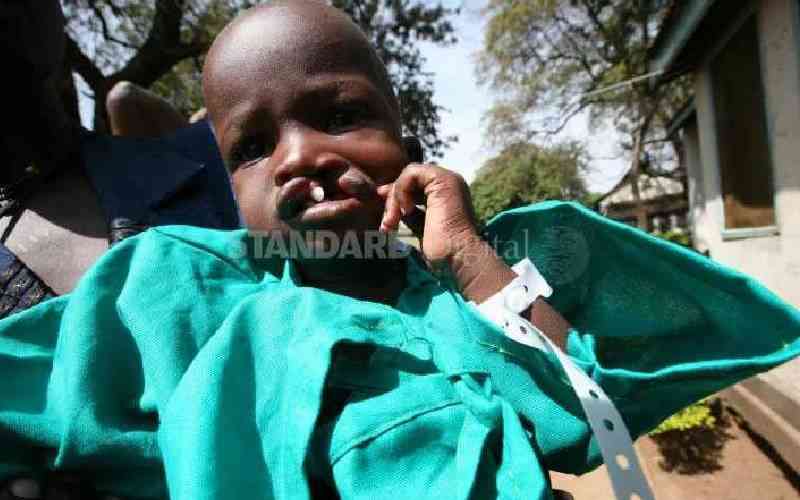 About five million people are living with untreated clefts globally, a new study has revealed.
In a report released today by World Smile Day in partnership with Smile Train and the Institute for Health Metrics and Evaluation (IHME), this number includes babies who haven't (and often won't) receive treatment and teenagers and adults who have lived for years without life-changing care.
The highest rates of people living with untreated clefts are in North Africa and the Middle East, as well as Central and South Asia.
According to the report, one in three children in Africa and South Asia is malnourished and that number is exponentially higher for children with clefts, a new study has revealed.
The highest malnutrition rates tied to clefts traversed Somalia to Mali to including the Democratic Republic of the Congo, Ethiopia, Nigeria, Sudan, and South Sudan.
Globally, nearly half of cleft-related malnutrition deaths in children under 5 could be prevented with access to adequate nutrition and surgical treatment.
The report provides a first-of-its-kind look at the devastating impact of orofacial clefts between the year 2,000 and 2020.
Clefts occur when certain body parts and structures do not fuse together during fetal development and can make eating and feeding and especially breastfeeding challenging.
The presence of a cleft reduces an infant's ability to create suction, making it difficult or impossible for them to get milk, and even swallow, leading to the excessive air intake, choking, and gagging, as well as an increased risk of infection from the presence of milk in their lungs and airways.
Exhausted by their struggle to feed or feeling deceptively full due to a large amount of air in their stomachs, babies with clefts often stop nursing before they have adequate calories and nutrients.
Without adequate nutrition in these critical months and years of development, babies and children with clefts often become underweight and at risk of growth failure and death.
The report indicates that 46,000 children under 5 with clefts died from malnutrition-related causes between the years 2000 and 2020.
Of these 46,000 deaths, 21,000 died from malnutrition solely related to their cleft - that is to say, if they had been born without a cleft, 21,000 children would never have experienced malnutrition at all.
The other 25,000 died from malnutrition related to factors outside of their cleft.
Most of these children could have lived full lives but instead, they died before they reached the age of five.
"If children with clefts did not experience higher rates of undernutrition, as many as 21,000 deaths worldwide could be averted with intervention," reads part of the report.
Collectively, the report indicates that's 1.8 million years of life not lived, 1.8 million birthdays not celebrated and 1.8 million years in which these children could have changed the world.
According to the report, by 2020, there were nearly 200,000 underweight children with clefts under age 5 - and this number hasn't changed greatly since 2000.
This is particularly concerning given that many common childhood infectious diseases have decreased in the same time period, while birth differences like cleft lip and palate are becoming more prominent.
Nicholas Kassebaum, MD and an associate professor at the IHME and a lead author of the study said by combining the forces, more than 1.5 million surgical cleft procedures have been recorded.
"We hope that this is a call to action for global health leaders to take further action against undernutrition in children with clefts," he said.
His sentiments were echoed by Smile Train Vice-President and Regional Director for Africa Nkeiruka Obi who said malnutrition across Africa is a crisis that has been exacerbated by global calamities such as the Covid-19 pandemic, climate change, conflict and over-dependence on rain-fed agriculture.
She said without the right nutrition, children with clefts are not optimised for surgery and thus risk death before their first birthday and growing up with untreated cleft creates an obstacle to their social and economic well-being.
"It is our hope that this valuable data will help inform government policy and prioritise interventions through a more strategic and multi-disciplinary approach towards maternal and child health," said Obi.
Related Topics