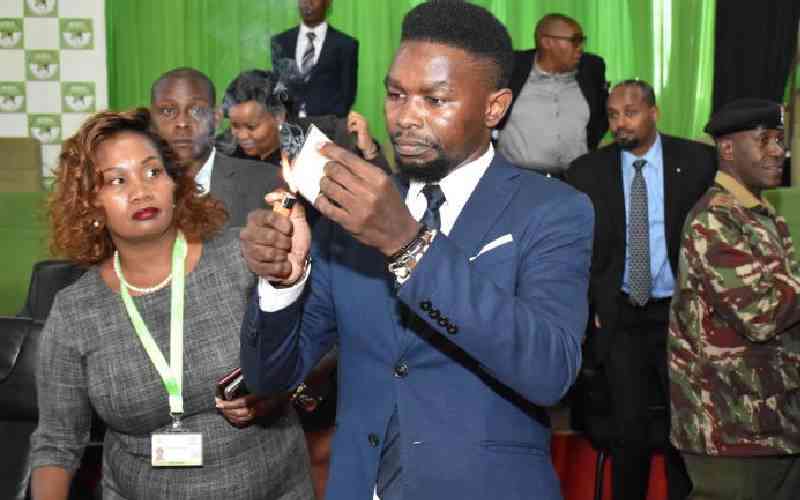 Kenya goes into elections tomorrow Tuesday, August 9, 2022. There will be winners and losers, wailing and gnashing of teeth once results begin to trickle in, separating the wheat from the chaff.
And losing elections can have negative impacts on a candidate's health when not aggravating other underlying medical conditions. Think high blood pressure, diabetes, depression and alcoholism.
Indeed, health experts warn that most politicians are currently experiencing delusion and election anxiety disorder.
Winning elections also have mental health implications: Some politicians shun their constituents only to resurface after five years when they meet their political waterloo at the ballot. However, alongside mental health-related conditions, Dr Geoffrey Wango, a Senior lecturer in Counselling Psychology at the University of Nairobi, observes that most politicians suffer from a narcissistic personality disorder - the belief that they are the only ones who can and should succeed.
But elections slap differently for losers.
Take Terry Jebiwot Sawe for instance. She left her permanent and pensionable job with the supplies department at the Moi Teaching and Referral Hospital (MTRH) for business before political ambitions came calling.
Sawe, 37, eyed Kapsoya MCA's seat on a United Democratic Alliance (UDA) ticket.
The mother of two used her savings and donations from family and friends to print posters, fuel vehicles and boda bodas for campaigns. "Once in a while, friends and family could volunteer their vehicles and fuel, because I did not have money for campaigns. I learnt politics the hard way," recalls Sawe, who was devastated after losing in the nominations.
Sawe took a two-week break in her house, but told everyone she was in Nairobi. "When someone gets into a contest, they are optimistic, but when they lose, they become somehow stressed and disoriented. In my case, I sat in my house with my God, thinking of what to do next. I decided to embrace the results, and support the winner," narrates Sawe, also a member of the UDA presidential secretariat.
Though Sawe did not sink into depression, she sought advice from politicians who have lost elections to understand their drive.
Despite support from family, she lost some friends who were against her political ambitions.
As the country heads to the ballot, Dr Wango says politicians need to understand that even some candidates with huge following might lose.
"When a plane is about to land, it slows down. Politicians and voters need to slow down and realise elections will not necessarily go their way, and that will reduce their anxiety," says the expert, equating election to football, which has winners and losers. "We should be prepared when the inevitable happens," he says.
Dr Susan Gitau, a counseling psychologist and trauma expert, argues that politicians suffer from election stress disorder, which is characterised by fatigue, headaches, joint pains, intestinal problems, neck problems, numbness, insomnia, lack of appetite and psychosomatic illnesses.
And losers can go to dramatic ends. Just this year, Eliud Muthiora, a presidential aspirant, took a lighter and burnt his elector's card, after the Independent Boundaries and Electoral Commission (IEBC) rejected his bid for failure to collect sufficient signatures.
In an emotional interview, Muthiora lamented how it costs money for those that were able to get these documents a minimum of at least Sh10 for those who willingly gave it. We have people hawking IDs...we chose not to take the shortcut. We went the long way and fell short."
Muthiora further claimed his data had been violated. "We need to protect the oppressed from the oppressor, and not the oppressor from the oppressed," he said.
He added: "Society has taught us to hate on those who do not have... I do not have the money to buy my way to being in the ballot."
Dr Gitau explains that after the elections, majority of politicians experience post-election disorder (post-traumatic disorder) characterised by hyper-alertness, marked by over watching news, stress and panic attacks, their hearts racing so fast and which end up affecting close family members.
"Post-election disorder brings all the negative moments, especially in case of any malpractice issues that make them so exhausted. Some aspirants fear even the unknown, others get angered so fast," offers Dr Gitau, adding that if the stress - trauma is not addressed, the person is likely to lose hope in life and develop suicidal tendencies.
Consider another politician, Zipporah Kering' a former Woman Rep in Nandi County, who conceded defeat after the UDA nominations in Emngwen Constituency.
Kering lost the seat despite spending millions of shillings to bail the sick, pay school fees for children from poor families and on development projects.
"Vying for a political seat as a woman is no joke. A woman requires more resources to convince voters, compared to men," said Kering, who joined politics in 2013, but lost to Tecla Tum.
Whereas many politicians suffer election stress disorder, Kering was immune, as she accepted there was going to be winners and losers.
"My family gave me very strong support after I lost the nominations, a move that made me to easily accept defeat. I had a manifesto, but voters decided," she said philosophically.
Dr Wango explains that some politicians experience both psychological and physiological effects with psychological factors intensified by economical loss. "I have seen several politicians taken to hospital for fainting after announcement of results. Physiological effects are evident in things like getting agitated with people, lack of sleep and irritation," says Dr Wango.
Losers sometimes go to extremes.
Solomon Gichira, an independent presidential candidate, attempted suicide after being disqualified by IEBC during the 2017 elections.
Gichira attempted to jump off the sixth floor of Anniversary Towers in Nairobi, where IEBC has offices, and which Gichira had visited to check progress of his nomination.
Matters came to a head when he learnt that his bid had been rejected over failure to present signatures in excel format. He broke a window, and attempted to jump out.
Dr Wango noted that failure to control early signs of election stress disorder results in dementia.
To avoid post-election disorder, Dr Gitau observes that politicians should remember to separate themselves from elections, keep giving hope and supporting each other, and take time off politics to rejuvenate. "Nobody should die because of an election. One must remember an election is not worth your health and life. It is good to vent, as it is costly to treat mental health, than to prevent," advises Dr Gitau cautioning politicians to live within their means and have spiritual coaches and strong support systems.
"Each individual should have self-compassion, hold themselves on the chest and speak positive about themselves."
On her part, Dr Edith Kwobah, a mental health expert, notes that mental-related problems can also be presented in excessive consumption of alcohol.
To avoid mental-related complications, she advised politicians to be realistic about their expectations and outcomes, and have a strong support system, not people who are after their handouts but trusted friends whom they can share challenges with. "Politicians should not put all their eggs in one basket. For example, do not close your businesses, and put all your resources in politics."
Related Topics