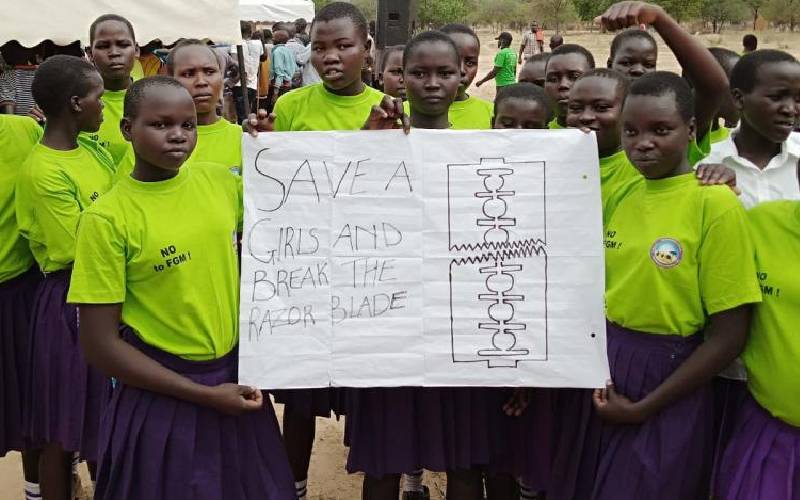 Kisii County has beautiful cultures and diversity, but even with urbanisation, civilisation high literacy levels, Female Genital Mutilation (FGM) is still deeply rooted among some members of the local community.
The county has the third-highest rate of FGM among the 22 leading counties, with medicalisation only complicating efforts to eradicate the practice whose prevalence stands at 84 per cent.
Ms Jackline Moraa, the Director of Gender and Social Services in Kisii County, says the emerging trend in the practice of FGM is that of parents doing it secretly and without celebrations as used to be the case.
Myths and misconceptions are also propelling the vice that is also a violation of human rights.
Ms Moraa says common beliefs include one that uncut girls are likely to be promiscuous when they marry.
She says many uncut women have had cases of "their mother's in-law colluding with nurses to perform FGM when they're giving birth."
Mr Obina Nyambane from the Directorate of Culture in Kisii County says the wider perception is that FGM is rampant in Kisii, but a lot has changed, with modern parents shunning the practice that connected the community with its ancestors.
A woman, explains Mr Nyambane, became a transformed person after the cut, in a process that was "spiritual". He says the blood from the cut connected the woman with the ancestors. "It was the certificate of moving from one stage to another."
Mr Nyambane says circumcisers abandoned their trade when FGM was made illegal but the Abagusii are still connected to their culture and thus some were pushed to look for alternatives.
"We brought a law, without an alternative rite of passage, which some parents want their children to go through. But the traditional cutters are not there, so they have opted to use medics as they think the nurse understands the human anatomy," says Mr Nyambane.
"The urge to make a girl a woman is what propels the quack medics to perform FGM," he says.
To end the practice, Kisii County has established an Anti-FGM steering committee besides running anti-FGM campaigns to sensitise the masses against the practice.
"We have seen positive results. We have also strengthened the working relationships between the two governments," says Ms Moraa.
Through the support of UNICEF, Kisii County has also established sub-county steering committees, which have been strengthened through the anti-FGM board.
"We have increased surveillance by including anti-FGM champions most of whom have undergone FGM, especially the young. We have involved chiefs and assistant chiefs in implementing the anti-FGM Act, and we have also involved the Ministry of Education," says Ms Moraa, adding that medics and community health volunteers have also been sensitised to be part of the campaign.
More women are also being engaged in ending FGM as they're the ones who feel compelled the most to cut their girls sometimes without their fathers' consent.
Mr Lelei Kipkemoi, the Kisii County Director of Gender, says the presidential decree to end FGM by 2022 has put them on their toes and for offenders "there are penalties and we should avoid it as it is a form of child abuse."
Challenges in eradicating FGM in Kisii County include the secrecy involved nowadays, the stigma and myths that uncut women might not find husbands.
Kipkemoi reckons there is a need to involve political leadership to raise voices against FGM in political campaigns especially among male politicians.
Mr Duke Mainga Echate, a parliamentary aspirant in Kisii County, has been an anti-FGM champion and argues: "Leaders have followers and most people believe them, and so if they come out and say no to the vice, most people will walk the talk."
Related Topics