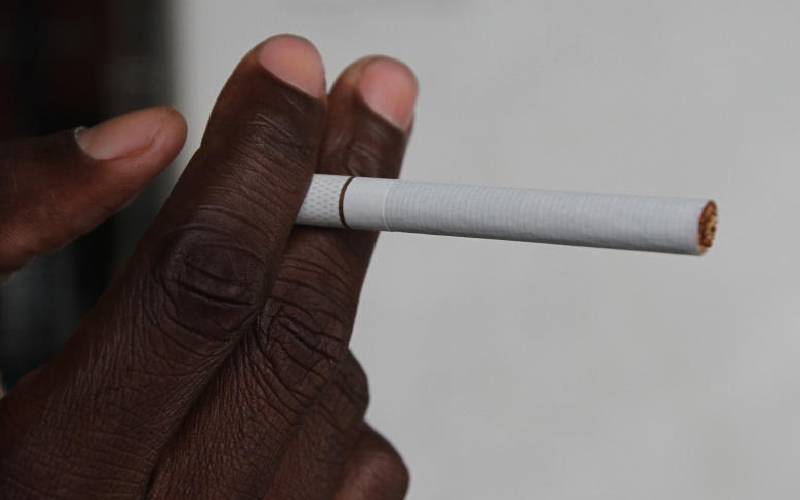 A report by the Global Tobacco Trends released last November projects a significant drop in the number of tobacco users by 2025.
The report shows that there are 1.30 billion tobacco users globally compared to 1.32 billion in 2015 and the number is expected to drop to 1.27 billion by 2025.
The report says 60 countries are on track to achieve the tobacco use reduction target by 2025.
Since the last report two years ago, two other regions – the African and South-East Asian regions - have now joined the Americas region on track to achieve a 30 per cent reduction in tobacco use.
"To meet global targets in reducing tobacco use, cessation services need to be scaled up, along with strengthening tobacco control measures. Offering cessation services can accelerate the downward trend in tobacco use prevalence, saving more lives and protecting the health of more people," says the publication.
Tobacco Control Board member Dr John Musau told The Standard that 50 per cent of Kenyans who smoke are willing to quit, but hardly have access to programmes or health centres to help them drop the addictive urge.
"This is the reason we are pushing for the setting up of more rehabilitation centres and fewer smoking zones. We have done a lot in Nairobi and will soon enhance the effort in the counties," he said.
Dr Musau added that there was a weak link in the enforcement of tobacco control legislation, saying the country had the Tobacco Act, 2007 which when fully implemented would reduce the harm caused by tobacco to smokers and non-smokers.
"We are in the process and are talking to county health departments to set up tobacco cessation centres because most of those who are affected by tobacco are school going children and mothers," he said.
The Kenya Tobacco Control Alliance chairman Joel Gitali said quitting tobacco smoking is associated with improvements in mental health, including reductions in depression, anxiety, and post-traumatic stress disorder symptoms.
Gitali, a teacher who has been instrumental in fighting tobacco use among school-going children, called for vigilance as tobacco manufacturers were coming up with "trendy types of cigarettes to try to hook youth to nicotine.
"Nicotine is the most addictive substance known to man and that is what is in tobacco which makes people get hooked to it. Tobacco companies are coming up with trendy smokeless tobacco products -oral and nasal tobacco-that catch the eyes of our youth," he said.
"The trick here is that they get the trendy stuff which is usually costly and when they are out of cash they revert to the traditional cigarette."
The World Health Organisation (WHO) estimates that about 38 million children (aged 13-15) use tobacco, 13 million girls and 25 million boys.
WHO created World No Tobacco Day in 1987 to raise awareness of the harmful and deadly effects of tobacco use.
The day, which is being marked today, draws attention to widespread tobacco use and its negative health effects. Each year more than 8 million people die due to the effects of tobacco use, including 1.2 million non-smokers who are exposed to second-hand smoke.
This year's World No Tobacco Day theme is "Tobacco: Threat to our environment."
The campaign aims to raise awareness about the negative environmental impacts of tobacco – from cultivation, production, distribution and waste.
The United Nations Development Programme characterises tobacco as a "threat to the oceans".
It estimates that 4.5 trillion butts are thrown away every year worldwide, representing 1.69 billion pounds of toxic trash annually.
"Under specific circumstances – such as sunlight and moisture – cigarette filters can break into smaller pieces, which eventually leach out some of the 7,000 chemicals contained in a cigarette, many of which are environmentally toxic," says a UNDP report.
Related Topics