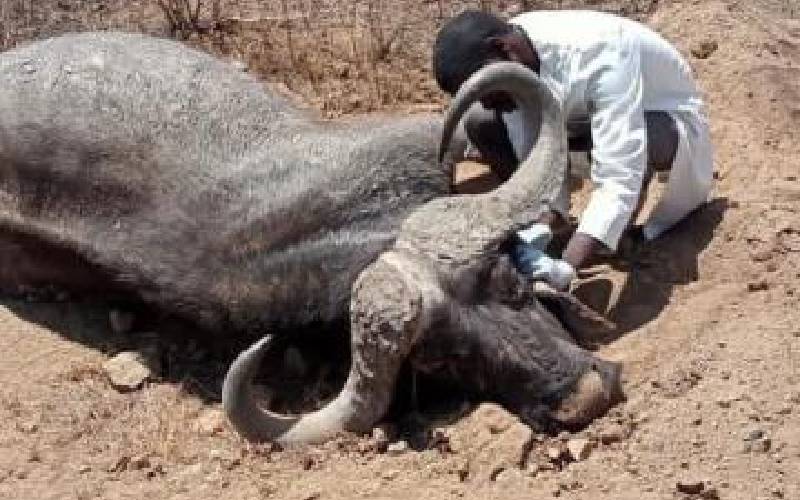 Drought has adversely affected wildlife in the country, the Kenya Wildlife Service (KWS) said as reports of the death of buffaloes at Lake Nakuru National Park emerge.
While KWS has not acknowledged the deaths in Nakuru, the agency, in a series of tweets on April 19, indicated that it is not the only park that has been affected.
It said many water pans, grasslands, and seasonal rivers have dried up as a result of drought and "the prolonged drought has affected wildlife in parks, reserves, sanctuaries, and even unprotected areas," KWS said.
In subsequent tweets, it noted that a number of measures have been taken to mitigate the situation, including drilling more boreholes and using water bowsers to re-fill water pans.
"We are also providing food supplements in a number of our parks, reserves, and sanctuaries, with hay or lucerne being dropped in strategic locations for wildlife to eat," the tweet read.
The agency also said its officers are patrolling the parks, treating sick and weak animals, besides carrying out post-mortems on wildlife that die to establish the causes of their deaths and enable KWS know of any disease outbreaks to take necessary measures.
"KWS will continue to carry out surveillance in all these areas to mitigate against the adverse effects of the drought we are currently facing," it said in another tweet.
Attempts to confirm the gravity of the situation and any mitigating measures being undertaken from the KWS communications department ended in our call being disconnected.
In 2019, KWS attributed the death of 145 buffaloes recorded in Lake Nakuru National Park to anthrax.
The then director-general of KWS, Brigadier (Rtd) John Waweru attributed the outbreak to drought, which he termed a risk factor for anthrax. Drought, he said, results in depletion of pasture, forcing animals to graze closer to the soil that is potentially infected with anthrax spores.
KWS did not share statistics on the number of buffaloes that have died. It has not also confirmed any cases of disease outbreak this year even as the population of the buffaloes in Lake Nakuru National Park drastically increased beyond its capacity.
The 2021 National Wildlife Census showed that 6,412 buffaloes were recorded in Lake Nakuru, a 56 per cent increase from 2019. The park has had a history of anthrax outbreaks.
Kioko Kivandi, a resident of Nakuru raised concern over the mysterious deaths of buffaloes at the park saying: "I visited the park over the weekend and was surprised to stumble upon several buffalo carcasses, which is normally not the case except when there is a disease outbreak."
He added: "I think many buffaloes may have died based on the pungent smell that hits you when driving through the park. The Kenya Wildlife Service should give us answers."
Related Topics