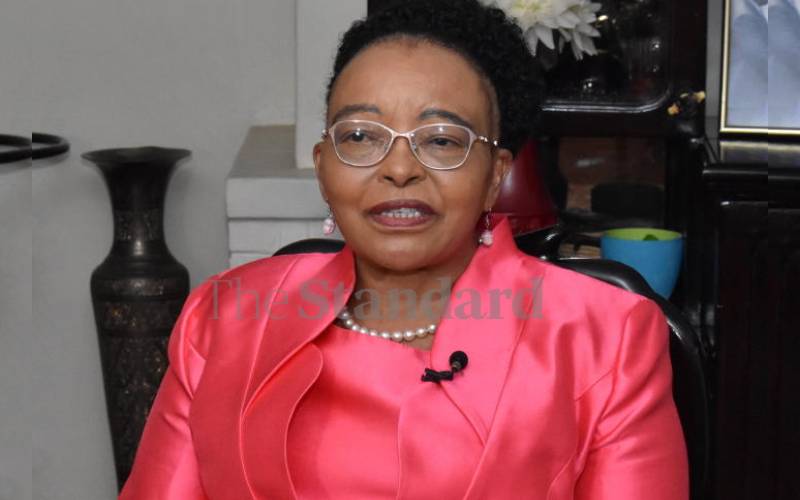 Dr Betty Gikonyo wore her first pair of shoes at 13 years but grew up to be a game-changer in the world of medicine.
Besides establishing The Karen Hospital she also help set up the Heart-to-Heart Foundation which raises funds for poor children with heart diseases.
Dr Gikonyo was inspired to become a doctor by her elder brother, Dr Wallace Kahugu who was admitted to the Medical School at Makerere University in Uganda. It was from the way her mother kept on praising the elder brother that her admiration of how he had turned out became a burning ambition.
"From a very young age I always knew I wanted to be a medical doctor because of my elder brother. My mother would always talk about him with a lot of reverence and excitement. So. I wanted to have my mother talk about me with such happiness and excitement," she recalls.
But they hardly grew up together considering she had a 20-year age difference with her elder brother.
Dr Gikonyo's first medical encounter was when her mother was diagnosed with cancer in the same year she was admitted to Alliance Girls High School.
"The last time I saw my mother still healthy and strong was when she escorted me to the train station to go to high school. I must admit I was very close to her and my upbringing has greatly influenced how I have raised my children," she says.
Young Dr Gikonyo was allowed to visit her in hospital where she interacted with the doctors attending to her.
While Alliance Girls provided her with a chance to interact with different girls from other parts of Kenya and which opened up her perspective about other people, university would provide other opportunities: It was where she met her future husband in her second year at the University of Nairobi.
That was in the 1970s. Little did she know at the time that she would be traveling to the United States, host a young man with a heart condition or even get a fellowship at the University of Minnesota to study pediatric cardiology.
It was a miracle, she says, as initially she was content being a housewife after her husband, Dr Dan Gikonyo (President Mwai Kibaki's personal physician) with whom she co-runs the Karen Hospital, earned a scholarship to the US.
The sponsors required that they travel together and while in the USA, Dr Betty Gikonyo began searching for opportunities and introduction to Dr Lucas at the University of Minnesota, saw her get invited for an interview which also earned her a Fellowship in pediatric cardiology.
"I was accepted because of the study I had done as research for my post-graduate in pediatrics so God works in his own ways," she adds. "Something you have done today can impact greatly into your future."
Dr Gikonyo was accommodating a young boy named Samuel who had a heart condition. He was staying with them for the time he was going through surgery. Samuel had been part of the Gikonyos through high school, marriage, family until his demise in 2021 aged 50.
"I have even put his story in my book; The Girl who Dared to Dream, because he became part of our family, we contributed to his treatment while in Minnesota, even worked with him in the Heart-to-Heart Foundation and we always remember him very fondly," says Dr Gikonyo.
The Gikonyos returned to Kenya from the USA and began practising. They never thought of settling abroad. They had always dreamt of establishing a hospital to help children with heart conditions. But with no finances, it was not a walk in the park.
"We understood we had to put in a lot of hard work and save money. We consulted financial specialists, human resource specialists, and architects," she says of the journey to found The Karen Hospital.
Other medics challenged her to find a solution for heart conditions in Kenya, but even for the family of cardiologists, building the hospital was not an easy task: they could not convince banks to give them loans to finance the construction.
Dr Gikonyo recalls the bank whose loan managers wondered "where we would get money to repay the loan if the hospital did not pick up" with others jokingly thinking aloud "if we were going to sell the patients as collateral but that did not stop us from achieving our dream."
That was in in 2003.
The Karen Hospital has satellite branches in Chester House Nairobi, Karatina, Meru, Nyeri, Nakuru, Kitengela, and Mombasa and the dream of patients not having to fly out of the country for heart treatment has slowly been realised. That it has been bringing in patients from other African countries like Uganda, DRC and Nigeria means her dreams were valid.
Dr Gikonyo, the medical entrepreneurs, now a retired CEO is glad to have built the hospital. She considers herself a daring and a risk-taker."
Related Topics