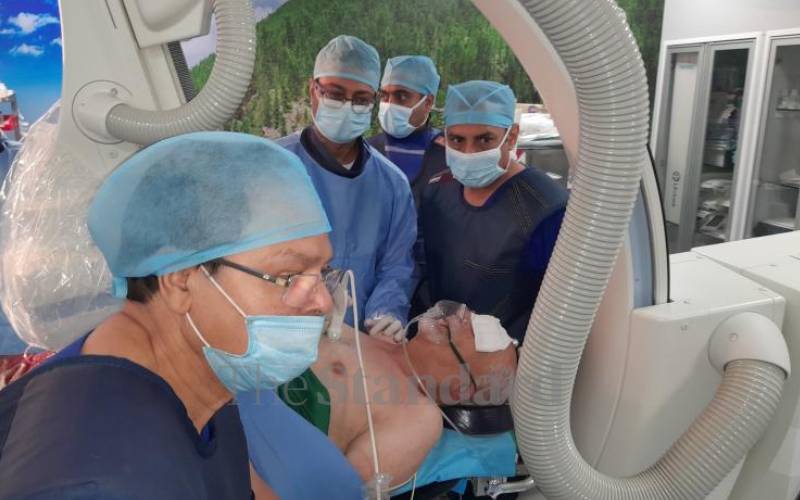 A rare heart valve transplant procedure was successfully performed without surgery on an 83-year-old patient in Nairobi.
The transcatheter aortic valve implantation (TAVI) was the first of its kind in Kenya and the region.
The two-hour procedure at Mediheal Hospital in Nairobi took 10 specialists and cost Sh7 million. It was performed on Fr Brambilla Luigi Carlo, who had been experiencing shortness of breath whenever he climbed stairs or rode his bike.
He was diagnosed with calcification and obstruction in one heart valve, resulting in severe Aortic Stenosis. The condition makes the aortic valve degenerate and not open properly. As a result, the heart struggles to pump blood through the narrowed valve. The symptoms include chest pain and shortness of breath.
"I was a bit worried. I could not do my normal activities without running short of breath," said Fr Brambilla, a Catholic priest in Nairobi. "I even collapsed at some point but I am happy these doctors will solve my problem. They tell me that after this I will be 20 years younger."
The condition also results in dizzy spells while exercising, which may lead to fainting. The extra force required to pump blood strains the heart muscles which can lead to fluid in the lungs, swollen ankles, and eventually weakening of heart muscles. If untreated, aortic stenosis worsens over time.
Dr Vijaysinh Patil, an interventional cardiologist and the lead consultant, said after carrying out echocardiography on Fr Brambilla, they found his heart valve was totally blocked. The blocked heart valve had to be replaced with an artificial one considering "there is a 50 per cent mortality in five years."
Dr Patil explained that the procedure has two options. "One is surgical, where we open the chest. Another is done without opening the chest…instead, we insert a catheter which will carry the valve from the groin vessels to the heart…"
He added that due to the patient's age, "we offered him percutaneous transcatheter aortic valve replacement (TAVR/TAVI) treatment. He was not willing for open heart surgery because of the high risk."
Being the first in sub-Saharan Africa meant dealing with myriad challenges like the logistics of sourcing materials like the heart valve.
The procedure was done under local anaesthesia and with conscious sedation. It involved inserting a large tube on the right groin and "implanting the balloon-expandable aortic valve mounted on balloon navigator system."
Risks in the TAVI procedure mostly done on patients who are too old to undergo surgery include stroke, using a permanent pacemaker, annular rupture, bleeding in the groin and sometimes urgent open-heart surgery.
The urgent open-heart surgery, Dr Patil explains, happens in less than one per cent of patients. "We were lucky that none happened to this patient."
He said Fr Brambilla was able to walk six hours later and will be observed for two days before being discharged.
Dr Patil said the success of the rare procedure is proof local doctors have what it takes to treat such diseases without pricey medical care out of the country.
Related Topics