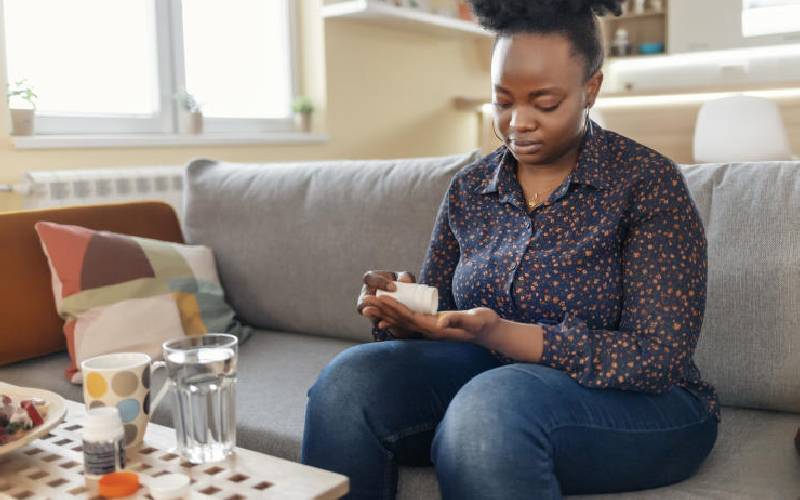 Many Kenyans make repeated visits to chemists to buy antibiotics that previously treated the same diseases, but not anymore.
Pharmacists have recently raised the alarm over increased resistance to antibiotics, leading to escalating cost of treatment especially for communicable diseases. Today, antibiotic resistance has spiraled into one of the top ten threats to global health, though the Covid-19 pandemic has overshadowed the seriousness.
Anti-Microbial Resistance (AMR) occurs when infection-causing bacteria, viruses, fungi or parasites build up an immunity to the medications intended to kill them and continue to multiply.
While antimicrobial medications are important to fight infections and reduce mortality rates, anti-microbial resistance increases naturally when the medication is used, misused or taken unnecessarily - adding to the already problematic global plight.
Reasons for antibiotic resistance include; improper utilisation of antibiotics, non-compliance to prescriptions, poor prescribing habits and use of fake or counterfeit medicines.
Dr Dorothy Aywak, a pharmacist, says some infections are becoming harder to treat as antibiotics become less effective in treating infections like pneumonia, tuberculosis, fonorrhea and food-borne diseases.
"We have about 2.8 million people who either suffer from an antibiotics resistance infection which can contribute to about 35,000 deaths annually," explains Dr Aywak.
According to her, despite local challenges in data collection currently "we can just say that probably 10 to 15 per cent of infections would be attributed to AMR."
Overuse and misuse of antibiotics is also common in children and Dr Joseph Mbuthia, a pediatrician and infectious disease specialist, says majority of parents who are unable see a doctor when their children fall ill, as a rule buy medication over the counter.
The spread of antibiotic resistance has also been attributed to the quality of medicine Kenyans are buying with some having a lower dose of the active ingredient.
This situation, Dr Aywak says, is aggravated by the availability of sub-standard, falsified medicines and mushrooming of medical outlets not legally registered by regulatory agencies and the poisons board.
Weak pharmaceutical policies have also led to some unlicensed or untrained 'pharmacists' selling and prescribing drugs to unsuspecting users with far-reaching repercussions to the normal body functions in addition to contributing to antimicrobial resistance.
Dr Soroh Kodjo, the medical director at Pfizer for East and Anglo West Africa, says one of the most affected is treatment of sepsis, a potentially fatal condition as a result of the body's reaction to an infection considering that "as more pathogens become resistant to antimicrobial medications, the greater the risk of people developing sepsis."
Dr Kodjo says the condition which can also be triggered by low blood pressure, affects about 30 million people worldwide, resulting in between six to nine million deaths annually.
To prevent fatalities, patients are required to be treated with antibiotics within an hour of arriving at a healthcare facility.
However, research indicates about 10 percent of patients with sepsis do not receive prompt antibiotic therapy, with mortality rates increasing by between 10 percent and 15 percent when compared to patients that received the correct medications timely and Dr Kodjo advocates for creating awareness about antimicrobial resistance.
Degradation of the environment is also impacting negatively as life-threatening components like antifungals are discharged into the environment.
Experts say the growing demand for food is putting pressure on the food supply chains and systems, thus creating loopholes in the food control systems. They call for good practices from the primary production level all the way to consumption. They believe that this will curtail the transmission of antimicrobial resistance through food.
To prevent and control the spread of antibiotics resistance, health experts are calling for investment in research and development to facilitate generation of new antimicrobial agents to treat resistant pathogens.
"We need even as the government invests heavily in being able to support industries to be able to come up with new molecules," says Dr Aywak.
Different interventions have been launched to reduce the spread, adverse effects and costs of antimicrobial resistance, including a global campaign by the World Health Organisation (WHO) dubbed AWaRe-which classifies antibiotics into three groups: Access, Watch and Reserve.
WHO aims to increase the proportion of global consumption of antibiotics in the Access group to at least 60 percent and to reduce use of the antibiotics most at risk of resistance. These are mainly from the Watch and Reserve groups.
According to Dr Aywak, there is need for antimicrobial guidance to tame the menace, including measures to prevent infections through regular washing of hands, adhering to prescriptions, avoiding sharing of antibiotics and using them when prescribed.
Related Topics