Home
/
Health & Science
State starts vaccine drive to stop children's diseases
Health & ScienceBy Mercy Kahenda | Thu,Dec 16 2021 00:00:00 UTC | 2 min read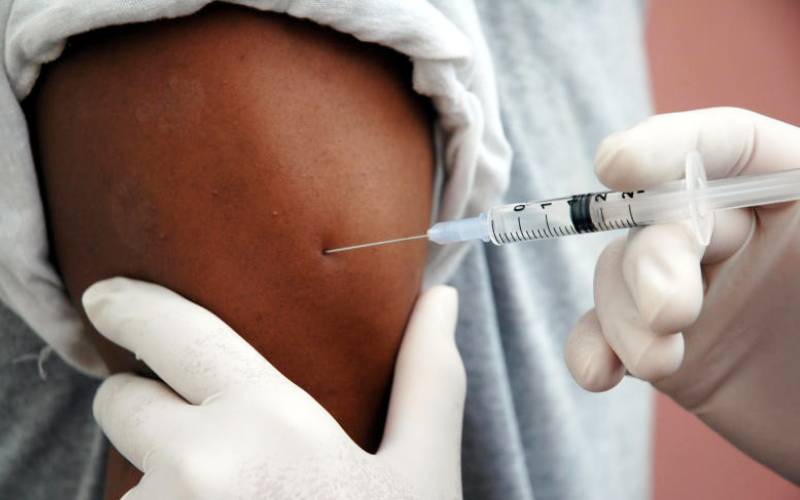 The Ministry of Health has started an immunisation campaign for children.
The 100-day campaign will include second dose of measles rubella and Human Papillomavirus (HPV) vaccines.
Acting Director General, Patrick Amoth, has said that immunisation is one of the most cost-effective public health interventions in case of childhood diseases.
Dr Amoth said outbreak of measles that still happen in different parts of the country is evidence of the low immunity to the disease.
Data by the ministry reveal that at least 300,000 infants miss critical vaccines every year.
"Any child between eighteen and 59 months who has not received the two vaccines of measles and rubella should be presented at the nearest immunisation facility for vaccination," he said.
Every year, Health ministry aims at vaccinating at least 1.5 million children against vaccine preventable diseases such as measles, polio, Tuberculosis (TB) and pneumonia.
"Over the years, immunisation has led to 70 percent reduction illness and death from infectious diseases," Amoth said.
Insecurity in Northern and North Eastern parts of the country affects vaccination campaigns.
Difficulty in accessing vaccination services in some sparsely populated counties of Turkana, Marsabit, Garissa, Mandera and Wajir has also led to low coverage.
Dr Amoth said that immunisation campaign is also aimed at vaccinating 70 percent of girls aged between ten and fourteen years.
He said that although the Health ministry strives to reach a least 90 percent of children with lifesaving vaccines, immunisation coverage has stagnated at 80 percent with some of the vaccines like Human Papillomavirus (HPV) and the second dose of measles rubella vaccine falling behind at 30 and 50 per cent respectively.
There is also disparity between counties with some counties having a pentavalent vaccination coverage of as low as 60 percent.
The gap in vaccination means there are several children who do not have immunity against these preventable diseases.
During the rapid result initiative, all efforts are being made at both national and county levels to ensure that the public access to vaccination services and correct information on vaccines.
"The ministry of Health has made available all vaccines in all immunisation facilities and urges parents and guardians to ensure that their children complete the immunisation schedule including second dose of measles rubella which is a given at 18 months," said Amoth.
"All girls aged 10 to 14 years should be vaccinated with HPV to provide protection against cervical cancer."
The HPV vaccine helps in prevention of cervical cancer.
In Kenya, at least 33 out of 100,000 women have cervical cancer and 49,000 new cases were diagnosed in 2018 with 33,000 deaths reported.
Related Topics