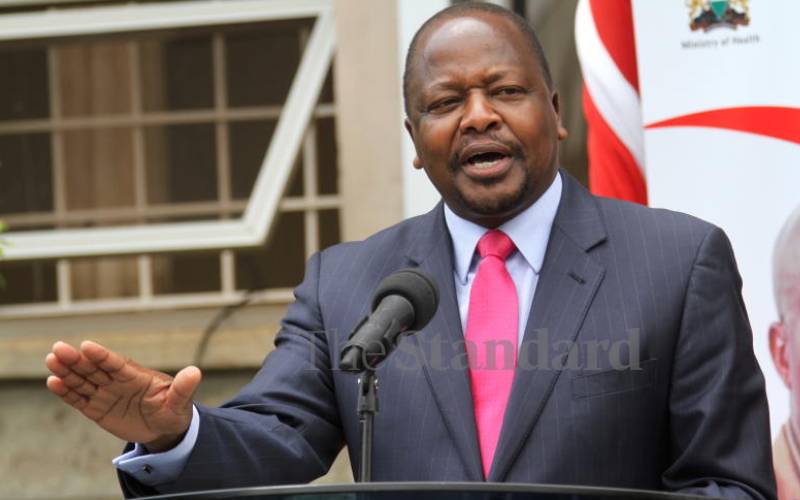 A lawyer has moved to court seeking orders to bar the government directive that sought to block unvaccinated people from accessing in-person services.
On Tuesday, Winfred Otieno sued Health Cabinet Secretary Mutahi Kagwe in an application filed at the High Court in Nairobi.
Kagwe had on Sunday directed that everybody seeking in-person government services should be fully vaccinated and proof of vaccination made available by December 21, 2021.
According to the CS, public services to be affected include schools, transport services, immigration and other state offices, and hotels, bars, restaurants, national parks and wildlife reserves.
Lawyer Otieno, in the suit filed under a certificate of urgency, claims the directive came barely four weeks to its implementation.
He said at the time of the directive, the government had administered only 6,388,427 vaccines across the country. Some 3,986,501 people had received their first dose, and those fully vaccinated were 2,401,926.
Otieno said the directive by the CS has the potential of locking out government services to a substantial part of the population, especially where there is no alternative to in-person service.
"The directive is arbitrary, capricious and unreasonably without justification limits, the fundamental rights and freedoms enshrined in the Constitution, including the right to equality and freedom from discrimination," he said.
Otieno further said the four weeks within which over 24 million Kenyans are expected to comply with the directive is unachievable, impractical and oppressive.
He said the World Health Organisation directive requires that there is an interval of eight weeks between the administration of the first and second jab.
He noted that most of the vaccines available in Kenya are those administered in two doses.
Otieno wants the court to issue orders suspending the directive pending hearing and determination of the case.
Justice Anthony Mrima on Wednesday ordered Otieno to serve both the CS and the attorney general by close of business today.
The court will issue directions on the matter today (Friday, November 26, 2021).
Related Topics