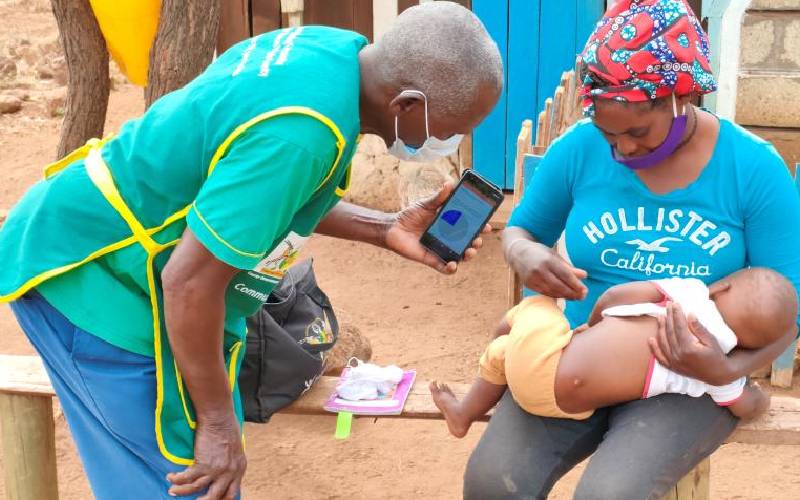 Miriam Mbithe, a Community Health Volunteer (CHV) in Isiolo County, has just got a reminder from her phone that there are two pregnant women who need to attend antenatal clinic and a third has to wean her baby.
Mbithe, one of over 720 CHVs, has to visit them before it is too hot. But after trekking for two kilometres she finds her first client in Nayakore area, Burat ward, missing from her manyatta. The family migrated a week earlier.
Mbithe, or Daktari wa Kijiji, as they are referred to by the villagers, confirms from a neighbour that her client's family moved with their livestock in search of water and pasture. Burat ward is experiencing one a long dry spell, without pasture or water.
"I had to come to inform her to attend antenatal clinic," sighs Mbithe. "Now, chances are she might miss the important visit because you cannot tell if there is a health facility where the family has moved to."
Mbithe has been a CHV for over six years and it is not uncommon for families to migrate during drought when nomadic families move with their livestock to water points.
Two of Mbithe's clients, both pregnant, left with livestock, with one family later being spotted at Ewaso Nyiro River, around Archers Post.
Those who migrate return long after giving birth on their own in the bush. Sometimes they are assisted by fellow women who are not skilled in delivery, risking the lives of mother and baby.
For others, children miss immunisation, which World Health Organisation (WHO) terms a global health and development success story, saving millions of lives every year.
Having missed her first client, Mbithe treks another four kilometres to meet her second client, Faith Karito, who is pregnant and her legs are swollen.
Mbithe inquires about the swollen legs and movements of the baby by referring to her smartphone and a flip-book. She then decides to accompany Karito to the Anti-Poaching Unit (APU) Dispensary for a check-up on the swollen legs after which she restocks her medicines kit containing paracetamols, dewormers and drugs for diarrhoea and purifying water.
She then treks another two kilometres o meet Fridah Nasasi who is weaning her six-month-old baby.
First, she examines the baby's health progress by measuring the circumference of the arm using Mid-Upper Arm Circumference (MUAC), which determines if a patient is acutely malnourished.
"We give MUAC to mothers who cannot read as it is easy to work with colours than numbers. The tape has green that shows baby is okay, yellow means more effort is needed while red shows danger," explains Mbithe.
Joseph Kimathi, another CHV, says the biggest challenge in dealing with pastoral communities is that they hardly share information on their whereabouts with anyone.
"There are times you call to alert them of a planned visit, but you still find they are gone," says the retired public health officer.
"If we knew of their planned move, we would arrange and link them up to health facilities close to where they settle with their livestock for them to continue getting health services."
The CHVs are key players in addressing a growing shortage of health workers, particularly in low-income countries, says WHO.
More mothers deliver in hospitals
In Isiolo, their intervention is saving lives from killer respiratory tract infections, diarrhoea, injuries, trauma and malaria besides increasing uptake of health services as more mothers now give birth in hospitals.
"CHVs' intervention has led to a huge improvement in healthcare services uptake. In fact, at the height of Covid-19, through their help, together with the local administrators, we managed 98 per cent contact tracing," says county Health executive Wario Galma.
The county Health Department is currently developing Community Health Service Bill to recognise CHVs, who walk long distances, while enduring poor infrastructure, poor network connection and wild animals scare.
"We are going to allocate a budget, or establish a fund within this Bill so that the volunteers are able to get some support," says Galma, adding that their nomadic lifestyle is difficult to stop as it is based on availability of water and pasture and not health facilities.
But to reduce the rate of migration, "the intervention we've undertaken is to get permanent water sources, then come up with schools, healthcare facilities, chiefs' offices and wards administrative offices to address the needs of people," says Galma.
"Technical expertise helps CHVs to holistically diagnose, treat and provide follow-up services for maternal, newborn and child health services and diarrhoea among children under five, and nutrition for pregnant mothers and children under five," says Thomas Onyango, Country Director, Living Goods.
Related Topics