Home
/
Health & Science
Firm to export Covid-19 syringes to India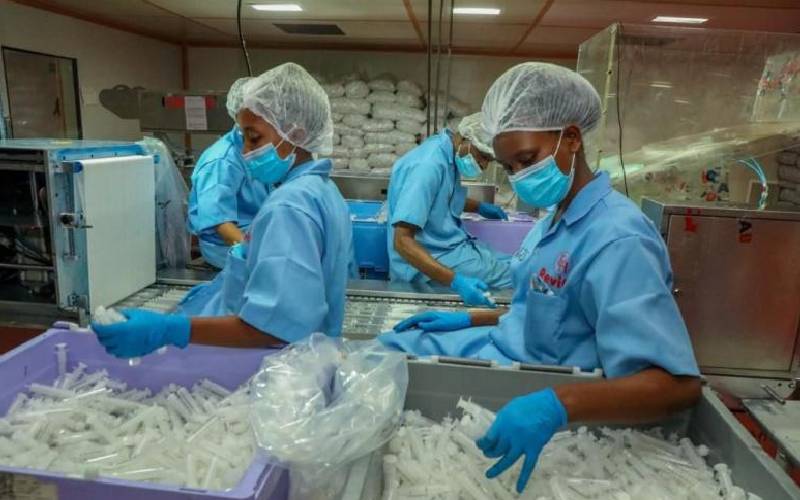 A local medical equipment manufacturer is set to export syringes worth Sh150 million to India.
The Kikambala-based Revital Healthcare EPZ Ltd said on Tuesday that it has been contracted by the United Nations International Children's Emergency Fund (Unicef) in India to deliver at least 50 million syringes.
This comes amid a global shortage of 0.5ml syringes as the world continues to fight the Covid-19 pandemic.
According to its Marketing Director Roneek Vora, the firm won the tender after competitive bidding, said
Because of the shortage of 0.5ml syringes, Unicef has been looking for an alternative.
"They have identified the 2ml because of the low dead space on the syringe so they can utilise the entire vial," said Vora.
The company produces both the 2ml two-part and 2ml three-part and has received tenders for both.
In addition, Unicef Global has booked all the 0.5ml syringes the Kenyan firm will produce next year, Vora said adding they are also ready to help the government combat the global pandemic.
The firm started its operations in 2008 with just one product but has now expanded to 45 with over 500 Stock Keeping Units (SKUs).
"It is a momentous achievement for both the company and Kenya as we export vaccine syringes to India for the first time in history," said Vora, while addressing the media at the factory.
This comes as the firm is set to increase its production of vaccine syringes following the Sh440 million grant it received from the Bill and Melinda Gates Foundation.
The grant will go into the manufacture of the 0.5ml auto-disable syringes used for Covid-19 vaccination globally.
Since 2013, Revital Healthcare has produced 74 million syringes per year, according to Vora. "But due to the increased global demand, we will have to triple our production."
He added: "We are planning to increase production further by another 100 -150 million by next year. As per our promise to the Bill and Melinda Gates Foundation, we are going to re-invest our funds from these products to expand our product range."
The company is planning to hire 100 additional staff ahead of the anticipated increased production.
"We are going to create more than 5,000 other jobs indirectly," said Vora.
Unicef has announced a possible deficit of about 2.2 billion auto-dispensable Covid-19 vaccine syringes globally by 2022.
The UN agency attributes the potential shortfall to significantly higher demand, disruptions to international freight and supply chains, an unpredictable supply of vaccines and national bans on syringe exports.
With the possibility of a malaria vaccine next year, the demand for the 0.5ml syringes will always be there.
Last month, Kenya received a million doses of the Pfizer vaccine but they could not be administered as the Health Ministry announced there were no syringes to administer it.
Revital Healthcare is Africa's only WHO prequalified manufacturer for vaccine syringes.
Related Topics