Home
/
Health & Science
Why snoring is dangerous
Health & ScienceBy Beldeen Waliaula | Mon,Nov 08 2021 07:00:00 UTC | 6 min read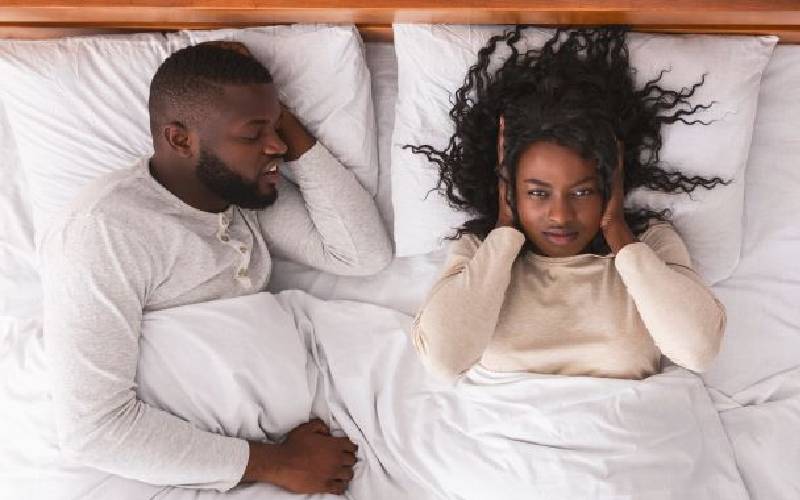 Sleep disorders include struggling to fall asleep, inability to resume sleep, waking up more tired-and snoring- which many assume is normal but is not.
Snoring, that hoarse sound from nose or mouth, occurs through narrowing of the airway or the pharynx or when breathing is partially obstructed.
Many assume its normal especially for men to snore, but Dr Samuel Munyi Nyagah, an ENT (Ear, Nose and Throat) surgeon explains that "when someone is breathing ideally the airway should not constrict and you should not hear the air passing."
Anthony Chege Irungu, 42, from Nanyuki underwent surgery to cure snoring which his wife had long complained about.
Chege works as a tour operator and his job entails "working in the wilderness and we sleep in tents" where his colleagues had raised issues with his snoring. It was mild at the beginning, but it later got so severe he often ran out of breath.
Chege finally opted to consult an ENT specialist who found tonsils in his throat and which enlarged whenever he slept. This relaxed his muscles which left little space for air to pass hence the snoring.
"My nose also had some problems and there was no specialised equipment in Nanyuki so I was referred to Nairobi," recalls Chege who took two years on medication "but there was no improvement and surgery became the only solution."
The surgery took place in November 2020 and Chege recovered after a month and "I am now sleeping well. I wake up rested not like before. My wife is not complaining anymore about my snoring."
Doctors told Chege that his weight was another contributor to his snoring and "now that my snoring is healed, I am working on my weight."
In children, the major cause of snoring is having large adenoids and tonsils while in adults it might be caused by the tongue being big that it blocks the airway when one is sleeping.
When it comes to gender, Dr Nyaga, says men tend to snore more than women because of their exposure to risk factors and "from observation, men smoke or drink more than women and that's why they are predisposed to snore."
Snoring also comes with age and older people snore more than the younger ones because "as one becomes older the muscle tone in our throats reduces. So when one sleeps, the muscle tone goes lower the airway collapses and one will start snoring," says Dr Nyagah, also a sleep specialist at the Sleep Diagnostics and Treatment Centre.
He adds: "Not all snoring is normal, some of it is a disease" and which sometimes affects one's sleeping partner-who may or may not think it's a disease."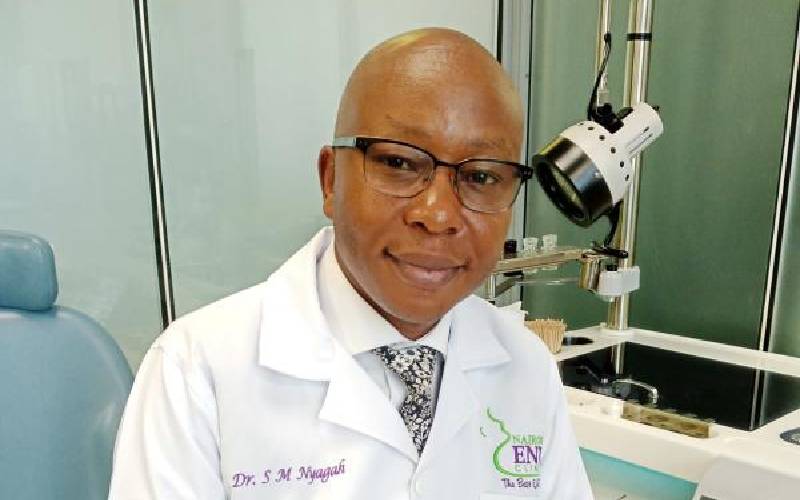 Snoring becomes a disease, says Dr Nyagah, when one develops obstructive sleep apnea, a condition that comes with snoring. He clarifies that "not all patients who snore suffer from obstructive sleep apnea, but all patients with obstructive sleep apnea do snore."
Dr Nyagah simplifies sleep apnea as the 10-second break after a session of continuous snoring.
Choking or gasping for air at night is also a sign of sleep apnea. There are those while asleep even stop breathing for almost a minute and their partner has to wake them up.
"When one is having this apneic spell there is no air getting into their lungs and their oxygen levels go down. Then the brain would realize your oxygen levels have gone down and so it will lighten your sleep and wake you up. So if you have apnea you will keep turning and tossing in bed, they will have sleep fragmentation."
Dr Nyagah says, with the sleep fragmentation one will think they have slept the whole night yet in true sense they have only slept for few hours and victims wake up extremely fatigued with the result being excessive daytime sleeping commonly referred to as narcolepsy "and chronic fatigue during the daytime is also a symptom of obstructive sleep apnea" which also affects children and some teachers complain of tired and sleepy learners.
Also, those with cancer of the throat get to snore because the tumours affect or block the airway or the airway will be narrowed.
Obesity also increases the chances of one snoring and getting obstructive sleep apnea and this mostly affects men whose wives "bring them to the clinic saying when I married this guy he was not snoring, but five years later he has added weight now he is snoring," says Dr Nyagah. who adds use of alcohol as another contributor to snoring.
Alcohol suppresses the muscular tone and makes people snore. Other drugs like sedatives will make people snore.
Daytime sleepiness accompanied by snoring can make some to cause accidents when driving besides being a cause of conflict in relationships with couples sleeping in different beds.
"If you have a spouse who snores you will be unable to sleep, then you will start having sleep deprivation. Then excessive daytime sleepiness will kick in and irritability during daytime. Due to sleep deprivation, you will start snapping at people in offices and having memory lapses because the brain is not resting," explains Dr Nyagah.
He adds that the problem is prolonged for the single who have no one to alert them of the same, but excessive daytime sleeping or oversleeping in public passenger vehicles or at work are signs of obstructive sleep apnea.
Obstructive sleep apnea can cause diabetes, high blood pressure especially among obese.
"When people snore at night and you start getting apnea, and your oxygen levels start going down you produce stress hormones like adrenaline, the hormones give you irregular heartbeats and if you have blood pressure you are at a risk of getting cardiac arrest," explains Dr Nyagah
Depression and mental illness can also be brought about by sleep apnea because of sleep deprivation.
"Snoring itself can cause insomnia, when you block at night, you start choking, gasping, and when you get very lengthy apnea's and you wake up you might not fall asleep," says Dr Nyagah. "The longevity of life of people who snore and have apnea is less than those who do not snore."
There are several ways of dealing with snoring. For the obese, cutting weight works wonders as slowing down on alcohol and smoking.
Dr Nyagah advises people not to take dinner three hours before sleeping and alcohol six hours before they go to bed and that "people should wear loose clothes while sleeping" far and above a regular sleeping time as there is no medication for snoring.
Electronic gadgets have also been blamed for enhancing insomnia and sleep apnea as "the light from electronic gadgets makes it harder for one to fall asleep and we encourage our patients not to carry their gadgets to bed," says Peter Mburu, a sleep technologist.
To eliminate snoring and prevent sleep apnea, sleep specialists may recommend a continuous positive airway pressure (CPAP) machine which delivers enough air pressure to a mask to keep the upper airway passages open, preventing snoring and sleep apnea.
Sleep endoscopy can also be done to evaluate need for surgery to stop snoring and Chege concludes that "snoring is not normal. It can be a disease and which can be treated."
Related Topics