Home
/
Health & Science
More vaccines to boost herd immunity efforts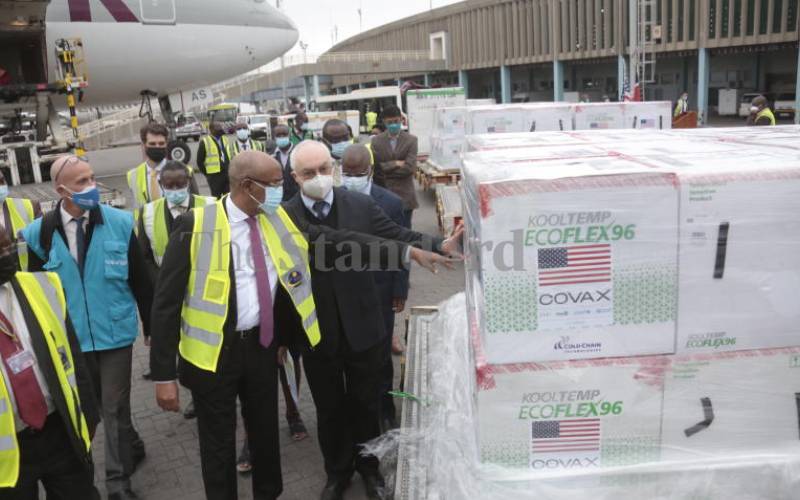 Kenya has received 880, 320 doses of Moderna Covid-19 vaccine and Kenyans who had not gotten the second jab have been urged to do so.
Health Chief Administrative Secretary, Rashid Aman, received the second batch of Modern and asked the over 90,000 Kenyans who were due for the second jab to get it and boost the continuing campaign for herd immunity since "the first dose provides one with some protection, full protection only comes about when one is fully vaccinated," he said.
Kenya has so far received over 1.7 million doses of Moderna from the 880,460 doses received two weeks ago.
Kenyans now have a choice between Moderna, AstraZeneca and Johnson & Johnson which was procured last week directly from South Africa under the African Union Platform. Also expected are doses of Pfizer from the US government, boosting the vaccination drive and alleviating constraints earlier experienced in the past few months, arising from the global supply of vaccines.
About two million people have been vaccinated so far in Kenya, according to the Ministry of Health which hopes to reach the target of 10 million Kenyans by December this year.
"All the vaccines deployed in Kenya have been approved by World Health Organization (WHO) and that no vaccine is superior to the other when it comes to prevention of severe disease and prevention of death," said Dr Aman.
According to Dr Willis Akhwale, the Ministry of Health Chairman of Covid-19 Vaccine Taskforce, the ministry has revised the deployment plan by adding more priority groups to include people with underlying conditions above 18 years and people living with disabilities.
Earlier on, the priority groups included frontline health workers, those above 58 years, security personnel, and teachers.
Dr Akhwale also said that counties will decide which facilities will store the Johnson and Johnson Vaccine.
He also explained that there will be no mixing of vaccines, saying that there are already enough AstraZeneca vaccines in the country and that it is not a policy in Kenya to do so.
Related Topics