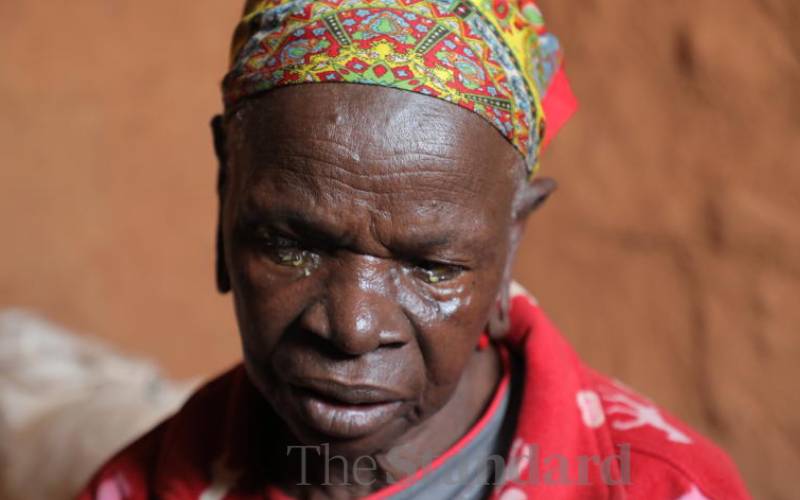 Nalepu Kalembu from Kajiado Central suffered from severe pain in the eyes, coupled with sensitivity to bright light.
The 51-year-old initially thought it was an allergy to dust. She tried antibiotics but the pain persisted. Gradually, the mother of three lost her sight to advanced trachoma.
However, a successful trachoma operation has restored her sight, ending three years of pain.
"I can see! I thank God. I thought I had gone blind," Kalembu told The Standard during a visit to her home in Lenkishon village where she had missed out on family events, church functions besides turning into begging to support her children.
"I was in constant pain and teary eyes, a condition that made me lose hope," says the woman who now considers herself lucky after her sight was restored. "God is good. I am happy that I can cook and enjoy meals with my children."
Globally, trachoma - a condition more prevalent among the elderly-is the leading cause of blindness, according to WHO.
Rebeccah Oenga, an ophthalmologist at Kajiado County Referral hospital explained that trachoma is caused by chlamydia trachomatis, a bacteria that causes inflammation or conjunctivitis in the eyes which turn red, teary and with discharges.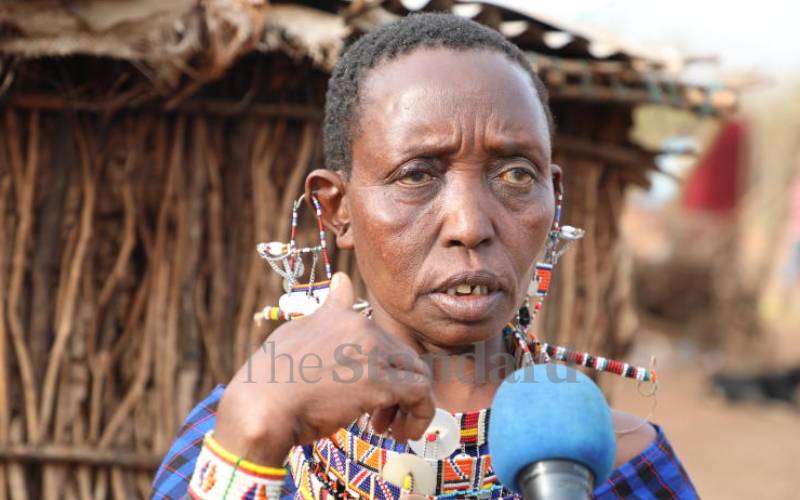 Trachoma is transmitted from one person to another through fingers, sharing personal items and flies.
"The disease affects the older population, who go blind, with children getting an active form of trachoma," said Dr Oenga adding that re-occurrence in infection causes trauma on the cornea and eventually loss of sight, if not treated.
The prevalence of trachoma is high in rural areas due to scarcity of water, lack of health facilities and poor roads network.
Dr Oenga reckons that the "lifestyle of the Maa community creates a conducive environment for the transmission of trachoma, due to inadequate supply of water and sanitation facilities."
Another victim whose sight was restored is Elizabeth Partoti.
The 70-year-old has been struggling with eye problems for three months, a condition that left her isolated. The mother of six could hardly see, only walking short distances in her compound.
"I felt like there was an object in my eyes, which made me scratch my eyes. I was deprived of sleep and had difficulties conducting my daily chores," she said, but after surgery, Partoti can now walk, travel and perform chores.
Silvia Likami, a community health volunteer said despite the successful operation of blinding trachoma, locals are skeptical and associate it with old age.
"We are grateful that the elderly are successfully operated on, unlike in the past, when they visited traditional herbalists, who scratched their eyes, only to leave them blind," says Likami adding that though surgery prevents blinding, it does not reverse blindness caused by trachoma.
Dr Oenga said trachoma is managed through surgery to prevent blindness and antibiotics to reduce prevalence.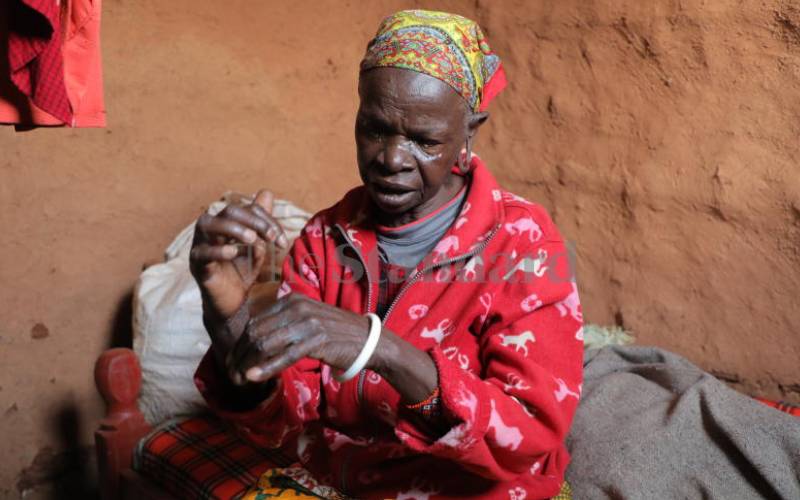 "The operation involves reverting the eyelid using a clump (eyelid clamp), and the inner side of the eyelid is exposed, where an incision, from the lid margin on the tussle plate, is performed," said Dr Oenga.
The eyelashes are reverted, with the eye cleaned with antibiotics. The surgery takes about 10 to 15 minutes.
But even with operations to prevent loss of sight, locals are reluctant to embrace it and believe it's part of ageing. "Instead of seeking help from doctors, locals visit traditional healers, which worsens the cornea of the eye, resulting in loss of sight, due to severe eye infection," explains Likami.
Besides Kajiado, counties where trachoma is endemic include Turkana, West Pokot, Baringo, Isiolo, Marsabit, Wajir, Kitui, Narok, Embu and Meru.
Samburu and Laikipia too had cases but which have since been contained.
Dr Sultan Matendechero, head of vector-borne and neglected tropical diseases, said various interventions have been put in place to eliminate the disease by 2023.
"Intervention aimed at averting trachoma include surgery, provision of antibiotics and keeping the environment clean," said Dr Matendechero adding that, "Covid-19 affected gains made in the fight against trachoma since we could not conduct outreach programs, which resulted in a backlog on operations."
Related Topics