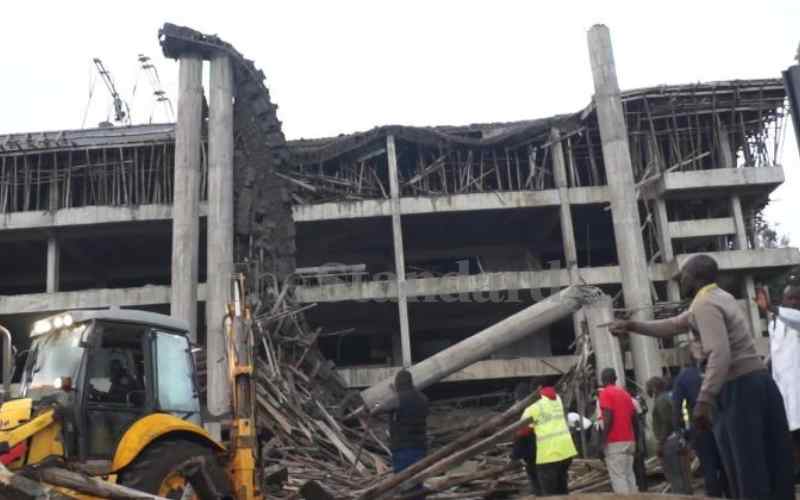 The most dangerous occupation in Kenya is working in building and construction sites, according to a recent research.
Researchers from Masinde Muliro University of Science and Technology (MMUST) found that health and safety of workers on site were not a priority. This translated to 70.7 per cent of mjengo workers suffering accidents or escaping death narrowly if not being permanently disabled.
Causes of injury include sharp objects, injuries from hand tools, followed by falling and tripping while laying of foundation stones and slab, erecting columns, walling, scaffolding and plastering. Those painting got paint in their eyes causing discomforts.
Tools used were hoes, spades, wheelbarrows, hammers and chipping chisels subjecting the hands to blistering, hammer bruises, cuts and other related injuries. Only three-quarters of sites had first aid facilities or preventive measures against electric shock, noise, welding fumes and cuts. Responses to accidents were also wanting.
Those who reported no accidents or injuries (29.3 per cent) were found to be either new employees recruited at the time of study or those who worked in concrete mix and wheeling materials on wheelbarrows.
Other challenges included lack of toilet facilities with most resorting to the bush, fence and against building walls. There was lack of safe drinking water, which was obtained from the same source as water for construction work.
The study was conducted by Edwin Wamukoya, Issah Kweyu, Maximilla Wanzala and Micky Olutende between November 2019 and November 2020 in Kakamega, Mumias and Butere towns. It involved 351 respondents in 162 construction sites and the findings were published in the Journal of Nursing and Health Science this April.
Dr Olutende noted that construction involved a lot of repetitive work and manual lifting of heavyweights that could easily lead to musculoskeletal disorders like bone fractures, osteoarthritis, rheumatoid arthritis, carpal tunnel syndrome and tendonitis.
"Compliance levels on the health and safety of workers on site was very low with only 25 per cent of sites getting high compliance. Monitoring construction works on site by relevant bodies averaged to 2.3 per cent visits and in case of a problem, there was no one to have it rectified," said Olutende.
Dr Kweyu noted that most construction workers survived on poor meals or went without meals leading to diminished concentration, thus making them vulnerable to accidents and injuries.
Kweyu suggests "punitive fines be meted on those found not complying with provisions of the law in terms of the safety of workers".
Related Topics