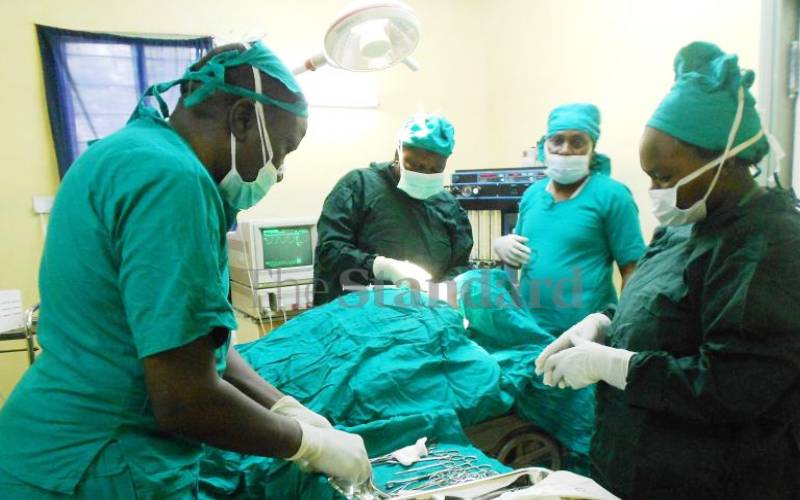 When he is not at the dais or on the floor of the House as they say in parliament, Endebess MP Robert Pukose performs surgeries for free at Endebess District Hospital. The hospital isn't as well-stocked as it should but he makes it work.
In a 2019 interview, he said, "The County Government has failed to provide gloves, sutures, fluids, gases and anaesthetic. They have also failed to post an anaesthetist there. There was one, but he left and none has been posted so far. We also need doctors who will provide continuous care."
That was then and things are likely to have changed.
Dr Pukose has maintained his medical licence and is a registered doctor on the Kenya Medical Practitioners and Dentists Board.
"I am willing to work with anyone else to make sure that the skills I acquired in medical school are used to contribute something to the society," he says.
But Pukose's was not always a story of one born with a silver spoon in his mouth.
Traditionally, a boy had to be a man when circumstances demanded it. And this little boy was trying his best to do exactly that. He would roam the plains of Endebess with a stick in his hand as he patiently shepherded excitable animals.
He was as smart as a whip, but sadly, dreams and ambition weren't for his lot. Sometimes his mind would wander off, wondering about the life beyond those plains now that his studies had come to a halt. He now had livestock to tend to, to earn his keep. Other times he missed his father terribly. He had been killed by thugs. When such thoughts threatened to overwhelm him, he would shake them off quickly. After all, he was the eldest of 10 children and now he had to help his mother fend for the family. The little money she got from selling illicit brews just wouldn't cut it.
So when an uncle in the army came home and found that his smart nephew had turned in the books for the pastures, he vowed to change that. And that is how Robert Pukose got back to class. A few years later, thanks to hard work and determination to succeed, he joined St Joseph's School on a Starehe Boys full scholarship.
"It was a miracle. I felt there was finally hope in my life. All I had to do was work hard," he says.
And work hard he did. He pursued a degree in medicine at the University of Nairobi that took him 10 years instead of the usual six. When he was done, he did his Master's degree too and set to work as a general surgeon in Eldama Ravine and Baringo.
But that was ages ago. Today, I meet him in his office at Parliament. He is little no more; literally and figuratively. He is also not afraid of life. He knows that life is a struggle, and whatever it brings, he can handle.
He turns his head in my direction and points at his ear. He explains that it is a prosthetic one. He could have fooled me. It matches his complexion and looks no different from the right one.
"When I was six, I was knocked down by a car while crossing the road. I was carrying a sack of maize on my back at Kwanza Market. Fortunately, I lived to tell the tale, but I lost my left earlobe. I can hear very well with it," he says.
Death by choking
His loss of an earlobe and whatever difficulties however pale in comparison to losing his first child at a tender age.
"The saddest moment of my life was in 2007 when I lost my daughter. The maid was giving her porridge and she choked to death. Her name was Audrey. She was 18 months old," he says, looking at his hands. He shakes his head unconsciously as though to rid himself of the sad memory.
"I value my children above all else. They are my life. I want to be remembered by them as a dedicated husband to their mum and a great father."
He is married to Aska Cheruto and they have two boys; Joe 18, and Jose Pukose, 16.
His dark eyes have a naughty gleam as he talks about his wife Aska. The woman, he says, has been his lifeline.
"We got married in 2005. We grew up in the same village. I love my wife. She loved me when I had nothing and she has been with me through thick and thin. When I married her, her family was not too pleased with that development. She was marrying a nobody; a guy who had nothing."
Many years down the line, they have come to love and appreciate him.
"But I understand their concerns. But you just can't predict someone's future."
Ditching the scalpel
In 2012, he ditched the scalpel for politics. A good draw, as he won the election and became the Member of Parliament for Endebess constituency on the URP ticket. In 2017, he was re-elected in 2017 on a Jubilee ticket.
"My happiest moment was when I was elected as the MP for Endebess on April 4, 2013. It wasn't a mean feat for someone with my past," he says.
Don't you think you would have served people better as a doctor in the hospital than as a politician? I prod.
"I think for the 13 years I served as a doctor, I did a good job. I come from the Sabaot community, which is one of the Kalenjin sub-tribes. I felt that there was a gap for good leadership, and the leadership that would be able to give what people wanted.
Considering my background, a humble one, I felt that by being a Member of Parliament, I would give an opportunity to others through bursaries and other avenues that I would be able to support them, so that anybody would be able to become anything they wanted," he says.
And besides the bursaries, he is also providing free surgeries to his constituents. Something he did even before he got into politics.
Correcting fistula however is something that he is passionate about.
"You find that many women in this country, especially those who have gone through female genital mutilation and difficult births, develop complications known as fistulas.
The faeces and urine mix and go through the wrong opening. The surgeon will then have to bring the colon outside of the body (colostomy) and repair the injuries and once healed, it is returned inside the body. What happens is that the repair of the fistula is done free during medical camps and when the patients go back to the hospital after several years of healing, the repair that had been done has collapsed and it is repaired again, over a period of time. Sometimes, you will find that some of the patients are stranded out there and don't have means to go back to the hospital for repairs. And these people are shunned by society because of the condition's associated smell," he says.
And it is these women he would bundle into his car, take them to the hospital in Baringo, get them fixed before they re-integrated into the society.
"These are the people who came and voted for me. Like there is one from a place called Gituamba. She would walk with her family from there to Endebess to register as a voter so as to vote for me.
Related Topics