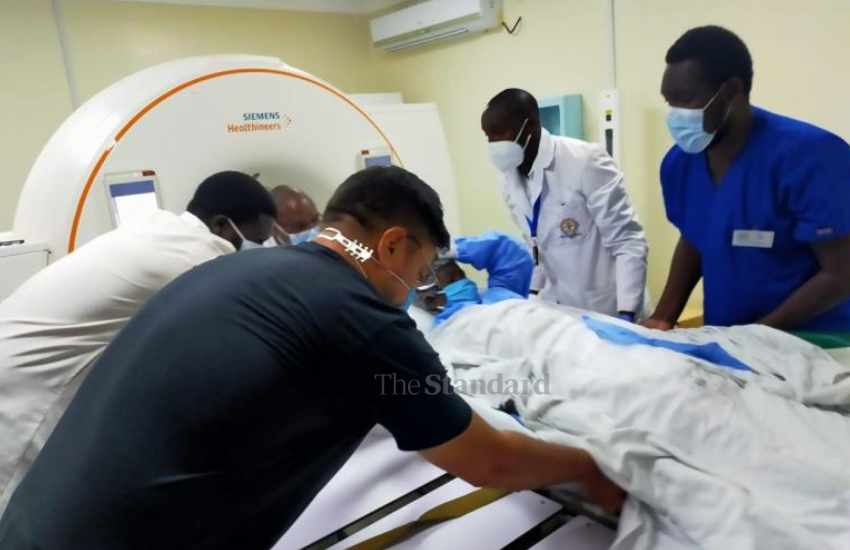 A 57-year-old woman successfully underwent brachytherapy, a type of internal radiation therapy to treat cancer at the Moi Teaching and Referral Hospital (MTRH).
The mother of seven had stage 3b cervical cancer (headed to stage 4) that had spread to the pelvis.
It took about two hours by a multi-disciplinary team of doctors to manage the patient, led by Dr Jesse Opakas. The patient had been under review at the facility since March.
MTRH Chief Executive Officer Wilson Aruasa said it was the first time the facility was conducting brachytherapy, and on this particular case of a cancer diagnosed at an advanced stage.
"It is fulfilling to see the patient not in pain despite having had the cancerous cells for many years," said Dr Aruasa.
He added; "We received the patient when the cancer had spread to the cervix and pelvis. It took longer for her to be diagnosed."
Aruasa explained that brachytherapy was a type of internal radiation treatment used to treat cancers of the cervix, prostate, head, neck, and breast, among others.
He added that brachytherapy allows doctors to deliver higher doses of radiation to a specific area of the body with cancerous cells as compared to conventional form of radiation therapy.
With radiation therapy, radiation machine is projected into a patient's body from outside.
"The brachytherapy treatment involves inserting radioactive material into a patient's body near the cancer," he said.
He added that radiation therapy delivers a curative dose of radiation to the cancer while reducing risks of complication to surrounding organs.
"Doctors placed radiation source inside the patient's body where the cancer had spread, a process that took only two hours of internal radiation," said the CEO.
Aruasa added that the radiation therapy for cervical cancer involved both brachytherapy and external beam radiation therapy.
"The patient can walk home as she is in stable condition, but we require her to be monitored by a team of specialised doctors before discharge," he said.
Though The Standard visited the facility during the procedure, we could not talk to the patient because she was still under observation.
The patient's treatment was covered by the National Hospital Insurance Fund (NHIF) at Sh40,000 a session.
The procedure is done using at least one or two sessions of iridum-192, a radioactive material from Elekta.
Radiotherapy charges per session at the facility is Sh3,600 reimbursed by NHIF, Sh10,000 treatment planning/simulation (once), and Sh37,000 per session for brachytherapy treatment.
Aruasa said most patients accessing treatment are covered by the NHIF, which also provides basic chemotherapy that covers up to Sh25,000 per session and one can go up to six sessions that are fully covered.
Advanced chemotherapy takes up to Sh150,000 per session. Patients with NHIF can get up to 20 radiotherapy sessions.
"Cancer patients are encouraged to enroll for NHIF to enable them access quality treatment with the card, because treating cancer is expensive and most patients cannot raise the cash," Aruasa said.
MRTH attends to over 1,500 histologically diagnosed cervical cancers every year, the commonest female cancer particularly in the western part of the country. It is caused by the Human Papilloma Virus (HPV). Several thousands of others are screened.
Other common cancers handled at the referral facility include cancer of the breast, uterus, prostate, lymphomas, leukemias, postnasal space tumours, and esophageal.
Late diagnosis, the executive says, is the main challenge in treating cancers.
Related Topics