Doctors remove cyst with 3-litres of fluid from woman's face [Photos]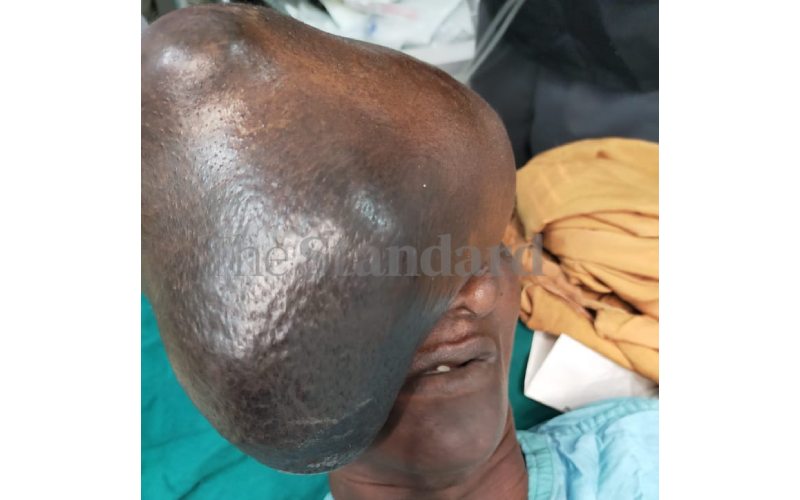 Years of agony, obstructed sight and an extra load on the face have come to an end for a 68-year-old woman from Bungoma County, who underwent a successful surgical operation to remove a cystic growth.
Beatrice Nanjala Makokha underwent the extensive 4-hour procedure at the Moi Teaching and Referral Hospital (MTRH) in Eldoret, Uasin-Gishu County.
Healthline.com defines a cyst as a sac-like pocket of membranous tissue that contains fluid, air, or other substances. The health site says cysts can grow almost anywhere in one's body or under the skin. There are many different types of cysts, with a majority of them being benign, or noncancerous.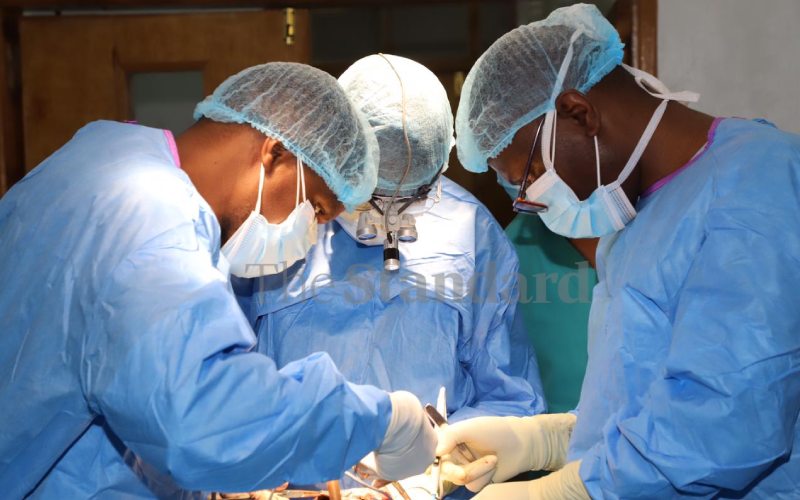 For Nanjala, she has had to bear with a cyst protruding from her face for years, consequently causing her untold suffering.
However, that torment came to a relieving end on Tuesday, April 13, when a multi-disciplinary team of medics at the MTRH successfully rid Nanjala of the abnormal mass of tissue.
Clinical examination revealed Nanjala had a huge cystic growth on the right side of the face that was covering her eye, frontal bone, ethmoid and frontal sinus.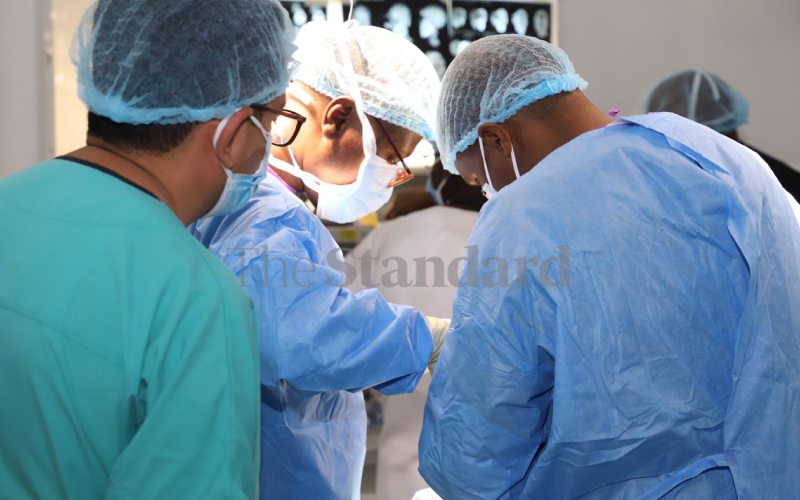 The MTRH Chief Executive Officer (CEO), Dr. Wilson Aruasa, told The Standard on Tuesday, April 13 that the mass had three litres of dermoid (bizarre but noncancerous) fluid. The liquid, however, hadn't spread to the brain.
The operation on the patient's face was successfully closed with a dura patch and cranium mesh (professional covering of an open skull).
The surgical procedure – led by MTRH Surgeon, Dr. Francis Thuku (Maxillofacial Surgeon), Dr. Geoffrey Wasike, (Neurosurgeon ), Dr. Wabwile Machimoto (Ophthalmologist), Anesthesiologists Dr. Elisha Kirwa, Dr. Werunga Kituyi and Scrub Nurse Edward Avula – took four hours.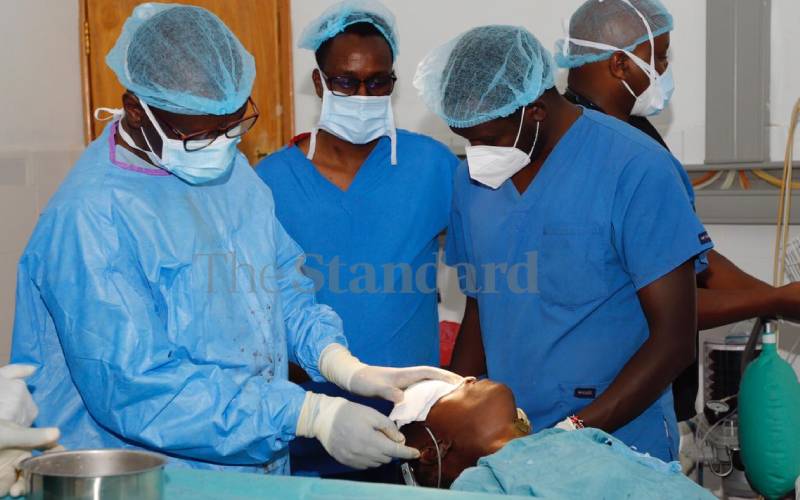 "It is such a milestone to have the growth removed from Beatrice, who has been ailing for long. It is not common getting such a huge cyst on the face," MTRH boss Dr. Wilson Aruasa said.
The patient had been referred to the MTRH from Bungoma County Hospital on Thursday, April 8.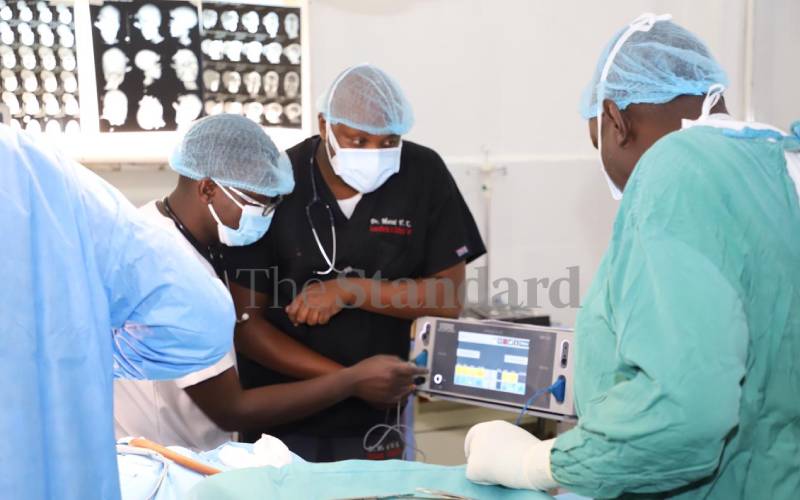 After undergoing a series of tests, doctors recommended Nanjala go under the knife.
A medical history indicated Nanjala had progressive right facial swelling, which had lasted many years.
"She had, unsuccessfully, been attended to at different health facilities in Kenya," said Dr. Aruasa.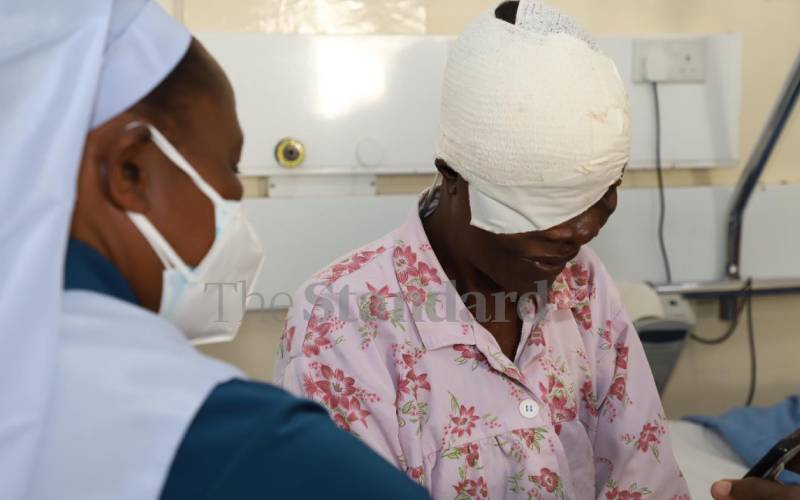 Before the surgical operation, multiple blood tests including Full Blood Count, Group and Crossmatch and a Head CT scan using a state-of-the-art 128 slice CT scan were done.
Nanjala also underwent a Covid-19 test that turned negative. A team of health professionals are currently monitoring the patient before she gets discharged.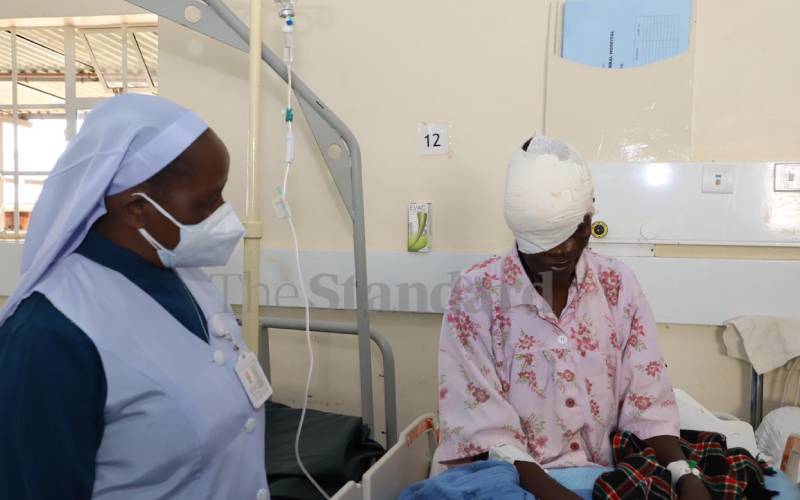 "The MTRH will keep treating her until she heals. She will probably be discharged after a week, or upon satisfactory hospital recuperation," said Dr. Aruasa.
The referral facility boss said Nanjala's treatment cost came to Sh550,000. However, the patient, who comes from a financially challenged background, won't part with the money because she was treated under the hospital's Corporate Social Responsibility (CSR) programme, which aims to achieve Universal Health Coverage (UHC).