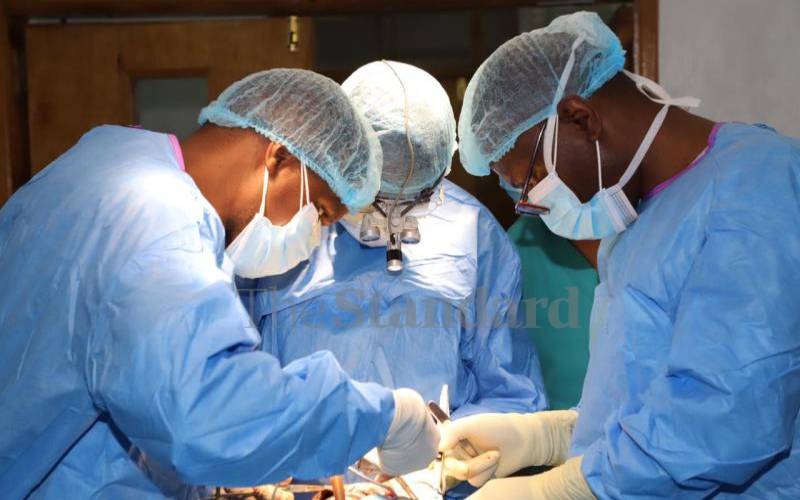 As they scrubbed up their hands and donned surgical gowns ready for complex surgery, all that they wanted was to put a smile on the face of a 68-year-old patient.
The growth on Beatrice Nanjala's face had deprived her of self-esteem for 24 years and the multidisciplinary team of medics at Moi Teaching and Referral Hospital (MTRH) wanted to change all that.
Dr Francis Thuku, a maxillofacial surgeon, said the operation was unique due to the size of the growth, and complexity as it had covered her right eye, frontal bone, ethmoid and frontal sinus.
Dr Thuku was the lead surgeon in the operation.
He said the growth weighed between three and four kilogrammes and had three litres of fluid.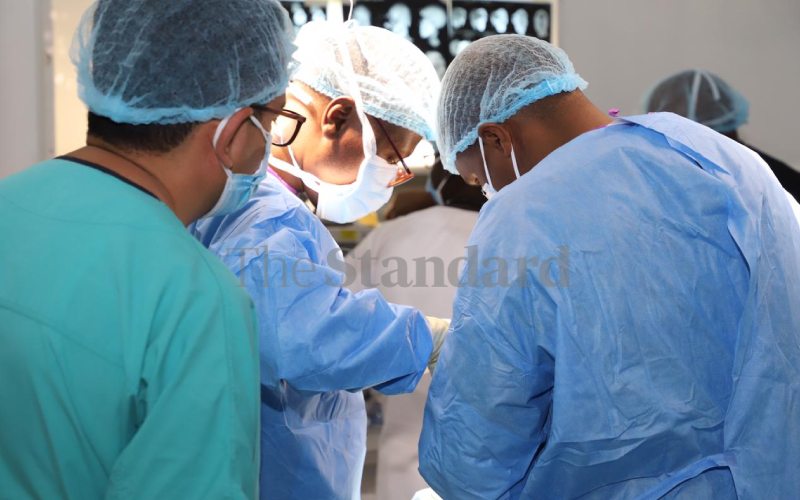 "It was a delicate operation because it was going to the scalp and penetrating to the brain, and it needed a slow approach to avoid damaging the brain, but due to competency of the surgeons, it was successfully handled," Dr Thuku of the four-hour surgery.
Apart from Thuku, other specialist doctors involved were Dr Geoffrey Wasike, (neurosurgeon ), Dr Wabwile Machimoto, (ophthalmologist), anaesthesiologists Dr Elisha Kirwa and Dr Werunga Kituyi and scrub nurse Edward Avula.
Before the surgery, multiple blood tests, and a CT scan among other tests were done.
What was going on in the minds of the doctors as Nanjala lay on the operating table?
"We were composed, and ready to help the patient regain her image.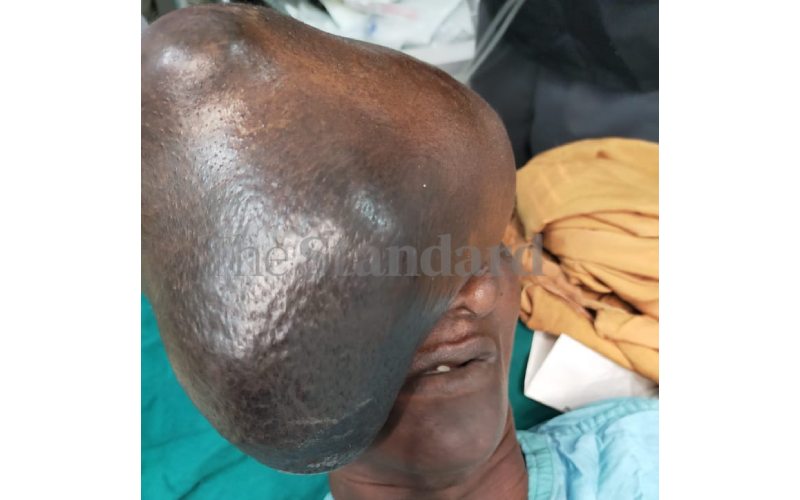 "Doctors were not scared at all," Thuku said, adding that they were prepared for any shortcomings.
A multidisciplinary team was engaged because of their different specialties and the complexity of the growth.
It had grown to different parts including the eyes and that required an ophthalmologist.
Since it had also extended towards the brain, inside the scalp, they needed a neurosurgeon.
Monitor patient
Dr Thuku's role as a maxillofacial surgeon was for the reconstruction of the face, while an anesthetic specialist was to monitor the patient during the surgery.
A radiology specialist conducted imaging and planned for the surgery, and he monitored the operation, alongside other specialists.
There were an ear and nose specialist as the growth had gone towards the nose.
"Each doctor who was engaged had a specialised role they were playing, and each was to ensure smooth surgery, and that the vital organs were not tampered with," explained Dr Thuku.
monitoring progress
He added that after the successful surgery, Nafula's face was closed with a dura patch and cranium mesh.
Before she was admitted at MTRH, Dr Thuku had developed a keen interest in the case, after her images went viral on social media.
Nanjala is recuperating well and a team of medics is monitoring her progress before discharge.
Her surgery cost Sh550,000 and will be catered for under MTRH's Corporate Social Responsibility (CSR), toward the achievement of Universal Health Coverage(UHC).
Related Topics