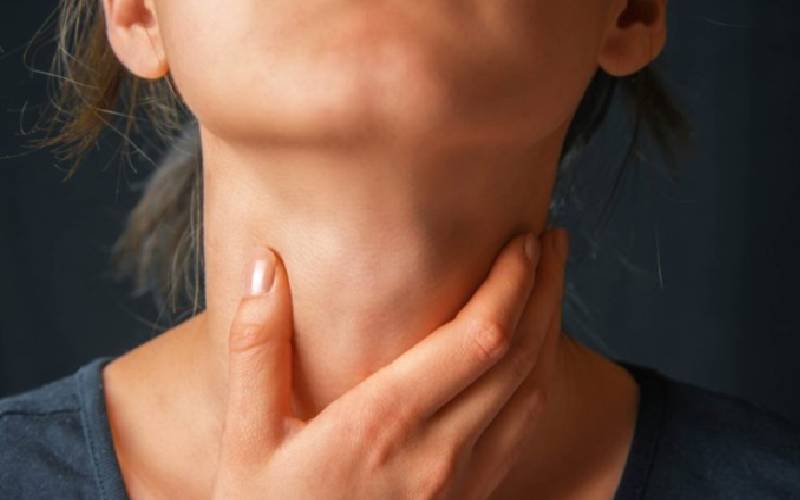 An unusually high spike in thyroid cancer has worried doctors who now want screening of children and adolescents restricted.
A new study by the World Health Organisation (WHO), involving 47 countries, including Kenya, says thyroid cancer in adults has risen dramatically in the last three decades.
"Thyroid cancer has become the fifth most commonly diagnosed cancer worldwide in adult women aged 20 to 84 years and the third most common in women aged younger than 50 years," says the study published last Tuesday.
The Global Burden of Thyroid Cancer from 1990 to 2017 published in June, estimated the disease to have increased by 60 per cent to 200 per cent within about three decades.
While the lowest increase was recorded in Africa, the studies say the rise is still significant. Last year the WHO recorded 432 cases and 128 deaths from thyroid cancer in Kenya and projected this to grow significantly.
Experts have however attributed the spike to overdiagnosis following the explosion of new diagnostic imaging techniques in the 1980s. These technologies include ultrasound, CT, and MRI, and more recently PET scans.
Rampant overdiagnosis
Overdiagnosis, explains Nicholas Abinya, a senior oncologist at Kenyatta National Hospital, is the detection of subclinical or extremely mild indications of the disease. If left alone, he says, this may never develop into cancer or cause any harm to a person's life.
"Overdiagnosis can, in turn, lead to overtreatment, lifelong medical care and side effects that can negatively affect the quality of life," says the new study.
Worried over these findings in adults, researchers in the new study wanted to find out if similar overdiagnosis may be happening with children and adolescents.
The team, led by Salvatore Vaccarella of the International Agency for Research on Cancer, collected data from cancer registries in 47 countries, including those in Nairobi and Eldoret.
"We did a population-based study of children and adolescents aged zero to 19 and observed an increase of the disease, especially in ages 10 to 19 in all countries and more so in girls than boys," says the study published in The Lancet.
Most of the recorded cases, they say, were due to overdiagnosis and suggest too much exposure of children to imaging and CT scans as the cause of the increased cases.
When children are exposed to radiation
"Exposure to CT radiation at a young age increases the subsequent risk of thyroid cancer, with their use for medical examinations having increased substantially in some countries."
The evidence highlighted in this study, the team says, strongly suggests that in a general population of children and adolescents, the potential harms of diagnostic pressure outweighs the potential benefits.
Children with thyroid cancer usually undergo total removal of the glands, putting them on lifelong thyroid hormone replacement. "This markedly affects the quality of life of these young individuals," says the study.
Too much exposure to imaging, the experts conclude, can itself lead to the development of cancer, especially in children, or identify otherwise harmless indications.
Consequently, they recommend the screening for thyroid cancer in children and adolescents who are asymptomatic and free from other risk factors.
In 2015 Rose Nyabanda, Assistant Director, Radiology Department at Kenyatta National Hospital, had warned of the dangers posed by the dramatic increase of unregulated imaging centres in the country.
"In the last decade, centres offering imaging services have been sprouting just like photocopy kiosks," Dr Dr Nyabanda had told The Standard.
"Most of the radiation diagnostic tests Kenyans are being subjected to, mainly at commercial outlets, are not necessary and expose patients and machine operators to irreversible radiation risks," she said.
A survey carried out during the same period covering 30 imaging centres across the country found huge discrepancies in how CT scanning was being done.
The study supported by the International Atomic Energy Agency reported a high incidence of patients being over or under-dosed, a risk for improper treatment or radiation poisoning.
The study, published in the Journal of Radiation Protection Dosimetry found the number of CT scanners in medical use in Kenya to have increased by more than 80 per cent in a decade. Most of the technologies, the report said, were being operated by untrained personnel.
Thyroid cancer
Thyroid cancer occurs in the cells of a butterfly-shaped gland located at the base of your neck, just below the Adam's apple.
The gland, explains a blog by the reputable Mayo Clinic of US, produces hormones that regulate the heart rate, blood pressure, body temperature and weight.
"Thyroid cancer might not cause any symptoms at first. But as it grows it can cause pain and swelling in your neck."
Some types of thyroid cancer grow very slowly and others can be very aggressive, while most are curable.
Mayo Clinic also suggests that thyroid cancer rates seem to be increasing. "Some doctors, however, think this is because new technology is allowing them to find small thyroid cancers that may not have been found in the past.
Related Topics