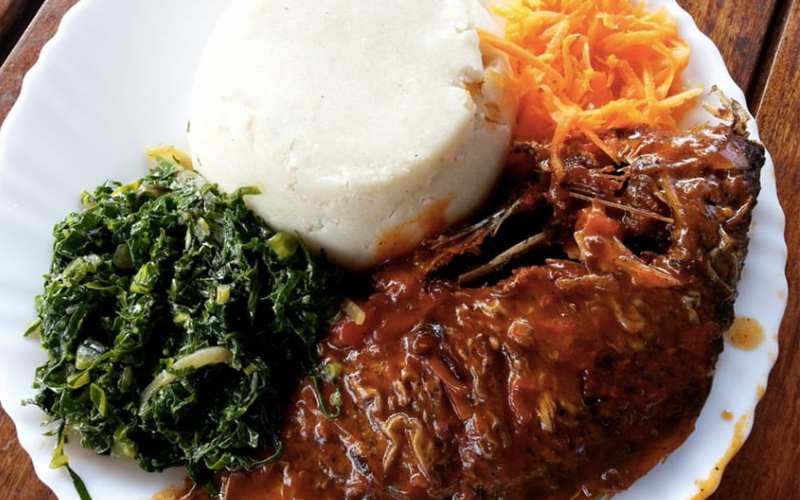 Many Kenyans are increasingly eating alone, taking meals hurriedly and with unhealthy snaking all day long.
This is on top of starting the day with an over-sweetened morning tea, then a lonely fried lunch, an over-salted 'mutura' for afternoon snack and an energy-dense supper.
Who you eat your food with, called synchronisation; for how long you take the meal known as tempo; and the interval between meals or periodicity all affect your health.
Why you shouldn't be eating meals alone
A recent survey in Nairobi found most people are getting the habits of eating all wrong on top of eating unhealthy type of foods.
For example, almost half of the people sampled in Makadara sub-county of Nairobi were found to eat most of their meals alone.
Eating alone has been associated with poor food choice, loneliness and possibly contributing to the growing depression and mental problems in society.
A study conducted among 8,000 adults in the UK linked lone eating to an increased risk of overweight, depression, heart disease, stroke and diabetes.
"We are seeing more people prefer tables for one even at the bar," says Antony Macs, who runs Simba Restaurant off Outering Road, Nairobi.
"The long bench seating and big boisterous tables, even in bars are giving way to the lone sitting with internet connection and phone charging outlets," says Macs.
Researchers at the Nairobi-based African Population and Health Research Center (APHRC) and colleagues from France, UK, and Ghana recently investigated not only what people are eating in Nairobi and Accra, Ghana, but also how they are consuming their food.
The report published in October in the scientific journal Global Food Security found more than a third of study participants to eat most of their meals alone.
"Eating alone was common, involving over a third of eating episodes," says the report. More Kenyans, the study shows are likely to eat lunch alone than supper but still sharing the evening meal with family or friends is on the decline.
One explanation, the researchers suggest maybe that people's working lives are less structured, so families may not gather together as much in the evening due to irregular work patterns.
"This is possibly because family members may arrive home late after work when others have already eaten."
Fast eating
In Makadara, a typical residence of struggling Kenyans, the researchers assessed feeding habits in households spending between Sh24,000 and Sh200,000 a month on domestic budget.
Almost half of the study participants, 47 per cent, reported eating their meals especially breakfast and lunch in under 30 minutes.
Even for the main meal, largely taken at supper time, just slightly more than half of the respondents spent more than 30 minutes on the meal.
21 per cent spent less than 10 minutes on food, 23 per cent spent half to a full hour and only about five per cent took more than one hour. A whole 40 per cent of Ghanaians spent less than 10 minutes on their food.
"People who eat quickly are more likely to weigh more," says Dr Leslie Heinberg an eating behaviour expert at Cleveland Clinic, US.
When we eat, the signals of hunger have to move from our stomach and gut to our brain, she says. It takes the brain about 20 minutes to shut off the urge to eat and recommend 30 minutes as the ideal eating time.
Irregular timings
The Makadara study team emphasises the importance of having and maintaining regular meal times called periodicity.
"The intervals with which people eat may have negative effects on health, for example, eating more frequent and irregular meals can have a detrimental impact on body weight."
"Consuming your meals and snacks on a regular schedule can help keep your digestive system healthy," advises the global campaign - Stop Colon Cancer Now.
When you don't eat at consistent times each day, dieticians warn may cause the stomach to overwork resulting in bloating, indigestion and even serious long term problems.
Keri Tidwell of the Stop Colon Cancer Now, campaign goes on to recommend eating every 3 to 4 hours, in order to allow the stomach to properly digest its contents
"By setting specific times for breakfast, lunch, dinner and snacks and sitting down to eat them at the same time each day, your body knows exactly when it's time to eat, which will help prevent overeating and improve digestive health," says Tidwell.
Regular meals but unhealthy snacking
In Nairobi, the researchers found most Kenyans to mainly eat three meals a day which are well spaced with breakfast early in the morning. This is followed by lunch at about 1–2pm and dinner at around 8–9pm.
However, the team found heavy and unhealthy snacking to be rampant among city residents especially in the afternoons and much too close to supper.
"We found a great likelihood of a regular afternoon energy-dense snack; usually sweetened tea, with chapatti or mandazi in Nairobi," said the report.
"Mutura" – African sausage and smokies were some of the energy-dense snacks found to be quite popular in Nairobi with the latter almost exclusively taken in the late afternoon.
In general, the authors say eating habits in Nairobi are changing and not for the better and recommend government policies offer a guiding hand.
For example, they suggest policies that assist food vendors prepare 'quick and healthy to eat foods'.
Related Topics