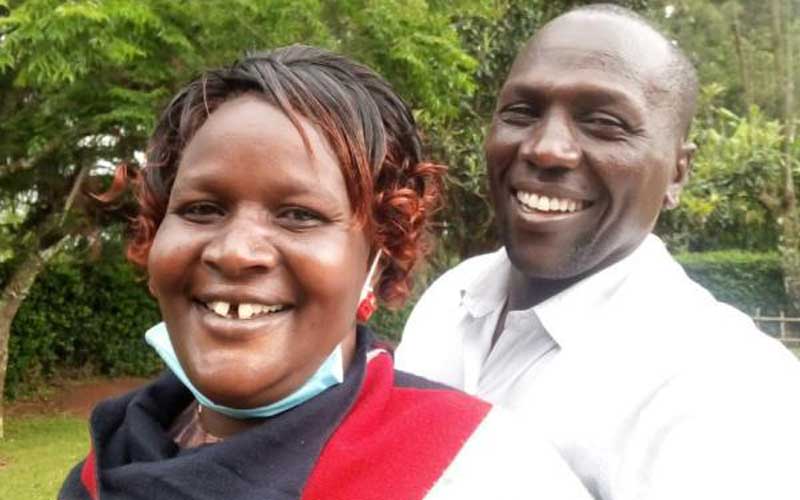 A couple in Uasin Gishu County has spoken of how their strong bond has helped them cope with the stigma of living with HIV for two decades.
Thomas Ruto, a police officer, and his wife Mary, a nominated Member of the County Assembly, are now viewed as role models due to their outreach work on enlightening residents of Nandi and Uasin Gishu counties about the disease.
The couple tested positive for HIV in 2000, at a time when it was harder for those infected to talk openly about their status due to stigma.
"I lived a healthy life until I noticed I was losing weight. My husband had also drastically lost weight and was becoming sickly. Through government advocacy to have people know their status, I went for free testing and counselling at the Moi Teaching and Referral Hospital (MTRH) in Eldoret," said Mary.
She added: "I was surprised and I cried when I was informed that I had turned positive. But after counselling, I accepted my status. But it was a process to have my husband tested and know his status." Mary, who was then a primary school teacher in Lessos, Nandi County, told her spouse that she had been advised they both needed to be tested for HIV before enrolling for a family planning programme.
Received counselling
"Luckily, my husband was convinced and agreed to be tested. He was found to be positive. He was worried but after receiving counselling, we both accepted the reality and vowed to live on," she said.
Ruto said his wife's plan worked because they were put on antiretroviral therapy (ART) that has proven to be successful.
"At the time it took two weeks to get the test results. When I got my results, I was worried about what I would tell my wife. I did not know she already knew her status," he said. The policeman, who hails from Soy, said he had heard of HIV and feared the virus but he never imagined he could be infected.
"My immediate worry was what could we do because death was next. My salary in 2000 could not sustain ARTs that cost Sh15,000 each month and a periodic CD4 count that cost Sh2,700."
Unsure of what would come next, Ruto said he started putting his family affairs in order.
"We became prayerful and I cannot remember where we got the resources to enroll our young children in academies to speed up their education. We also built a permanent house."
Ruto said he was grateful that after going public and participating in advocacy and sensitisation programmes, they benefited from programmes to combat HIV.
"My wife was beneficiary number 68 in the Ampath programme initiated at MTRH by Dr Joe Mamlin from Indiana University in the US. We adhered to advice on the use of combination drugs, hygiene and regular exercise."
His advice to Kenyans during yesterday's observance of World Aids Day was simple. "Get tested early and regularly and if found to be infected with the virus, lead a positive life."
Mary agreed with her husband, adding that they had told their children about their status and still managed to live a fulfilled life.
"Some people tried to shun us and others talked about us. But we ignored them and went on with our lives. We have been open when speaking out during meetings.
"As the world commemorates this day, we urge the national and county governments to put in place measures to address concerns affecting HIV-infected people. There is still stigma, lack of resources for treatment, and poor patients who cannot afford a healthy diet."
Ampath Director Sylvester Kimaiyo said 11 countries in western Kenya are currently benefiting from programmes to combat HIV and Aids.
"In Uasin Gishu County there are 32,000 people living with HIV. Out of the 30,000 on medication, 28,000 are adults and 2,000 are children," said Prof Kimaiyo.
He revealed that the Covid-19 pandemic had affected services in 800 clinics by disrupting the travel arrangements of patients and medics.
"In March, most HIV patients failed to turn up for medication in their respective clinics. We had to intervene by going to them in April. We gave those who could not travel drugs to last three to six months."
Kimaiyo said their focus is to eradicate HIV and the coronavirus disease. "We want to reach 95 per cent of HIV patients, ensure 95 per cent are on medication and 95 per cent have suppressed viral load. We will distribute Maisha bags that contain food, manuals explaining preventive measures, and contraceptives to the vulnerable in Uasin Gishu County."
Related Topics