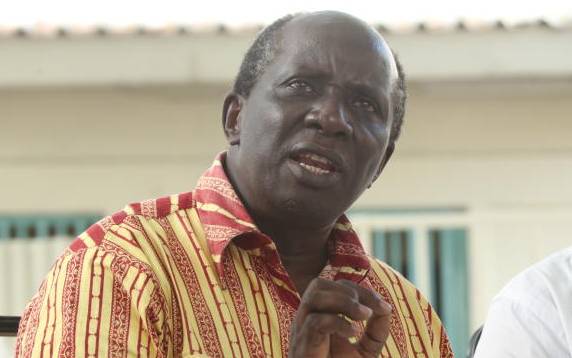 Members of Parliament serving in the Departmental Committee on Health were moved to tears as they listened to the harrowing tales documenting the plight who are forefront in the fight against Covid-19.
After issuing a strike notice and airing their grievances, the medics appeared before the committee chaired by Murang'a Woman Representative Sabina Chege.
Seme MP Dr James Nyikal broke into tears while expressing his views on how the sector was mismanaged.
A sobbing Dr Nyikal lamented lack of a clear-cut legal framework to streamline health sector.
"We wish we were having this meeting in State House with the President chairing…then all those who he listens to can make their contribution," he said
"Take it easy it easy Mheshimiwa…," moderator cooled him down as he said to say: "It's not fair…"
The MP, who served as vice-chair of Kenya Medical Practitioners and Dentist Board in the 1990s before serving as the Director of Medical Services (2003-2008) blamed the Ministry of Health for failing to enforce health standards hence putting lives of doctors at risk.
"The national government, the ministry has policy and standards. Are they able to go to the counties and say this is not according to standards, this is not the policy, we want it to be done differently?
What is the point of a national government that cannot enforce the standards and policies?" he asked.
The other lawmakers, Sarah Paulata Korere (Laikipia North) and Joyce Akai Emanikor (Turkana Woman Rep), could also be seen in the two-minute clip wiping off their tears.
The meeting comes three days after the Kenya Medical Practitioners Pharmacists and Dentists Union (KMPDU) issued a 21-day strike notice on Sunday, urging the government to meet their demands or they halt their services.
"The National Advisory Council has resolved to issue a 21-day strike notice to the Government of Kenya," noted a letter by the KMPDU Acting Secretary-General Chibanzi Mwachonda.
The union decried improper protection at their workplaces in the time that the country combats the second wave of Covid-19 pandemic. They want the government to provide them with standard and adequate Personal Protective Equipment (PPEs), medical cover and compensation scheme for the frontline health workers.
They also called for the hiring of additional 2,000 doctors to bridge the gap. The doctors have decried the squalid facilities in most health facilities saying that most health workers are dying due to lack of necessary facilities like ventilators.
Already, the country has lost 30 medics among them, 10 specialist doctors.
The 10 specialist doctors are Dr Adisa Lugaliki (Obstetrician Gynaecologist), Dr Ndambuki Mboloi-(Pulmonologist), Dr Daniel Alushula-(Orthopedic Surgeon), Dr Vladimir Schuckin-(Bariatric Specialist), Dr Hudson Inyangale-(Public Health Specialist), Dr Emarah Asharaf-(Plastic Surgeon), Dr Robert Ayisi-(Pediatrician), Dr Hudson Alumera-(Periodontal Surgeon), Dr Faith Mbuba-(Pharmacist) and Dr Jackline Njoroge (Physician).
Related Topics