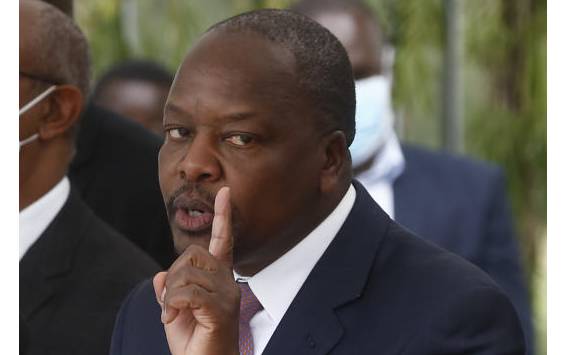 Health Cabinet Secretary Mutai Kagwe (pictured above) has asked the Kenya Medical Practitioners and Dentists Board (KMPDB) to immediately review Pathologists Lancet Kenya following allegations of conflicting Covid-19 tests.
Speaking in Nakuru where he checked the county's preparedness to handle the coronavirus pandemic, Kagwe said if found culpable, the government would revoke the Lancet Laboratories licenses.
At the same time, Kagwe announced that an additional 421 people tested positive of Covid-19 in the last 24 hours, while eight patients died.
The 421 positive cases were from a sample test of 3,895, with 409 being Kenyans while 12 are foreigners. A further breakdown shows that 297 are males while 124 are females.
Kagwe noted the total Covid-19 caseload in the country stands at 11,673, with fatalities rising to 217 while those recovered are 570. On the controversial testing, Kagwe said they were still investigating.
"It is true there are laboratories, specifically Lancet, which carried out tests that turned out from positive to negative. It has also carried out other tests. We have asked our board to review Lancet and see what they come up with. If you have been hearing that a lab has all these unclear results, why to go there for a test?" he posed.
Responding to questions from journalists at the Margaret Kenyatta Mother-Baby Maternity Wing in Nakuru Town West after his daily Covid-19 updates, Kagwe said the government had a responsibility to protect Kenyans.
"As a government, we have the responsibility to ensure that licensed laboratories are working in a believable manner. It's so important for us to keep people informed in such a manner that is true. The worse thing that we can do is to have people question the results that we announce," he said.
The CS said if the lab will be found wanting then the medical board will have to shut it down.
"Yes, we have asked the medical board to look into works of some of these labs. Where we believe that a laboratory is not performing in accordance to rules and not adhering to the standards, definitely we will close it down," Kagwe said.
There have been claims of variance between positive corona test results and the negative ones from some laboratories, and in some cases where repeat testing has been done.
Dubious results
Kiambu Central MP Jude Njomo, whose family buried a matriarch Margaret Njomo in June, told the Parliamentary Health Committee she (mother) had tested negative only to be told by the Health ministry she was positive.
A repeat test at the Nairobi Hospital, however, returned negative results, prompting Pathologists Lancet Kenya to approach Dr Patrick Amoth, the Director-General of the Health ministry, with contradictory results. There were also two cases in Nakuru County, where patients received conflicting results after undergoing Covid-19 tests at Lancet.
Results that have turned out negative after being declared positive by the laboratory include 17 members of St Andrew's School, Turi. Test results for the institution's staff were positive at Lancet but turned out to be negative in a repeat test at the Kenya Medical Research Institute.
Lancet's East Africa Chief Executive Officer Dr Ahmed Kalebi defended the organisation, saying the incident of disparities was not unique and that the facility had been audited by three government institutions.
Related Topics