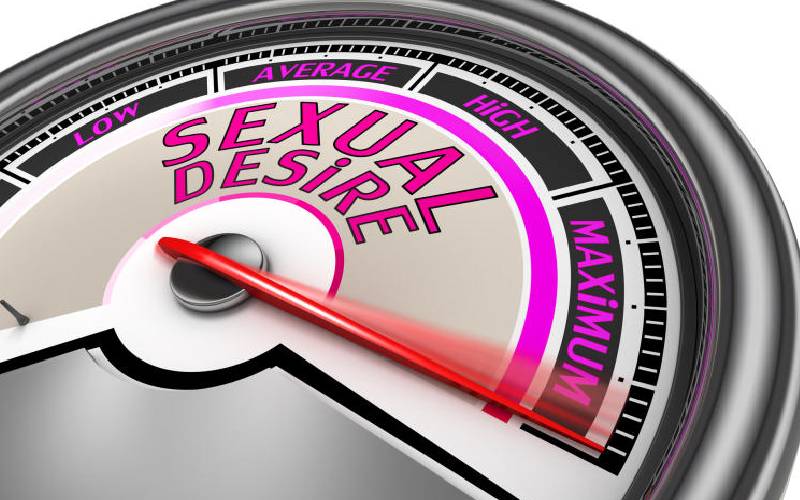 Sometimes you may be up for some intimacy and sometimes you will blame fatigue and headaches for not feeling up for a romp in the sheets. Your libido will not always be steady, and that is OK and expected; unless you have a medical condition that could be affecting your sex drive, and that is nothing that a sex therapist can't sort out. Libido is defined as that feeling of drive or motivation to engage in sexual behaviour. It is influenced by a number of factors. They could be biological, like low sex hormones, medical conditions and age. They could be social factors like a bad partner relations or lifestyle and psychological factors like stress, anxiety and self-esteem.
Is libido predetermined?
Sex drive has been discovered to be one of the inherited genes. Scientists found that the same genes that affect personality can also affect one's sex drive. Age is another factors that brings changes in libido. As the years go by, one's desire for sex changes. Women who have undergone circumcision generally suffer adverse changes in sexual desire, arousal and satisfaction regardless of their age. A local 2017 study showed that female genital mutilation results in poor quality of sex life and eventually may have a negative impact on the general well being of a woman.
Responsive versus spontaneous libido
According to sex scientists, responsive libido is the type that is woken by initiated sexual activities. On the other hand, spontaneous sex drive primary comes without any influence; in other words, pap! You are ready to go. The latter is what is mostly portrayed in movies making it seem more ideal that responsive libido. However, both scenarios are natural and none is abnormal. People experience both at one point or another in their lifetime. In addition, one may experience high sex drive without manifesting any signs of arousal such as erection.
Ovulation spikes sex drive
Increased testosterone and estrogen levels during ovulation results in increased sex drive. More so if one is trying and looking forward to get pregnant. In addition, pregnancy may increase libido in some women especially during the second trimester. Since they are already pregnant, such women would prefer to relax and enjoy sex. Again, due to increased hormones and blood flow in the genitals during pregnancy, sex drive goes on a high.
High testosterone equals high libido
Testosterone is present in both men and women, with a substantially higher amount in men. It is attributed to sexual vigour. Testosterone levels lower with age in both men and women; which explains why younger people have higher sex drive when compared to older individuals.
Men's libido peaks at a younger age
Since men have peak testosterone levels around the age of 20, they experience high sexual desire at a younger age as compared to women. All in all, it depends physical health, the right state of mind and psychological well-being.
Aphrodisiacs; do they work?
Well, scientists report that no food has been proven by research as a spontaneous libido booster. It is more probable that how certain foods are eaten and their shape can entice sexual feelings. There is no sufficient scientific proof that mukombero (White's ginger), octopus soup or other touted foods can make a sexually disabled man rise to the occasion. However, a diet that is nutritionally sound, containing essential minerals that improve circulation and exercise will definitely boost your sex drive.
How age affects sex drive
In Your 20s
Men
Men in their 20s experience high testosterone levels. This hormone is responsible for sexual arousal in men. This is the time when a man's sex drive is strongest. Men in this age also experience anxiety as they try to gain sexual "experience". It is estimated that inexperience anxiety accounts for 8 per cent of men who experience erectile dysfunction in their 20s.
Women
Studies suggest that most women in their early 20s fear getting pregnant. Studies, careers and body image issues may deter their sex drive in this age. Although they still experience sexual fantasies, come across pleasant and also unsatisfactory sexual experiences, their sexual drive starts to peak as they approach late 20s.
In your 30s and early 40s
Men
Healthy men continue to enjoy high sex drive even though testosterone levels gradually drop by around 1 per cent or more annually. Lowering testosterone levels also gradually reduces libido. Men in this age bracket also have social responsibilities such as family commitments, work life stress and providing for their kin. Psychologists say that such concerns can to some extent lower their drive to engage in sexual activities.
Women
From the age of 27 to around 45, women experience their strongest libido. Compared to younger or older women, this is the age group that has women experience "intense sexual fantasies." Some women become more sexually adventurous during this time. Since most women usually have a stable and dependable partner in this age, they are more at ease to experiment sexually. This is also the likely age group when childbirth and raising children becomes more involving. Body changes and fluctuating hormones may cause conflicting libido.
Late 40s and 50s
Men
They experience fewer and sometimes less firm erections from time to time due to dwindling testosterone levels. However, men who are physically and mentally healthy enjoy a fairly good sex life. The development of age-related health conditions such as high cholesterol, diabetes and heart disease, coupled with the medications used may interfere with libido in this age group. Consult a doctor when you have health condition that affects our libido on safe ways of spiking it up.
Women
With less worry of conceiving, more women may be interested to engage in sexual activities. However, shortly before, during and after menopause, women experience a drop in estrogen, frequent hot flashes, insomnia, mood changes and reduced libido. These menopausal changes result in vaginal dryness which makes sex less interesting. Your doctor may advise you and provide options of some hormonal therapy, use of lubricants and other medications.
60s, 70s and beyond
Even though hormonal changes naturally drag down libido as we age, it does not completely disappear. Certain medications used in treating depression and hypertension have been shown to have anti-sex side effects. Men and women above 60 years of age can still enjoy sexual intimacy. Lifestyle changes such as exercising, eating healthy and staying in shape go a long way in helping you desire and enjoy sex more. Also consider quitting smoking and if you have to, drink alcohol in moderation. You can spice things up by bringing some novelty in your sex life in this age. Go on dates with your spouse, have fun. Old age does not have to be boring.
Related Topics