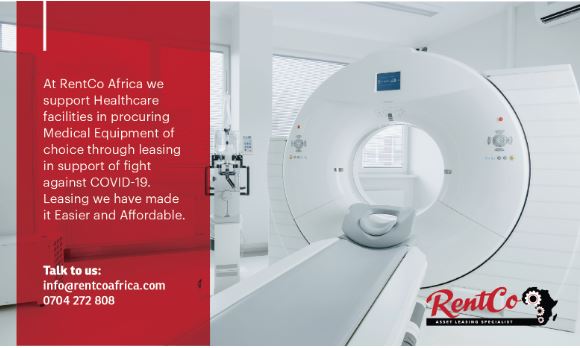 The Coronavirus continues to spread across the world, wreaking havoc on the quality of health in hospitals across the globe. Even developed countries have been on the receiving end with lack of essential medical equipment to combat the virus in most of their medical establishments. The global pandemic is slowly making its way into Africa, leaving questions as to how well the healthcare system in African countries are equipped in order to fight this pandemic.
Acquiring new medical equipment is capital intensive hence why most hospitals haven't been able to procure necessary medical equipment where needed. The Covid-19 pandemic outbreak has given the health sector no option but to procure the necessary medical life support equipment. Asset leasing option has proven as the best financial solutions for the health sector in procuring of urgently needed medical equipment without affecting its cash flow.
RentCo Africa Limited an independent asset leasing company providing customer tailored innovative asset leasing solutions to health sectors in Africa. The company also offers hospitals and health care systems an operational framework with shared accountability for managing costs, and risk. They also offer additional support for more connected, predictive and personalized care delivery in the health sector in order to achieve operational excellence today while transitioning to a future of patient-centered, value-based care.
The organization has partnered with the best local and international medical equipment manufacturers and suppliers with latest innovative technology. Their medical equipment leasing services enable health facilities to focus on their core business; which is to offer health services by helping them reduce their capital investment. An additional benefit is that, whilst acquired assets depreciate after a certain period of time and require more investment to upgrade to new technology, leasing does away with that cost.
How It Works
A medical facility identifies their medical equipment requirement and supplier of choice or alternatively engages us on specific medical equipment sourcing through our suppliers – Upon meeting all our requirements we make full payment of the cost and deliver to their facility on agreed rental fee.
The facility receives the requested equipment without any initial payment and equipment come with service and maintenance agreement from our supplier.
To learn more about the leasing option available visit https://www.rentco.co.ke/
Related Topics