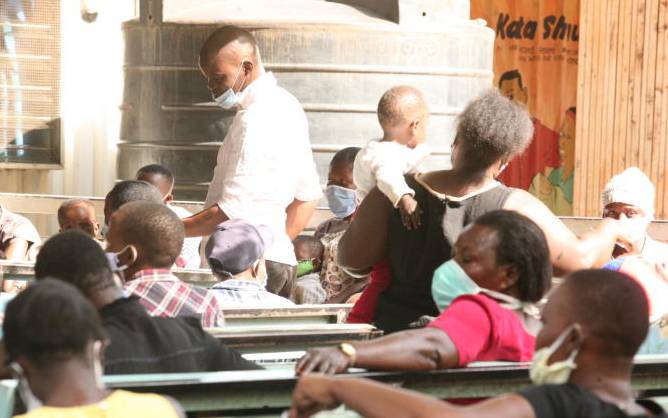 A number of public hospitals in Kisumu are not implementing the social distance directive to protect patients and staff from contracting Covid-19.
A spot check by The Standard inside the facilities found crowded waiting bays and little regard for hand sanitising.
At the Jaramogi Oginga Odinga Teaching and Referral Hospital, the situation has been worsened by crowded wards and poor implementation of guidelines to ward off Covid-19.
The waiting bay was jammed with relatives waiting to see patients in total disregard of social distance directives.
A nurse at the facility, who did not want to be named said because she is not authorised to speak on behalf of the facility, said more people were being allowed into the hospital than necessary instead of the numbers being regulated at the main gate.
"Implementation of the directives is still a challenge because many people are still being allowed to access the facility," said the nurse.
The hospital's wards are packed with patients, some of whom have already been discharged but are still hanging around the corridors.
The wards become more crowded during visiting hours, with the surging numbers overwhelming available hand sanitising points and food freely exchanging hands.
"We do not feel safe because of the number of people being allowed into the wards. We are not given water to wash our hands before eating our food," said one of the patients.
At Kisumu County Hospital, the waiting bays were crowded with patients and their relatives.
While guards blocked those without masks from accessing the facility, several people removed their masks as soon as they entered the facility.
Outpatient waiting bays were also crowded in total disregard of social distance directives.
The scenario was the same at Lumumba Hospital and Ahero Sub-County Hospital.
At the Ahero Sub-County Hospital, the outpatient wing was crowded, with guards paying little attention to whether visitors were adhering to guidelines to protect themselves and patients from Covid-19.
County Communication Director Aloyce Ager admitted that there are challenges in implementing social distance within public health facilities.
He said the county health department has been conducting Covid-19 screening at the facilities in line with the World Health Organisation protocols.
"We have put in place sanitisation equipment at the facilities. We are also controlling the number of people visiting patients," said Ager.
County Chief Officer for Health Joseph Okweso said his office had made arrangements to ensure that patients' complaints against overcrowding are resolved promptly.
"We have a team to ensure that the directive on social distancing in our facilities is implemented," said Dr Okweso.
Related Topics