Home
/
Health & Science
Kebs boss grilled over health kits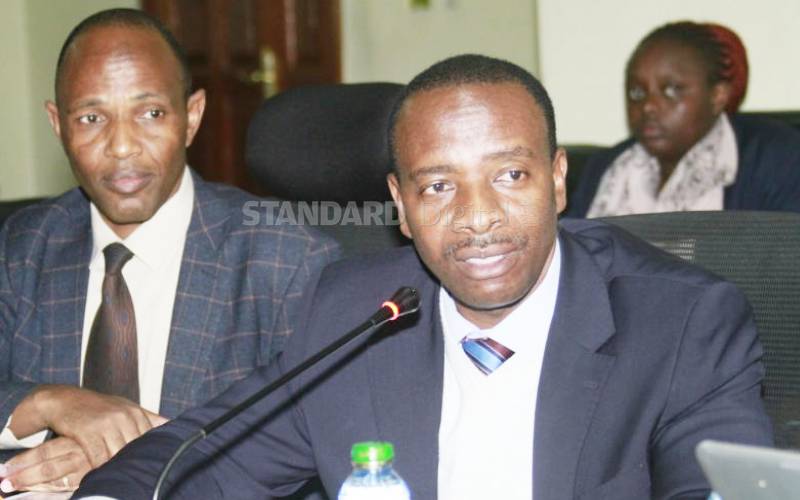 The Kenya Bureau of Standards (Kebs) did not inspect medical equipment worth millions of shillings that was imported into the country.
Kebs Managing Director Bernard Njiraini yesterday told a Senate ad hoc committee that the agency did not have the mandate to test the machines.
The Senate team is investigating the tendering of a controversial Managed Equipment Services (MES) project where machines worth Sh38 billion were leased to the counties.
"At the time MES was being procured and imported into this country, Kebs was not under obligation to inspect or verify the equipment. At that time, it was up to agencies in the Ministry of Health to undertake the inspection," said Mr Njiraini.
Njiraini also told the Fatuma Dullo-led committee that his agency had received a letter from Health Minister Cleopa Mailu warning them to keep off the equipment.
In a letter dated August 16, 2016, Mr Mailu told the standards body that the only agency with the mandate to handle the importation of the medical equipment was the Pharmacy and Poisons Board (PPB).
"In view of the foregoing, please note that the codes of the World Customs Organisation Harmonised System fall within the mandate of the Pharmacy and Poisons Board. All agencies under the Ministry of Health are urged to comply accordingly until further advised," reads part of the letter.
But in October, PPB chief executive Fred Siyoi had told the committee that they lacked the "financial, human and infrastructure capacity to inspect, test and verify the complicated high-risk medical devices coming into the country."
Nominated Senator Mary Seneta took Njiraini to task over his agency's failure to look into the safety and quality of the medical equipment.
But the MD told the committee that there are six companies contracted to inspect all imports and that Kebs had confidence in their assessment.
Country of origin
"The role of the agents is to undertake conformity assessment activities which include inspection, sampling, testing, sealing of full-load containers and issuance of certificates of conformity in the country of origin for products and vehicles being imported into Kenya," said Njiraini.
Bungoma Senator Moses Wetang'ula sought clarification on the agency's role. "How can Kebs be reduced to only inspecting permits from companies? A minister cannot write a letter for you to suspend the law."
Ms Dullo reminded Njiraini that when officials from the Ministry of Health appeared before the committee, they stated that Kebs had certified the equipment. "Are you denying that you did not?" she asked.
Related Topics