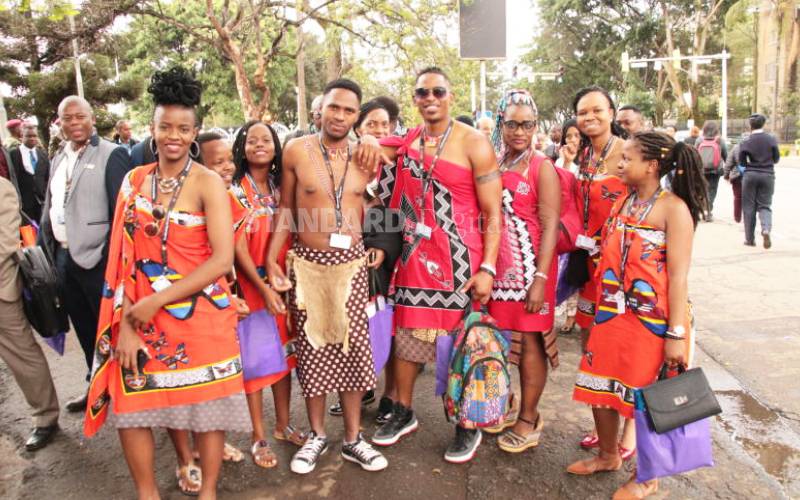 Women's sexual reproductive rights are not negotiable. This was the strong message yesterday during the opening of a global population summit ongoing in Nairobi.
Global leaders who graced the occasion made this message loud and clear, insisting that sexual reproductive rights were human rights and should be respected as such.
United Nations Population Fund (UNFPA) Executive Director Natalia Kanem made it clear that women should have control over their bodies.
"Reproductive rights of women and girls are not up for negotiation. We cannot help to end poverty, deliver quality education until every woman can live in full dignity and health," said Kanem.
Ms Kanem said it was time leaders from all sectors, including faith-based, rally to ensure choices were made available for women and girls in need of sexual health services.
"Sexual reproductive rights matter, because women and girls matter and everyone matters," she said.
With the upholding of these rights, she said, it was possible there will be zero preventable maternal deaths, gender-based violence, early and forced marriages, female genital mutilation and zero unmet needs for contraception.
"We all stand united and the time to act is now," said Kanem, addressing delegates at the International Conference for Population and Development (ICPD).
This summit, which is a follow-up of the ICPD Summit that was held in Cairo, Egypt in 1994, seeks to have leaders re-commit themselves to the commitments made then.
Kanem's message was echoed by Her Royal Highness Crown Princess Mary of Denmark, who said giving girls choices over their health and bodies was critical for their future.
"We cannot return to the time when women had little say over their issues," said the princess.
Mary, who is a UNFPA patron, said there was evidence that advocating for sexual reproductive rights had improved millions of girls' lives whose future would otherwise be not worth mentioning.
"More girls are now attending school and completing their education; fewer are getting children while still children themselves and more are acquiring important skills in life," she said.
She noted that it was still disappointing that in some areas, sexual reproductive rights were a taboo subject only discussed in privacy.
"The question then is; how do we talk about these issues? How do we provide safe spaces for women to talk and for us to listen to what they are trying to tell us?"
For Melinda Gates, co-chair of Bill and Melinda Gates Foundation, contraceptives are the most powerful tool to accelerate sexual reproductive rights among women.
"There are many issues that affect women and girls, but contraceptives are the most powerful tool for sexual reproductive rights," said Mrs Gates.
She said it was through contraceptives that women and girls can gain control over their own bodies.
Related Topics