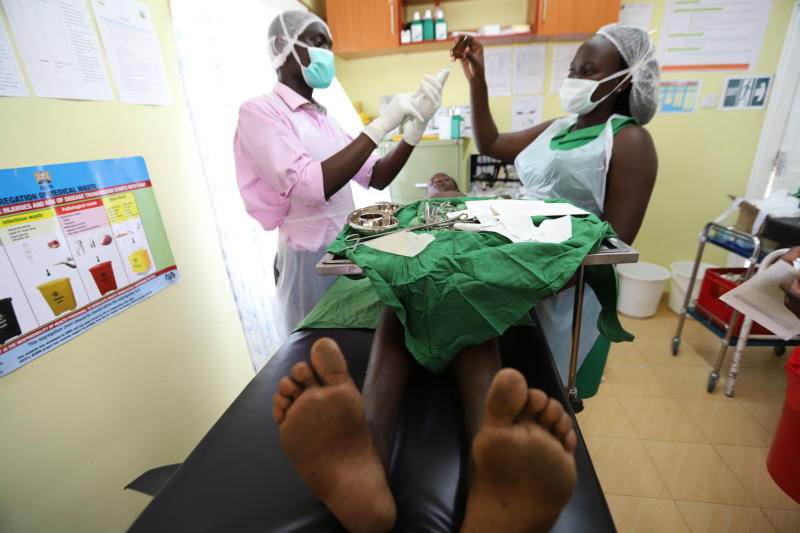 About 35,000 underage boys have been circumcised without parental knowledge or consent in the ongoing HIV prevention drive.
A study by Kenya Medical Research Institute (KEMRI) and the Pacific Institute for Research and Evaluation (PIRE) of US, reports that boys, some aged under 10 years, have been circumcised without the mandatory parental consent.
The study, funded by the US government and published on August 2, 2019, says some of the children circumcised without parental consent were found to suffer depression related to the event.
The team involving the University of North Carolina, US, had sampled 1,939 adolescents who went through the voluntary medical male circumcision (VMMC) in Western Kenya.
Worrisome
"It is worrisome, the team says, that about 10 per cent reported that consent for the procedure was not obtained from a parent, guardian or other adult family member.
"If our finding held true for the estimated 623,773 circumcisions supported by the US Centres for Disease Control and Prevention (CDC) between 2013 and 2016, then more than 35,000 minors may have been circumcised without parent or guardian consent," says the study appearing in journal Aids and Behaviour.
In Kenya, consent from parents or guardians and assent from minors is required for medical male circumcision for individuals under 18 years.
The donor programme mainly implemented by NGOs is coordinated by the National AIDS and STI's Control Programme (NASCOP) of the Ministry of Health.
Of minors who did not obtain parental or guardian consent about half indicated that a teacher, clinic staff, community mobiliser, or other adult but not a family member gave consent.
In 2016, parents of Shikomari Primary School in Navakholo, Kakamega County, had complained that the school had allowed a non-governmental organisation to circumcise their children without their consent.
The claims, then vehemently denied by the school, alleged minors aged five were being circumcised without their consent and had wanted the Education ministry to intervene.
The current study led by Winnie K Luseno of PIRE, says almost half of those circumcised without parental consent were orphans and many not be enrolled in school.
On further investigations, more of the children circumcised without parental consent were found to suffer higher rates of depression compared to those who had been consented.
"Our study found that adolescents who were circumcised without appropriate parent or guardian consent had poorer psycho-social outcomes than those who had appropriate consent."
The researchers now want such large scale circumcision programmes to be investigated on whether guidelines to ensure the protection and safety of minors are being followed.
"This is one of a series of studies we will be publishing on the issue of VMMC and ethics among adolescents in coming days," Luseno told Saturday Standard in an email.
The team attributes the practice of overlooking consents to high donor-set targets on the number of circumcisions to be achieved within a period.
Last year, an evaluation of the much praised VMMC programme in Kenya exposed massive data falsification and manipulation.
The evaluation financed by the US government reported high puffing of circumcision data in Kisumu, Siaya, Homa Bay and Migori.
Rates up
In Homa Bay for example, data for 2016 showed coverage rates of up to 180 per cent.
In Kisumu, Migori and Siaya, modeled estimates for 2016 were well over 100 per cent for all age groups, said the evaluation report.
Yet despite this excessive coverage, the projects continued reporting high circumcision demand and requirement for more funding.
Talking to Saturday Standard, Justin Williams of CDC-Nairobi said the issues may be clarified through the Kenya Population-based HIV Impact Assessment (KENPHIA) carried out last year.
KENPHIA report, now steeped in controversy, was to be released early this year but has been delayed raising concerns in Washington.
"We remain concerned about the lack of transparency in the KENPHIA survey data as there are other surveys that began after Kenya's, were larger in scope, and we already have full data available for planning and budgeting," Pepfar chief Deborah Birx had said in a January memo to US Ambassador in Kenya, Kyle McCarter.
The US has indicated plans to dramatically reduce its HIV funding to Kenya on assumptions that KENPHIA report will show a major decline in HIV in Kenya.
A report presented in March last year at a scientific conference in Boston, US, shows local parents are justified in being concerned over their sons circumcision.
The report by CDC-Kenya, said of 25 serious side effects reported in male circumcision between 2014 and 2017 a quarter of them were caused by health providers who did not comply with technical procedures.
Related Topics