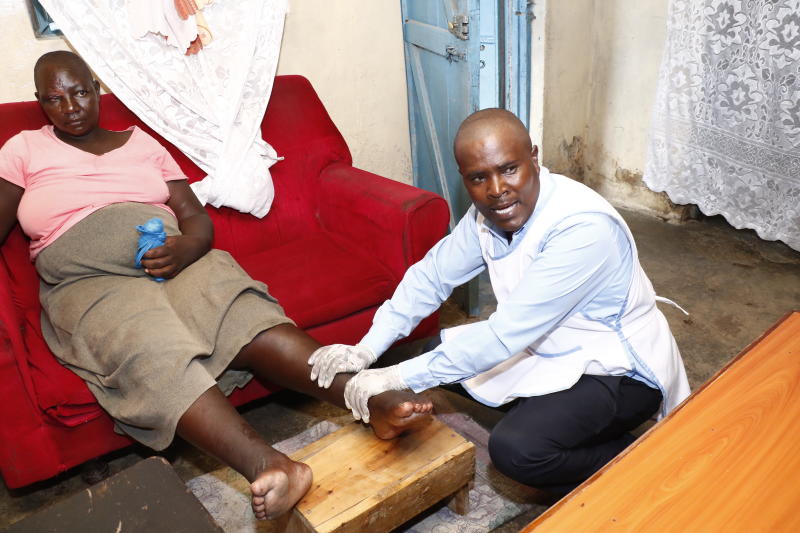 On John Kamau's study table are not just books neatly arranged, but also an assortment of medicine that now occupies almost half the space.
The drugs are his daily dose for the past six months since he was diagnosed with multiple stroke in November last year. The retired teacher is now bedridden and can barely move.
With only a history of high-blood pressure, which he used to manage, Kamau, 66, was fine and least expected to suffer from stroke.
"He was always fit, he loved walking and spent time teaching part time," says Wanjiku Wamae, his daughter.
Wamae says her father reported having a headache and stomach complications the previous evening. He decided to visit the hospital in the morning.
"That is the last time he walked. A scan showed multiple clots on his head, which were multiplying gradually. He was hospitalised for a while but his health kept deteriorating so we opted for home-based care," she says.
The family understood little about stroke, and Wamae says it is financially and psychologically draining for families that have to adjust to the sudden changes.
"Paliative care in hospitals is expensive for most families. We were linked to caregivers from Rafa Homecare in Nakuru who helped us set up a home-based care. Besides round-the-clock caregivers, a team of experts, including an occupational therapist, a doctor and a nurse, attends to him regularly," she says. Damaris Bosibori too is a stroke patient who resorted to home-based care. Bosibori suffered stroke in 2016 when she was 37. The mother of four, who lives in Mwariki estate in Nakuru is paralysed on one side of the body.
"It came as lightening, sharp pain that instantly paralysed me. I could not even wake up, one hand was numb and I could not move one leg," recalls Bosibori.
A visit to the hospital did not bear much fruit. She was told all she needed was a balanced diet and she would be well.
Her staying at home however aggravated the situation when she developed oedema, a condition characterised by an excess of fluid in the body tissues. As a result, her legs were swollen and became too heavy to lift.
"It was not until 2017 when I was linked to caregivers who were offering free services. I was also linked to an occupational therapist who has been visiting daily to massage me and there has been some relief. I can now lift my leg and my fingers are slowly regaining sense of touch," says Bosibori.
According to her caregiver, Stanley Muchangi, cases of stroke are becoming rampant, yet most patients don't get proper care. "Most of these patients fall into depression, aggravating the situation," he says.
David Maina, an occupational therapist, says the burden on families with stroke patients is heavy because the capacity to handle the cases is still a challenge.
"Therapy is vital towards recovery, and the patient needs proper feeding, toileting and clothing. Care-giving plays a critical role even in hospitals whenever doctors and nurses are overstretched," he says.
Abdi Rahman, a nurse, says people should go for regular check-ups, as stroke can strike without warning.
He says some of the signs of stroke include blurred vision, slurred speech, dizziness, facial weakness, arm weakness and drooling.
"Stroke patients also require constant care to avoid contracting pneumonia, contractures, blood clots, oedema and even obesity," says Rahman.
According to a 2018 study on Kenyatta National Hospital and Moi Teaching and Referral hospitals, mortality as a result of stroke is high due to poor healthcare.
The study said despite the increasing global burden of stroke, there is limited data on stroke from Kenya to guide in decision-making. The study recommended the establishment of a stroke registry in the country.
"Stroke occurrence in sub-Saharan Africa has been associated with poor health outcomes," the report said.
The risk of death, the study said, increases with increasing age and duration of hospital stay, therefore calling for more attention on quality of care and long-term needs of stroke patients.
Related Topics