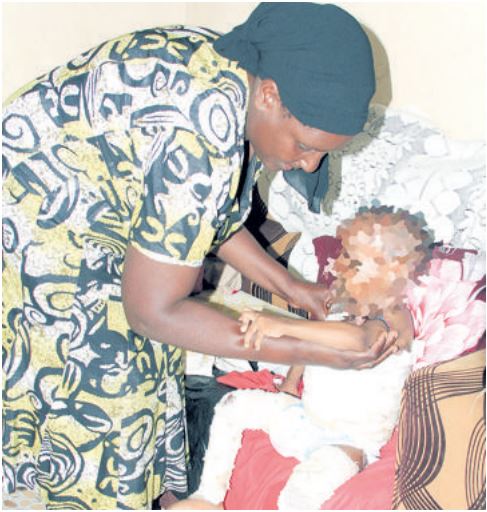 Wisdom Kariuki is only three and a half years old, but has known more pain than many people will ever experience in their lives.
Nursing wounds all over his frail body, he is covered in bandages from neck to toe.
And the pain is so much that he hardly has a calm moment. When his aunt, Monica Mumbi, lifts him up from the sofa, he begins to sweat in pain, hands outstretched out and with tears streaming down his face. His bare bottom is bleeding from the wounds on it.
"We hardly ever sleep," his aunt says. "His pain gets worse at night and he starts crying out, 'mum nachomwa, mum nachomwa'."
Wisdom used to be given ibuprofen (brufen) for the pain but the doctor stopped that and he is now on paracetamol. It is hardly enough for the pain.
At Kenyatta National Hospital, which was his home for close to a year as they tried to bring the condition under control, he was often given morphine, a powerful painkiller, but one that cannot be administered at home.
Wisdom is suffering from a rare autoimmune condition known as pyoderma gangrenosum. The immune system is supposed to protect the body, but having an autoimmune condition means that the immune system mistakenly attacks its own body, attacking healthy cells.
Dr Winnie Njenga, a dermatologist at Kiambu Level 5 Hospital, says with pyoderma gangrenosum, the body's immune system mistakenly attacks healthy skin cells, causing wounds like in Wisdom's case.
"You are not born with the condition, it is basically a disregulation of the immune system. A doctor can perform tests to find out what triggers it, but for most patients you never know what causes it," she says.
After many visits to different hospitals since 2016, Wisdom was diagnosed with the condition at KNH last year.
Stopped talking
He used to walk but has regressed due to the wounds in his legs and cannot walk now. At some point he also stopped talking, and was assessed by a psychiatrist to determine whether the pills he was taking were affecting his speech, but he recently regained the ability to speak.
Three issues make his condition even more complicated, causing additional diseases on top of pyoderma gangrenosum. First, with an autoimmune condition, it means that the immune system is already compromised. Secondly, because the immune system is the problem, he has to take medication known as corticosteroids to suppress it, lowering his immunity further. He is also anaemic, meaning he does not have enough blood.
Duncan Okoth, a wound specialist at KNH, says all this causes the wounds to heal much slower than they should, and are susceptible to more infections. The lowered immunity also predisposes him to other diseases. He has had pneumonia, meningitis and during our visit, he was on treatment for tuberculosis.
The problems began when he was one year and five months old.
"When he first got sick in 2016, he was treated in Njoro and then taken to Nakuru Provincial General Hospital. At that time, doctors were on strike so he was not treated," says Mumbi.
The problem with such delays in treatment is that the moment a wound appears, it spreads incredibly fast and his skin and flesh begins to eat itself from the surface inwards, and the wounds get deeper.
"If he gets a wound at night, by morning it will be very big and sometimes it gets very bad. There was a time it was so bad it got to the bone and you could see the naked bone," says Mumbi.
Wisdom's mother, a farmer, and father, who moves door-to-door selling shoes, are upcountry in Ol Kalou. His mother has a young baby and is therefore unable to take him to KNH regularly, leaving the responsibility to Mumbi. His father visits him twice a week.
Bathing is not an option for Wisdom. His aunt instead wipes the few parts of the body without wounds, which, right now, are his face and arms. They have to use special antimicrobial dressing to heal the wounds and prevent them from getting infected.
"We have to buy aquacel, and one sheet costs Sh7,100. He usually needs two of them for each dressing," says Mumbi.
No cure
Dr Njenga says the condition does not have a cure per se, but can be managed with proper care in terms of dressing, treatment and wound management. "Some patients go into remission, although it can come back," she says. Proper care involves the dressing that Wisdom needs weekly, sometimes twice a week depending on the nature of the wounds at the time. This cost has been enormous for Mumbi and Wisdom's parents.
"Right now I don't even want anything for myself, I just want this child to stop suffering so much," she says.
Kenyans who heard of Wisdom's plight through philanthropist Ndung'u Nyoro's page raised Sh1.1 million to help last week. Contributions can still be made on paybill number 160250. Account: Wisdom