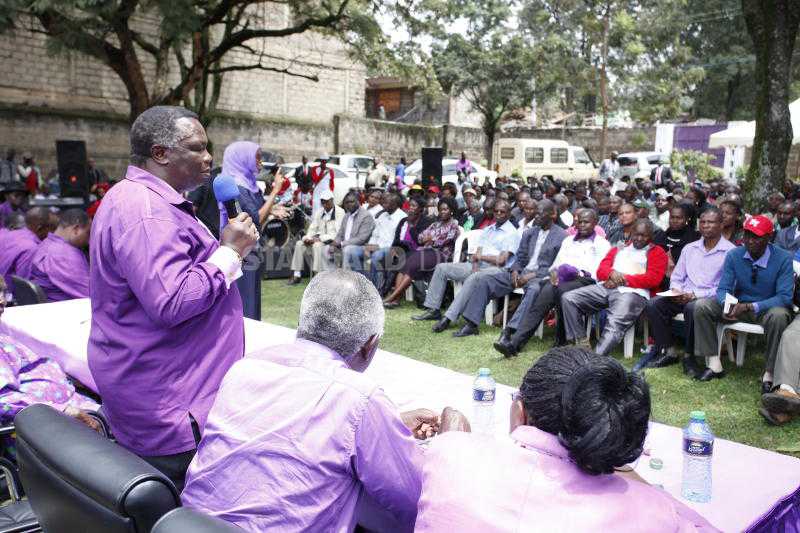 Kenyans will now pay their social health insurance from their basic salary instead of their gross pay.
After two day deliberations between the Central Organisation of Trade Unions (COTU) and National Health Insurance (NHIF), it was agreed that subscribers of the social health insurer may soon have their deductions made from their basic pay.
This means the 6.5 million contributors may be deducted less than what they are paying now. However, such changes need revision of the NHIF Act to align it with the Universal Health Care plan which is currently underway.
"Propositions have been made by workers for NHIF deductions to be based on basic pay instead of gross pay. Both parties have agreed to further deliberate on the same," read a joint statement between Cotu Secretary General Francis Atwoli and NHIF Chief Executive Officer Geoffrey Mwangi.
Such news comes as a relief considering that the deductions made from gross pay are calculated on employees' extra benefits or overtime earnings inclusive of their allowances which has them being deducted more.
In April 2015, NHIF revised its calculations that dictated that its subscribers will be paying their statutory contributions from their gross pay.
The move then, was to extend NHIF services to outpatient cover as it was just known for inpatient.
However, the decision was protested by stakeholders among them Federation of Kenya Employers (FKE) who said the move was in bad taste.
From a flat rate of Sh320 a month, due to the changes, the new rates went up to Sh150 (for those earning below Sh6, 000) and up to Sh1, 700 for those making up to Sh100, 000. The self-employed who are paying Sh500 now used to pay Sh160 a month before the changes.
The deliberation that ended Tuesday according to the statement, were reached upon during the fifth Joint Annual Meeting to deliberate quality and accessible health care for Kenyan workers.
Though improvements were proposed, it was noted that workers now enjoy a wider scope of cover, making healthcare affordable, equitable and accessible to all 'while cushioning members from catastrophic expenditure on health care'
"NHIF and Cotu are calling upon the government to improve the quality of its health care facilities by improving the quality of services, diagnostic and medical equipment, health work force and improve the facilities infrastructure," read the statement.
It was also agreed that for NHIF to ensure its sustainability, a proportion of the funds advanced by the Government be used for the training of NHIF staff.
Related Topics