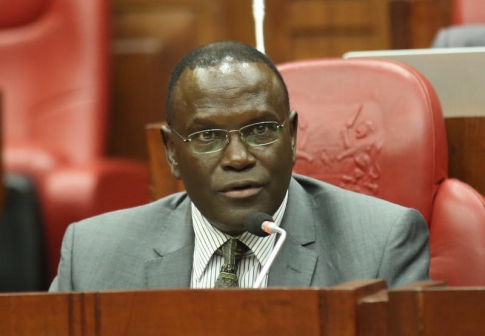 The Government has begun re-classification of health facilities across the country in a move that has raised questions from county bosses.
Through the Medical Practitioners and Dentist Board, the State will upgrade or downgrade some health facilities.
Health Cabinet Secretary Cleopa Mailu, in a special circular on January 27 this year, laid out a formula to guide the exercise.
The Ministry has divided the country into six clusters and appointed teams to collect data from all health facilities, both private and public.
The exercise for cluster one to three has already begun while those in category 4 to six will be launched next month.
Part of the information being collected is qualifications of the staff, physical location, size of the facility, number of patients - inpatient and outpatient - specialist and other services on offer.
In the new rules, the State has created one more category which has sparked fears by counties that the national government is seeking to take up some key facilities.
Currently, health facilities are categorised from the lowest — Level One to the highest which is Level Six with the five categories being under the management of counties.
Raised concerns
The national Government only retains Level Six which are mainly the referral facilities of the National Spinal Injury Hospital in Nairobi, Eldoret's Moi Teaching and Referral Hospital and Kenyatta National Hospital.
In Level 1, there are Community Health Facilities while Level 2 are Medical Clinics. Level 3 are Health Centres while Level 4 are full Hospitals while Level 5 are County Referral Hospitals and National Referral Facilities fall under Level 6.
But splitting of Level Six into A and B, has ignited suspicion from the county governments. But the Board has downplayed these fears.
"The teams on the ground which are being coordinated by the respective county Public Health Officers have no mandate to downgrade or upgrade any institution as that shall be done jointly by the board, NHIH and member of County Executive Committee of Health in each county upon consideration of the data that is being collected," The Board's CEO Daniel Yumbia wrote to Council of Governors CEO Jacqueline Mogeni last Monday.
Friday, Ms Mogeni said counties had raised concerns over the speed with which the exercise is being carried out.
Bomet Governor Isaac Ruto also critisised the move saying: "This is part of the grand scheme to return major facilities to the national government for purposes of controlling billions of health funds.
The scheme will be to upgrade major hospital to Level 6 and then place them under the national government."
However Yumbia stated that the exercise is meant to harmonise the categorisation of health facilities, which has been done by different bodies in the past.
Other than his board, Yumbia pointed out that the Ministry of Health and National Health Insurance Fund (NHIF) have been doing their grading differently while each county has its own formula.
"Other than for purposes of ensuring standards are adhered to, the process is meant to harmonise the ranking of all health facilities to also cater for purposes of NHIF payment. And we are carrying this exercise in consultation with the counties. In fact on Wednesday we meet all CECs of health to discuss the issues they had raised," he said.
Counties now claim that the former Provincial Hospitals and some selected county referral facilities may be targeted in the upgrade and then be reverted to the national government.
The hospitals include Kisumu's Jaramogi Oginga Odinga Teaching and Referral Hospital, Kakamega Provincial Hospital, Nakuru Provincial General Hospital, Embu Provincial General Hospital, Nyeri Provincial General Hospital, Garissa Provincial General Hospital, Coast General Hospital in Mombasa and Mama Lucy Hospital in Nairobi.
This is informed by the introduction of two new levels; Level 3 having being split into A and B while 6 will now have A and B.
Counties feel some of their facilities will be downgraded, which will in turn hinder funding and deployment of staff.
As part of the ongoing exercise, other than equipment, the teams will also assess the infrastructure of the existing facilities and space it occupies.
Level Six B facilities will now be required to be on at least 10 acres or occupy office space of approximately 10,000 square metres, have at least 300 beds, an operating theatre, Intensive Care Unit, Radiology among others.
Related Topics