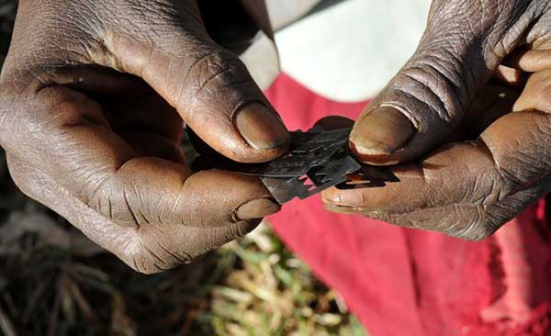 The cut Marycelline Boke and some of her age mates had is different from the traditional form of Female Genital Mutilation.
Its proponents called it "medicalised" FGM because it allowed initiates to escape the trauma associated with the more barbaric rite of passage Boke's peers went through in Kuria, Migori County.
The procedure was done using surgical equipment by trained medical nurses.
It did not involve the traditional Clitoridecomy procedure that was conducted by older women from the community.
Boke's agemate Jane (not her real name) was encouraged to undergo the "more clinical" procedure by her parents who were wary of the dangers associated with the traditional cut.
"It was done at a Catholic church by nurses from Kisii," said Jane who was an altar girl at the church at the time.
"I got information about this new procedure from an NGO, and the information was corroborated by the church. The Catholic priest at the church at the time, told our parents about this procedure and those of us who accepted to undergo the procedure went for it. We were three girls," Jane says, as she recalls the painless procedure where patients were put under using anesthesia.
"Only a tiny part of my anatomy was cut and I healed within two days. There was no bleeding at all," said Jane.
Boke is now 28, but she recalls when she underwent medicalised FGM 14 years ago. It was called "medicalised" FGM probably because it was done by trained nurses who used surgical equipment, Boke says.
"I first heard about it from parishioners who said some nuns who were trained medical practitioners who would be coming to do the cut that was less painful and would heal in two days. And so I went for it," says Boke who was joined by 11 other girls.
Boke says she was motivated by a promise that her schooling would be sponsored by an NGO that had introduced a programme to stop early marriage in the community.
The priest who is currently serving at the church, Father Ayub Aduda, says he has no knowledge about the church's involvement in FGM
"We as religious leaders do not support FGM. We have a group known as 'Pastors One Accord' that discourages parents from allowing their daughters to undergo this rite of passage," said Aduda.
There have been heightened activities in recent days in anti-FGM campaigns to mark the International Day of Zero Tolerance to FGM
Yesterday, Anti-Female Genital Mutilation Board Kenya said the board would propose to have anti-FGM campaigns introduced in schools.
Board chairperson Linah Jebii Kilimo said they would work with the African Media and Research Foundation (AMREF) and other stakeholders to create greater awareness.
Speaking in Nairobi yesterday Kilimo said they would train circumcisers to earn a living through other means.
AMREF Chief Executive Githinji Gitahi said his organisation was ready to support efforts to introduce anti-FGM programmes in the school curriculum.
"We are empowering communities to embrace alternative rites of passage so that they can discourage FGM and take their girls to school," said Gitahi.
Youth and Gender Affairs Cabinet Secretary Cecil Kariuki said despite progress in countering the vice, many still bore the scars of the outlawed exercise.
She observed that there were 17 hot spots in the country that were still conducting FGM and the notorious areas are Elgeyo Marakwet, North Eastern, South Nyanza.
"The government is putting all its energies together to eradicate the vice which has continued to deny our girls a chance to a better life. We shall ensure that there is a collective responsibility between chiefs and locals in charging those behind it," she said at Tot grounds in Elgeyo Marakwet County.
Kilimo and Gender Affairs PS Zeinab Hussein also attended the event marked under the theme, 'Pamoja tuangamize ukeketaji sasa' (let us now unite in eradicating FGM).
More than 9.3 million women in the country have undergone the harmful practice.
Kariuki observed that there is a tremendous drop rate of the outlawed acts from 27 per cent in 2009 to 21 per cent in 2014 attributing it to the establishment of the Anti-FGM board and enactment of laws that protect women.
She explained that besides the cut, a number of men and women have suffered other forms of gender-based-violence.
-Reports by Maureen Odiwuor, Christine Ogutu, Brigid Chemweno and Silah Koskei
Related Topics