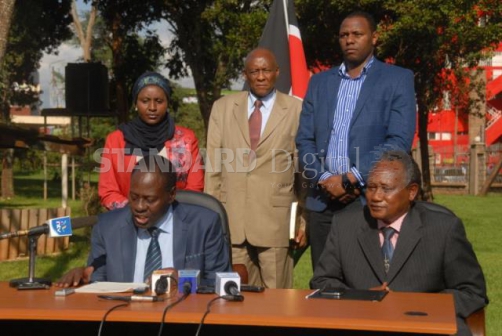 Nyeri Governor Nderitu Gachagua has announced a raft of changes in the ailing health sector. On Thursday evening, Mr Gachagua created the office of the County Health Director, who will be deputised by six deputy directors.
The changes also include the position of Hospital Director, who will be in charge of each of the public hospitals in the county reporting to the Chief Officer in charge of Health Services.
"The Chief Medical Officer, the head of Finance and Administration and the Hospital Nursing Services Manager will all be reporting to the Hospital Director," Gachagua said.
Dr Nelson Mwangi was appointed the acting County Director of Health services, while Dr Marion Gituanja will be the acting Deputy Director, Curative Health Services.
Others appointed are Dr Robert Gachari, who will be the Deputy Director Preventive and Promotive Health Services, Mr Paul Nduhiu Gachuki is the Deputy Director Finance and Administration and Patrick Njogu Mbugua is the new Deputy Director- Reproductive Health.
Nancy Nyambura Muraguri will be the Deputy Director, Health Monitoring and Evaluation, Mr John Ndegwa is the new Deputy Director Health Commodities Services, while John Githinji Mugenyo is the Deputy Director Environmental Health and Sanitation Services.
The health sector in Nyeri County has been in a deplorable state necessitating the radical changes.
Early this year, the nurses' strike paralysed operations with many residents forced to seek treatment in private and mission hospitals.