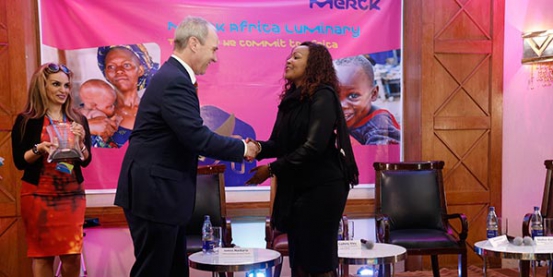 Nairobi, Kenya: Merck, the world's oldest pharmaceutical and chemical company has inaugurated a campaign to improve access to regulated, effective and safe fertility care and raise awareness about infertility prevention and management.
Speaking during the Merck Africa Luminary in Nairobi, Dr Karl Ludwig Kley, Chairman of Executive Board and CEO of Merck said the newly launched 'Merck More Than a Mother Campaign' will define interventions to reduce stigmatization and social suffering of infertile women and raise awareness about male infertility.
Dr Karl Ludwig Kley announced Hon. Joyce Lay as an ambassador for 'Merck More Than a Mother" Campaign in Kenya for 2015 and 2016 to appreciate her efforts to address infertility issues in the country
He has also awarded Grace Kambini, A Kenyan Infertile woman, a wooden shield for her courage to share her story of stigmatization and suffering due to her infertility condition so that no other woman would suffer the same way she did.
"The Merck More Than a Mother" Campaign will not only provide medical education and awareness for medical students and general practitioners but will also support governments to define policies to improve access to regulated, effective and safe fertility care," said Dr Kley.
Hon. Joyce Lay, Parliament Member "We cannot talk in hash tones anymore, infertility is real and needs all of us to work together to fight stigma, majority of infertility causes is untreated infection, information is very vital to help prevention, early detection and available treatment methods."
"I was a mother and my son passed away at the age 2 years. After some time I had pains in my lower stomach and my doctor thought it was cancer but after some tests it was confirmed that it was not but instead they found the problem to be closed tubes and after several doctor's consultations I was told the permanent solution is hysterectomy and that means all your hopes of getting baby done," says Lay.
She expounds that in Africa when people get married and within a year there is a lot of pressure from family and friends to have children. Sadly she says when infertility is blamed on women ignorant of the fact that it is a shared responsibility.
"The IVF bill recognizes that every woman who gets birth through IVF is the mother. We are pushing to have this service to all facilities country wide. It's our responsibility as member so parliament to ensure that every level five has an IVF clinic and that the services are affordable," says Lay.
Grace Kambi, 57 years old has suffered from infertility and this was the main reason she was rejected by her husband and in-laws. After nine years of being childless, it was confirmed that she would never have children a fact that continues to haunt her today.
"If I have half of the knowledge back then I would have soughted a lot of the issues that were there back then and today things would be different. I encourage all girls to who are experiencing issues bearing children to go to hospital together with their spouses to seek for treatment," advises Kambi
"Merck More Than a Mother Campaign will address together with local stakeholders, the key challenges associated with resource-constrained settings such as prevention of Infertility, education and self-development, ART/IVF regulation, geographic barriers, reproductive rights and over-population and limited resources arguments" said Rasha Kelej, Chief Social Officer of Merck Healthcare
"It also focuses on assisted reproductive technology (ART) and in vitro fertilization (IVF) regulation, geographic barriers, reproductive rights and over-population and limited resources arguments," Kelej added
Belen Garijo, Member of the Executive Board of Merck and CEO Merck Healthcare launched Merck More Than a Mother social media campaign early this year to accelerate the project reach, with a view of to sensitize the community and raise awareness about Infertility in general and Male infertility.
During her meeting with University of Nairobi and Kenya Women Parliamentary Association to kick off the campaign, Garijo emphasized, "Providing access to infertility care is important, but it is even more important to intervene to decrease stigmatization and social suffering arising from this condition. And that what we are aiming to do in partnership with local stakeholders across Kenya and Africa at large."
According to World Health Organization (WHO) data more than 180 million couples in developing countries (which one in every four couples) suffer from primary or secondary infertility. In Sub-Saharan Africa infertility is caused by infections in over 85% of women compared to 33% worldwide which emphasize the importance of infertility prevention programs in Africa.
Differences between the developed and developing world are emerging because of the different availability in safe, effective and equitable infertility care and different socio-cultural value surrounding parenthood and procreation since the social stigma of childlessness especially for infertile women still leads to isolation and stigmatization in many African cultures.
"The Merck Fertility Capacity Advancement Program will contribute to identifying and implementing strategies to improve access to effective, safe and regulated fertility care in Africa and to defining interventions to decrease social suffering from infertility and childlessness" rasha Kelej added.
Related Topics