By Elizabeth Mwai
The US Government will spend Sh7 billion annually to help fight killer diseases for the next five years.
Among the diseases earmarked for the Aids Population and Health Integrated Assistance (Aphia) plus programme are HIV/ Aids, malaria and tuberculosis. Reproductive health and family planning are also included.
United States Agency for International Development (USaid) director, Office of Population and Health, Lynn Adrian, said the five-year programme valued at Sh35 billion will seek to improve the lives of mothers, children and their families in the disease stricken areas.
"In this initiative, our aim was to better align the funding with the disease burden in the affected areas," said Adrian, yesterday.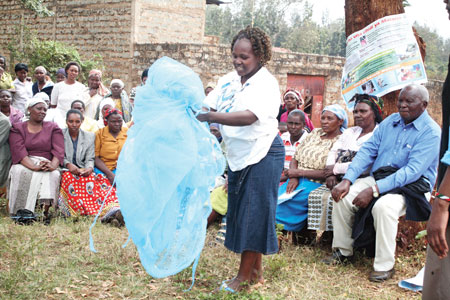 Residents of Kisumu have intensified the fight against malaria and are reaching out to fellow residents to embrace use of mosquito nets to keep mosquitoes at bay. The region is one of those earmarked to benefit from the Sh7b the US government has released to fight malaria, HIV/Aids and tuberculosis. [PHOTO: Boniface Okendo/STANDARD]

Map programme

Speaking during the launch at a city hotel, the official said the mapping of programme areas was based on research information showing the disease burden.

Adrian said areas have been zoned into five regions, which include Western and Nyanza, being areas hardest hit by HIV, malaria and other infectious diseases.

Other regions include; Nairobi/Coast, which are transitory points, Rift Valley — an agricultural zone with special needs for farm workers and their communities — Central/Eastern and Northern and arid lands.

She said USaid would work with other stakeholders to ensure maximum impact.

The US, said the director, was keen on investing more in Government systems and aligning with existing strategies with Aphia plus programme being continuation of Aphia 1 and 2.

"We are looking at stronger focus on sustainable solutions and casting our eyes on the future," said Adrian.

Public Health PS Mark Bor said the commitment from the US was a welcome and would help achieve Millennium Development Goals.