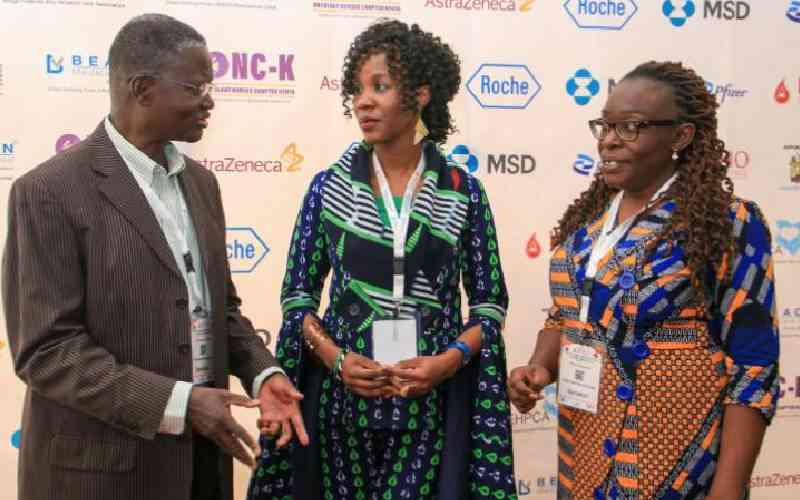 Majority of Kenyans are still shying away from cancer screening with 70 per cent of patients diagnosed in late stages.
According to the Ministry of Health, many patients are diagnosed at stage three or four of the disease, which is late and expensive to treat.
This is despite the introduction of a cancer package under the National Hospital Insurance Funds (NHIF) for civil servants and disciplined forces.
Health Cabinet Secretary Susan Wafula said the government, in pushing for early detection of the disease, has deployed online learning platforms through its Health virtual Academy together with its mobile application as well as the M-Saratani android application to enable prompt detection and early referrals of suspected cases.
The CS noted that within a year, 3387 healthcare workers have onboarded the platforms with 2328 completing the course, reflecting a 71 per cent completion rate.
"We will utilise these platforms to complement the physical skills-based training in building the capacity of our health care workers," Wafula said at the 7th Kenya International Cancer Conference in Mombasa.
She promised that the government will work with counties to scale up cancer screening services through capacity building and provision of technical support so that primary healthcare facilities can provide the services through integration at key service delivery points.
According to data from the Ministry of Health, there has been an increase in cancer cases in Kenya since 2020, with a mortality rate of 27,092 out of the 42,116 cases recorded.
The CS said the ministry is developing a new strategic plan for cancer prevention and control.
"In Kenya, the rising burden of cancer is exerting strain on our already constrained health systems. Therefore, to halt and reverse the burden of cancer, the Ministry of Health developed a National Control Strategy to guide prioritisation of high-impact interventions over a five-year period in line with the Kenya Cancer Policy 2019-20230," Wafula said.
Ms Mary Nyangasi, the head of National Cancer Control Programme said lack of early voluntary checkups and social-economic barriers are some of the reasons for high number of cases registered over the years.
She said although NHIF has introduced cancer screening packages for persons in the disciplined forces and civil service, few are willing to go for screening.
"People who have NHIF cancer packages should utilize it for screening because most don't want to be screened," Nyangasi said, adding that cancer is the third leading cause of death in Kenya after infectious cardiovascular diseases.
She said leading cancer among women is cervical, breast and Oesophagus while men suffer from prostrate, oesophagus and colorectal cancer. Children suffer from lymphoma and leukaemias.
"We are grappling with low awareness, late-stage presentation, poor access to cancer diagnosis and treatment," said Nyangasi.
She added that stages three and four patients need treatment and palliative care rather than preventive care.
"Most of the cases are diagnosed at a late stage, at stage three or four when it is late for treatment and expensive and most patients don't complete their palliative care," Nyangasi said, adding that other countries prioritise palliative care because they can't afford to set up treatment centres for those coming at the end stage.
She acknowledged that Kenya is also grappling with few trained healthcare workers who can provide chemotherapy and radiotherapy services.
Nyangasi said there is a need for specialised training of healthcare workers to provide chemotherapy and radiotherapy treatment. "We have 16 radiation oncologists although there is local training going on to increase the numbers. We have a few oncologists who can provide chemotherapy."
Nyangasi also said the Health ministry in collaboration with county governments have established regional cancer centres where patients from other counties can get care.
She said the government has established cancer treatment centers in 10 counties where they provide comprehensive Chemotherapy and three centers that offer Radiotherapy.
Last year Ministry of Health trained 6000 primary healthcare givers in 25 counties on screening for cervical cancer as a prevention measure.
Professor Nicholas Abinya, the founder of Kenya Society of Hematology and Oncology said with the introduction of NHIF cover, they can treat cancer patients both in public and private hospitals. "It isn't ideal but is far much better than it used to be," said Prof. Abinya.
He added that most Kenyans lack trust in their own medical specialists and are quick to seek referrals in India and the US even on the simplest of procedures while others get cheated that they have been cured.
Prof Abinya also said there is a referral system for cancer patients who require specialised treatment outside Kenya but most patients demand they be referred to India yet their cancer can be managed locally.
Related Topics