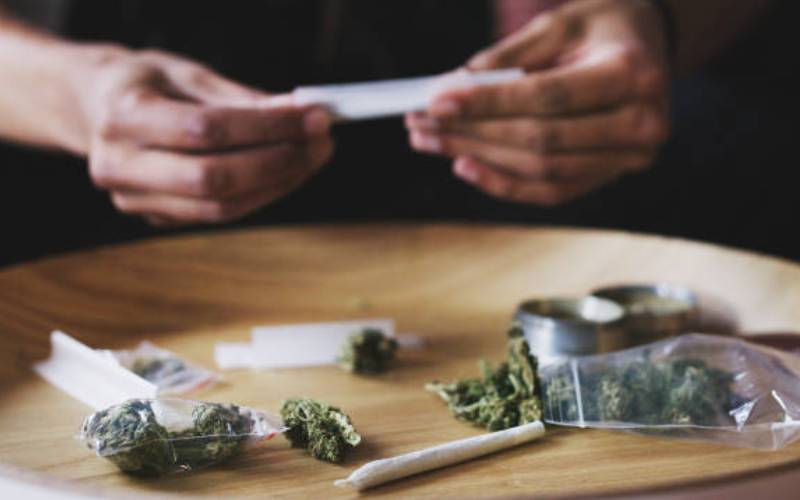 Unlike cigarettes which kill half its users before their 60th birthday, according to the World Health Organisation (WHO), smoking bhang hardly kills its users prematurely.
The reason for low mortality among users of weed is pegged on the chemicals in marijuana.
Prof Daniel Nyamai, a forestry researcher, explains: "Marijuana does not contain carcinogens, cancer-causing chemicals, so it cannot kill its users prematurely."
Prof Nyamai, also a lecturer at Rongo University, adds that there has been no positive link between smoking marijuana and a significant increase in lung cancer cases.
Prof Nyamai says marijuana contains two main ingredients; cannabidiol (CBD) and tetrahydrocannabinol (THC) - which is the main psychoactive compound that produces the high sensation. Both, however, contain anti-tumour effects.
Prof Christopher Ataro, a scientist and researcher with the International Maize and Wheat Improvement Centre (CIMMYT), also concurs that marijuana users hardly face premature deaths compared to cigarette smokers.
"The current knowledge base does not support the assertion that it (marijuana) has any notable adverse public health impact in relation to mortality," says Prof Ataro.
"Marijuana also has no overdose and does not contain carcinogens, mutagens and toxins present in tobacco so it cannot kill its users prematurely and scientific data indicates overwhelmingly that its side effects override its speculated health benefits."
The cannabinoids in cannabis, explains Prof Ataro, are helpful in treating rare forms of epilepsy, nausea, vomiting associated with cancer chemotherapy and loss of appetite.
It also provides relief for anxiety, depression and post-traumatic stress disorder, and offers protection against pain, muscle spasms and seizures besides curbing insomnia.
However, Prof Ataro warns that the positive uses do not mean that marijuana is harmless as it remains banned and can have other negative consequences.
The Marijuana Control Bill sponsored in Parliament by former Kibra MP Ken Okoth in 2018 was in line with its medical and recreational use in other countries like the Netherlands, Canada and some States in the US.
In Africa, only South Africa, Lesotho and Zimbabwe have legalised marijuana while Uganda exports industrial hemp.
Catholic priest Fr John Maina reckons that the medicinal value of marijuana has been exaggerated without adequate research supporting plant safety and efficacy.
Related Topics