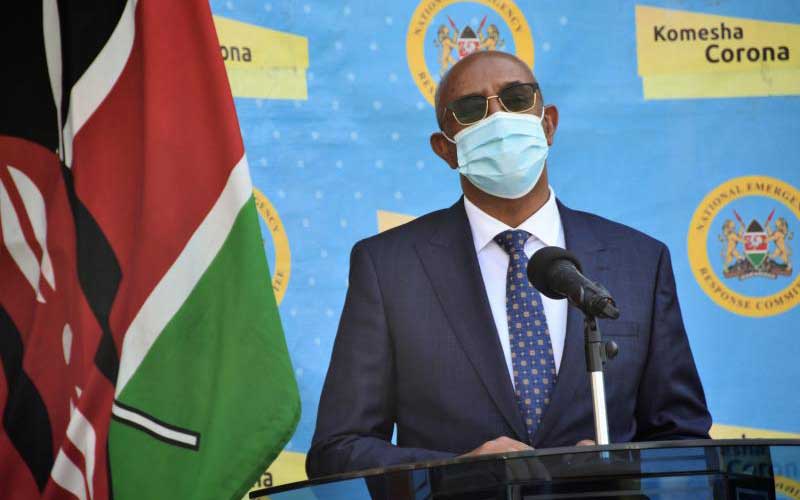 The Health Ministry on Monday reported 22 new coronavirus infections from some 595 samples screened in the past 24 hours, effectively highlighting the State's reduced testing capabilities.
The new positive cases bring the infection tally to 39,449 with a bulk of them registered in counties under the Nairobi Metropolitan Area.
Health Chief Administrative Secretary Dr Rashid Aman said all the new cases, save for one, were of Kenyans.
Dr Aman added that his ministry's data showed 98 per cent of all of the country's cases were transmitted locally.
"This means that almost the entire confirmed cases have been contracted as a result of the spread in our households, estates, markets, villages and other social and public places," Dr Aman told a press briefing in Nairobi.
On a positive note, 376 patients recovered from the disease, bringing the total number of recoveries to 27,035.
Of the new recoveries, 360 are from the home-based care programme while 16 are from various hospitals across the country.
Regrettably, four patients succumbed to the virus in the past day. There have now been some 735 deaths recorded in Kenya.
Dr Aman further reported that 1,029 health workers have caught the virus since the first case was reported on March 13, and 16 have died.
"Out of these, 526 are male and 503 are female," said Dr Aman.
He went on, "Our case fatality rate for health workers still remain very low at 1.6 per cent."
Worrying trend
Dr Aman noted that in the past week they have noticed counties such as Nakuru, Trans Nzoia, Kisumu, Mombasa and Nairobi which had few cases were having a spike in infection.
"We are dealing with a pandemic that is uncertain and numbers can fluctuate from day to day depending on how we behave. This is a very mysterious and unique disease whose patterns and epidemiology are very unclear to those in the medical profession," said Dr Aman.
The CAS warned that Kenya risked the second wave of infection as many had dropped their guard following the easing of containment measures by President Uhuru Kenyatta.
"If we continue with those behaviours (throwing cautioned to the wind) then we are certainly going to see a second spike in our infection trajectory. We do not wish to see that as it will mean that there will be more restrictions placed," said Dr Aman.
Related Topics