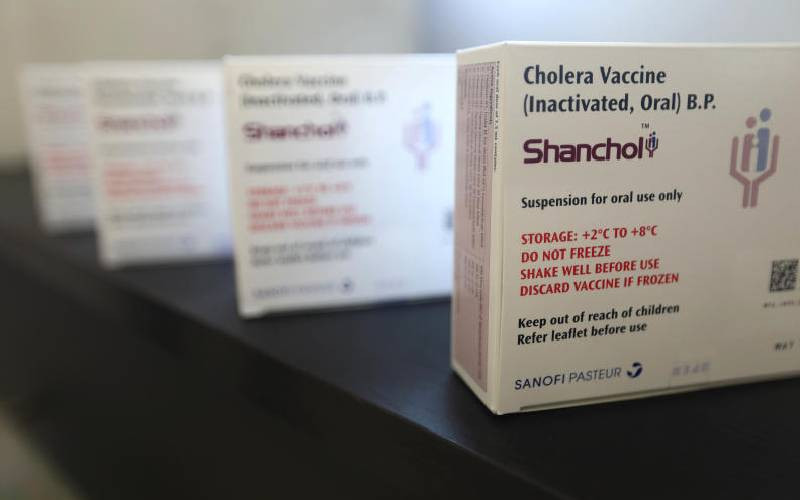 The Ministry of Health has pleaded with the public to enhance high standards of hygiene as a stop measure to the spread of cholera cases across the country.
Deputy Director General Dr Sultana Matendechero said whereas the Ministry launched vaccination, public health measures should be adhered to, to contain the disease.
"We must go back to hygiene, invest in clean safe water and behavioural change. The public should access clean drinking water, wash salads and fruits well before consuming them and ensure food is well cooked to break down the chain of transmission of cholera," said Dr Matendechero.
In data from the Ministry dated August 23, the country has reported 12,036 cumulative cases and 199 cholera deaths, numbers Matendechero said are worrying.
An outbreak of cholera was reported in October last year in Kiambu county, a disease that has since spread to 26 counties.
Early this month, the Ministry together with Unicef, WHO and partners rolled out massive Oral Cholera Vaccination (OCV) in eight counties in response to the outbreak, first reported in October last year.
At least 1,669, 759 people were vaccinated in the 10-day exercise conducted in counties of Homa Bay, Kajiado, Marsabit, Nairobi, Wajir, Mandera, Machakos, and Garissa.
During the launch of the vaccination exercise, the disease was active in three counties, namely Nairobi, Mandera and Homa Bay.
"We superseded our vaccination target, and attained 104.5 percent. However, vaccination is kind of a temporary mitigation to try to help control, to slow down transmission. The main control is hygiene, safe water and cooking food and eating while it's hot. If we deal with this, we shall easily control the disease," said Matendechero.
The Ministry launched its first round of vaccination in February 2023, where 2.2 million people aged above one year were vaccinated in the counties of Nairobi, Garissa, Tana River, and Wajir, with 99.2 per cent coverage administratively and 93.2 per cent in the post-campaign survey leading to substantial reduction in cholera cases in these areas.
But even with continuos vaccination, the disease is still widespread, with Migori county reporting new cases.
In Migori, at least five people are reported to have died of cholera last week, among them a two-year-old child, with several people admitted in respective hospitals.
In a quick rejoinder to why the disease is still spreading, Matendechero emphasised that vaccination is just one of the intervention in preventing the disease, which will effectively work, with proper sanitation.
The deputy director general added, "As long as there is still one case, transmission can happen very fast and spread. Cholera spreads so fast, that is why it has not been contained as fast as someone would wish,".
"Vaccines do not replace other key interventions for cholera prevention and control. It is a complementary measure to reduce the transmission of the disease".
Cholera is an acute bacterial disease which presents with diarrhoea, as a result of consuming food which is contaminated with bacterium Vibrio cholerae.
The disease causes severe acute watery diarrhoea, vomiting, and dehydration which leads to death, if not treated on time.
A number of risk factors driving the disease namely outsourcing of food vendors with questionable hygiene standards, congestion in the refugee camps and sourcing of water from contaminated sources due to the prolonged drought witnessed in the country.
Other factors as per experts include poor sanitation in informal urban settlements and sprouting of unregulated water vendors.
The official also attributed extensive travel to the spread of the disease, saying there are circumstances where individuals travel from affected counties, spreading the chain of transmission.
Further, he advised people who present with cholera related symptoms to visit hospitals for tests and treatment.
"Cholera is best managed at hospital; this is why we are encouraging anyone with symptoms to get checked. This will also help prevent community transmission and deaths," said Matendechero.
Matendechero said affected communities are also being sensitised about the disease, its spread, treatment and prevention according to the Ministry's report.
"Key messages continue to be aired on various radio stations across all hotspot areas," he added.
Related Topics