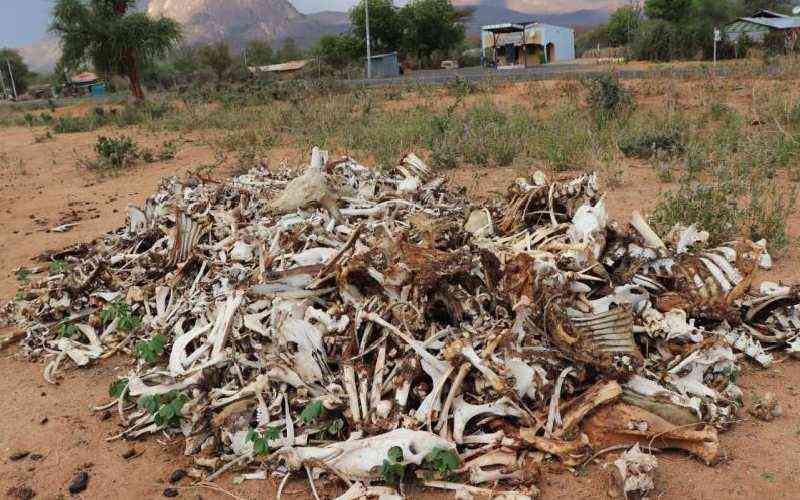 It's becoming more challenging to predict the course of climate politics because international and State-driven priorities seem to change fast.
Whereas Africa is the least pollutant as far as greenhouse gas emissions are concerned, its citizens continue to suffer the most. The Carbon Brief's analysis of disaster records underscored that Africa has endured extreme weather patterns which have killed approximately 4,000 people and affected a further 19 million since the start of 2022.
Sadly, the continent seems to be handicapped in making demands for loss and damage funding and Kenya is no exemption.
President William Ruto inherited an amalgam of environmental challenges. To begin with, the impending climate crisis has bedevilled the agricultural sector with an unprecedented prolonged drought.
The National Drought Management Authority predicted that approximately six million Kenyans will be affected by the drought and counting.
The State agency has confessed that drought remains critical in 22 of the 23 counties in the arid and semi-arid lands (ASAL) due to the late onset and poor performance of the much-anticipated October to December 2022 short rains, coupled with four previous consecutive failed rainfall seasons.
Some 13 counties namely, Garissa, Isiolo, Kilifi, Kwale, Kitui, Kajiado, Mandera, Taita Taveta, Samburu, Turkana, Wajir, Tana River and Marsabit are particularly in a precarious situation.
Humanitarian assistance remains insufficient and needs to be advocated for if the government is to rescue its citizens. All is not gloom if Kenya uses its political will to explore its renewable energy resources.
Upon taking office, President Ruto committed to tackle climate crisis as a key to the government's agenda. He also went ahead of time and made an ambitious pledge to ramp up clean energy and committed to phase out fossil fuels for electricity by 2030.
On January 9 this year, President Ruto through executive order no.1 created a State Department for Environment and Climate Change that will be housed in the Ministry of Environment to administer disaster and emergency respond to the climate crisis and also distribution of relief food.
President Ruto is also the chair of the Committee of African Heads of State on Climate Change (CAHOSCC), which is the continent's highest decision-making body on climate matters.
While his initial moves so far look like great step to hush the existential threats emanating from climate crisis, it must be underscored that political will can be a "slippery concept" in a world where "climate polluters" have the power to influence.
Ruto must therefore seek for opportunity to make strategic moves by ensuring that the continent tactfully consolidates positions around climate justice asks before the next Conference of Parties (COP28), which will take place in November in Dubai.
Speaking during the World Economic Forum meeting at Davos 2023, the former United States Vice president, founder, and chair of The Climate Reality Project and Nobel peace laureate, Al Gore said "political goodwill for climate action from key decision-makers seems to be compromised."
He also raised issue with the appointment of Sultan al-Jaber as COP28 president-designate citing that it was a conflict of interest that undermined the confidence in climate action.
Can climate action be instituted beyond politics?
Painstakingly, the ideological spectrum of "political will" is simply a cornerstone of a good sound bite and oft-cited by the civil society organisation as a "win" in the doctrine of civil advocacy.
However, the current environmental status warrants government leaders to make good their promise and operationalise the Nationally Determined Goals to which they committed actions.
Kenya for example must back up the commitments with a robust and inclusive implementation plan to operationalisation Article 6 of the Paris Agreement by developing Kenya's regulatory framework for carbon markets.
What is worth noting however is that there are interest groups fond of invoking "political will" to account for a lack of policy change. So, the big question is does Kenya's political will suffice as renewable resource?
- The writer works with The African Women's Development and Communications Network (FEMNET)]
Related Topics