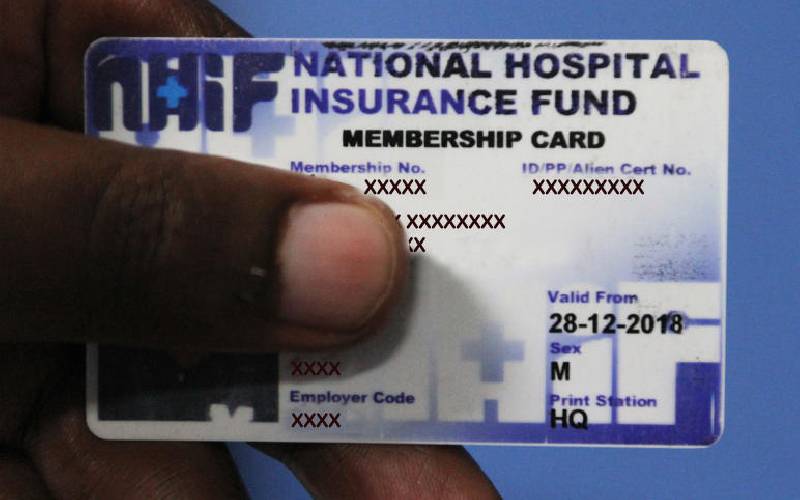 National Hospital Insurance Fund - covered patients with chronic illnesses such as cancer and diabetes will only access healthcare from public hospitals if the newly proposed health regulations are passed.
Draft regulations published by the NHIF seek to block such patients from opting for private facilities, with the State insurer only taking up bills they have exhausted on their private cover limits.
"A beneficiary with chronic illness shall access treatment from public healthcare providers only," says NHIF in draft regulations on claims and benefits.
Limiting patients with chronic ailments to public facilities is seen as a means of lowering claims and giving NHIF more money for Universal Health Coverage (UHC), a government initiative that seeks affordable and quality healthcare for all.
In the financial year ended June 2021, NHIF collected Sh57.18 billion as premiums from its members and paid out Sh52.04 billion, or 91 per cent, as claims.
But the proposal, if passed into law, looks set to put further strain on the struggling public hospitals and inconvenience many patients who have had to turn to private hospitals due to congestion in public facilities.
The Ministry of Health's UHC policy for 2020-2030 states that many Kenyans continue to experience challenges in geographic access, exposing them to a bigger financial burden.
The policy document puts the average health facility density at 2.6 facilities per 10,000 people, with a quarter of the counties having less than two facilities per 10,000 people.
"Most of the physical health facility infrastructure is not up to the standards prescribed in the norms and standards," notes the ministry in the document.
Major hospitals such as Kenyatta National Hospital and Moi Teaching and Referral Hospital have been struggling to keep up with patients requiring services such as chemotherapy, dialysis and radiotherapy.
The draft regulations also seek to ensure that NHIF will only pay hospital bills after patients have exhausted the limit from private insurers in a move meant to further shield the State insurer from high claims.
Under the proposed regulations, NHIF beneficiaries will have to declare to the fund within 24 hours of seeking medical services whether they have a private insurance cover.
"The private insurance shall provide a written confirmation to the (NHIF) board whether the benefits have been exhausted," reads the draft in part.
"The board may verify the information presented under this regulation, including the cover limits and apportionment."
The move will mark a shift from the current practice where NHIF makes the first payment — usually a small portion of the total bill — leaving the rest to private insurers.
Private medical insurers last year said that such a move would raise the medical insurance claims they have to pay while cutting those paid by the State insurer.
Change in monthly contributions
The move is despite NHIF seeking to increase monthly contributions made by earners above Sh100,000 from the current flat rate of Sh1,700 to 1.7 per cent of their monthly pay.
For instance, a person earning Sh150,000 will see their premiums rise by 50 per cent to Sh2,550 from the current Sh1,700.
Those earning Sh200,000 per month will contribute Sh3,400, being double their current contributions, while those earning Sh500,000 will see their premiums rise five times to Sh8,500.
Private medical insurers in Kenya have struggled to make profits on the back of increased fraud and allegations of inflated hospital bills.
Insurers had in 2020 benefited from people staying away from hospitals for fear of contracting Covid-19.
But this was reversed last year, with medical underwriting profit dropping 77 per cent to Sh316 million in nine months to September from Sh1.37 billion.
Related Topics