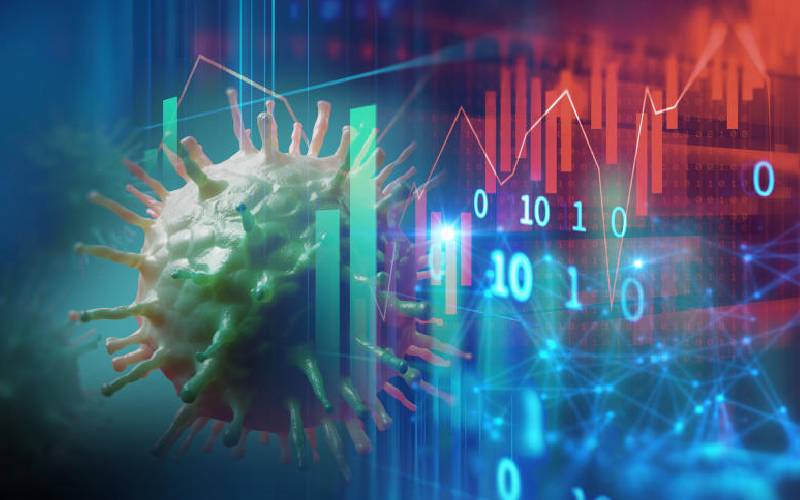 The Africa CDC has warned that Kenya is not yet out of the woods, and should prepare for two more waves of Covid-19 outbreaks.
"We need to prepare to wear face masks for 18 to 24 months until we see if we get better vaccines," said Ahmed Ogwell, the Deputy Director Africa CDC.
The expert said there was need to apply therapeutics, vaccination and public health measures as tools to avert severity that come with the waves.
The priority of the African CDC, he added, has been getting the population vaccinated.
"All tools in the fight against coronavirus should be applied," said Dr Ogwell.
The warning comes as the country experiences the fifth wave of the coronavirus, with the highest positivity rate ever reported since the outbreak of the pandemic.
Omicron variant is also spreading fast, compared to Delta, Beta and Alpha variants.
Head of Department of Laboratory services at Ministry of Health John Kiiru said though the omicron is spreading fast as compared to other variants of concern, its evolution is not yet known.
"For now, we are happy that people are not dying, but we do not know the evolution of the virus," said Dr Kiiru, also principal researcher at Kenya Medical Research Institute (Kemri).
According to the researcher, the safest way to avoid severity of the disease is to take the vaccine.
Unlike other variants that were affecting the elderly and people with comorbidities, he said omicron seems to affect young people more.
The experts were speaking during a forum organised by one of the media houses.
Dr Githinji Gitahi, CEO Amref Health Africa, noted that though the country is reporting a high positivity rate, few people are likely to be admitted.
He noted that patients who are vaccinated are likely not to get hospitalised, neither requiring ICU nor oxygen.
"What we know though is vaccination remains a key tool," said Dr Gitahi.
Prof Matilu Mwau, infectious disease expert, noted that despite the country experiencing the fifth wave, there is a possibility that the positivity rate will go higher.
Increased cases are attributed to the Christmas festivities, which will see more people travel and converge.
"We should not touch and hug. We should also try as much as possible to keep the social distancing that is even doable at family setups during Christmas. Keep two metres away from other people when talking (they will hear you) and wear a mask," said the Deputy Director at Kemri.
Additionally, he said, the country and the globe will continue to witness more waves.
"We must be extremely vigilant so that we stay protected, and we ride these waves as they come," he warned.
According to him, for the two years Covid-19 has been around, scientific and public evidence has helped researchers to understand the virus, and form a relationship with it - with time it will be endemic like flu.
"We are at a stabilising phase, so it is conceivable that in the coming months and coming year, coronavirus will be much less effective in harming us, so long as we adhere to containment measures," he noted.
"The country, and the globe has never undergone an experience like the one we have had, and it is difficult for me to say at what point we think we must study the coronavirus. But information gathered is enough to tell what works from scientific and public health point of view."
Prof Julius Oyugi, a virologist and director of Research, University of Nairobi Institute of Tropical and Infectious Diseases said waves can only be prevented, if 70 per cent of the population is vaccinated.
When variants circulate in the community, depending on how it is managed, there is a possibility of having more waves, and variants.
"We are looking at omicron in two ways - it may be a blessing if it does not cause severe disease as it will boost immunity. But it would be a tragedy, if it causes mortalities."
Related Topics