Home
/
Health & Science
Crisis as hospitals run out of medical oxygen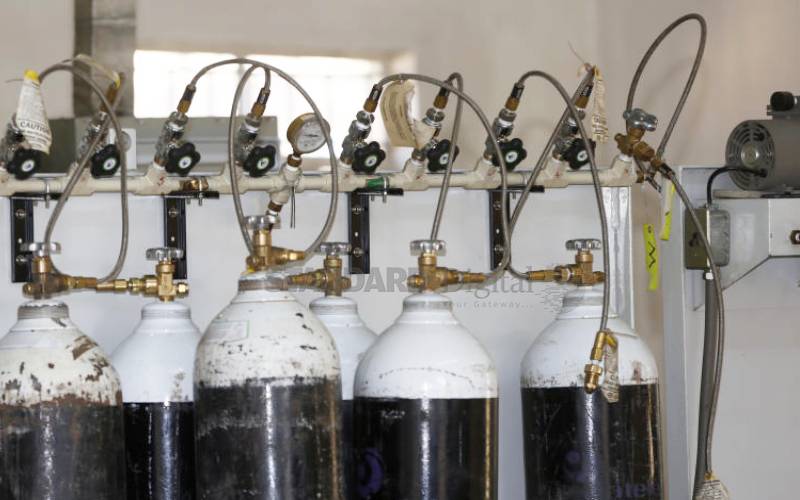 Medical oxygen is part of essential supplies running out as the third wave of Covid-19 continues to wreak havoc across the country.
Although the National Treasury allocated Sh2.7 billion under the Kenya Covid-19 Emergency Response Plan, there was no specific allocation for medical oxygen.
Many patients have thus succumbed, like Reuben Githinji, the Embu-based journalist who died two weeks ago after being admitted at the Embu County Hospital with breathing difficulties.
The World Bank granted Kenya Sh5 billion for the Kenya Covid-19 Emergency Response Plan. The Government used Sh1.2 billion earmarked for isolation wards to boost medical oxygen supply, but biting shortage still persists in most counties.
The situation has been worsened by Kenyans and medical facilities hoarding medical oxygen cylinders leading to sharp increase in the cost, further pushing healthcare out of reach for economically Covid-ravaged Kenyans now under lockdown in five diseased counties of Nairobi, Kiambu, Machakos, Kajiado and Nakuru.
The scarcity of medical oxygen during the third wave of the pandemic is causing untold misery and unnecessary deaths.
Simon Kirathe, a resident of Busara village in Nyandarua County, says his father John Kirathe, 76, was admitted with Covid-19 related symptoms at the Nyahururu General Hospital, but could not access medical oxygen.
Hired cylinder
The neighbouring Laikipia County too did not have oxygen and medics advised Simon to try the Othaya Level Six Hospital in Nyeri as "my father struggled with shortness of breath".
"We hired oxygen cylinder at Sh1,500 to support my father's life during referral," said Simon. His father later succumb to Covid-19.
On Monday, Health Cabinet Secretary Mutahi Kagwe admitted Kenya was facing low supply of medical oxygen despite a surge in Covid-19 infections.
Mr Kagwe said public hospitals are the worst hit with only 16 per cent of hospitals having supply of medical oxygen, and where available, the supply is not optimal and lacks necessary distribution and delivery infrastructure.
Medical oxygen is critical in mitigating the vagaries of Covid-19 which causes the body not to take in enough oxygen when breathing.
The CEO of the Pharmaceutical Society of Kenya, Dr Danielle Munene, said "oxygen is critical. We must keep patients alive through supplying them with oxygen, if not, they will die."
Kagwe said Kenyans were worsening the situation by hoarding storage cylinders noting that "oxygen is not just a precious commodity in the fight against the virus; it can actually mean life and death for our people."
Dr Munene, also a director at the Kenya Health Care Federation, said "demand for oxygen has doubled since last year and we need people to stop hoarding cylinders."
Dr Timothy Olweny, the Secretary General of the Private Hospitals Association, said private facilities are also grappling with shortage of medical oxygen.
Listed firm BOC Gases is the main supplier of medical oxygen to private hospitals.
But demand is outstripping supply and Dr Olweny laments the worrying situation as "private hospitals depend on oxygen supplied in cylinders, but currently, there are no cylinders in the market."
Dr Olweny runs Evans Hospital within Nakuru town. It has six isolation beds, but is now only giving priority to patients with respiratory problems, a situation worsened by the fact that "public facilities are overstretched".
Before Covid-19 pandemic hit the country in March last year, demand for medical oxygen stood at only 410 tonnes, but rose to 560 tonnes by June last year. The demand has now hit 880 tonnes, according to Ministry of Health.
The country has 73 oxygen plants, with the majority servicing one to three devolved units. But a number of the plants are facing challenges as they produce oxygen with low recommended concentration levels.
The Nakuru Nursing Home, for instance, is currently consuming more than 20 cylinders of 60 litres daily, according to its proprietor Miriam Maina.
On Monday, the private hospital had 14 patients – two at the High Dependency Unit (HDU), five at ICU and seven at the isolation wards – and all needed medical oxygen.
She said some patients consume two cylinders of 60-litre oxygen every day, depending on the oxygen circulation in their blood.
"Majority of patients cannot breathe on their own because of lung-related complications," said Maina.
As part of mitigation measures, the health facility is only admitting patients suffering shortness of breath, with most coming from Samburu, Narok, Kiambu, Nyandarua and Nairobi.
"Bookings for admissions are too high," said Maina.
Prices of medical oxygen have drastically increased. One cylinder is now selling at Sh5,000, up from about Sh2,500 a year ago.
Maina said that unlike during the first and second waves, patients now are admitted when critically ill and while they took three to four days at the ICU then, "now they even take 10 days".
The War Memorial Hospital in Nakuru County has seven isolation beds with consumption of oxygen standing at 10 cylinders.
Hospital Matron Patricia Musale said though some patients are not critically ill, they require supplementary oxygen all the same.
Hospitals in Nakuru get medical oxygen from Hewa Tele and the oxygen plant at the Rift Valley provincial General Hospital.
County Director of Medical Services Dr Daniel Wainaina expressed concern over the current overwhelming demand.
Wainaina said the county, in collaboration with Clinton Health Access Initiative, has distributed 80 Pulse Oximeters to all levels of hospitals across the region to help manage patients.
Turkana County has an oxygen processing plant at Lodwar County Referral Hospital with capacity of 2,248 litres per week.
County Director of Medical Services, Dr Gilchrist Lokoel, said consumption is, however, low as there are no patients on admission. Cumulative cases in the county so far stand at 1,191 with 24 deaths.
Kenya Medical Practitioners, Pharmacists and Dentists Union Secretary-General, Central region, Dr Goody Gor, said Nyeri, Murang'a and Kiambu counties have oxygen processing plants, but it is not piped, "risking aerosolisation of the Covid-19 virus".
"There is adequate supply of oxygen," said Dr Gor, "but unfortunately, concentrators are used, an issue that risk infections at isolation units."
Kakamega County has an oxygen processing plant at Kakamega General Hospital that process and supply medical oxygen to 13 hospitals across the county.
The county acting Chief Officer of Medical Services Dr John Otieno said 12 levels four facilities need oxygen reservoir tanks, and not necessarily plants.
"Oxygen processed is piped to the ICU, and others within the hospital wards. Currently, we do not have a shortage of the commodity," he said.
Related Topics