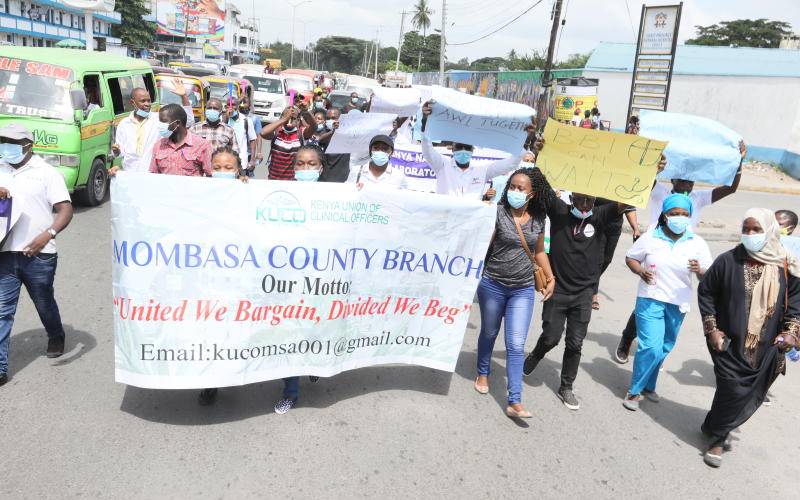 Mombasa County Government is unable to remit statutory deductions of 200 doctors and 800 nurses on strike because of financial challenges.
Finance Executive Mariam Mbaruk blamed the situation on 'skewed shareable revenue formula,' effects of Covid-19 and Standard Gauge Railway (SGR) disruption.
In the current financial year, the county received Sh7.5 billion from the Exchequer as shareable revenue and spent Sh5 billion on wages and other recurrent expenditure.
In the 2019/2020 budget Mombasa targets Sh.13.4 billion revenue. This includes the Sh7.5 billion equitable share, Sh2.4 conditional grant and Sh.3.5 billion local revenue. Ms Mbaruk warned that if all the demands by doctors are implemented there will be no money for development.
The county is now appealing to the doctors to end their 35-day strike and return to work.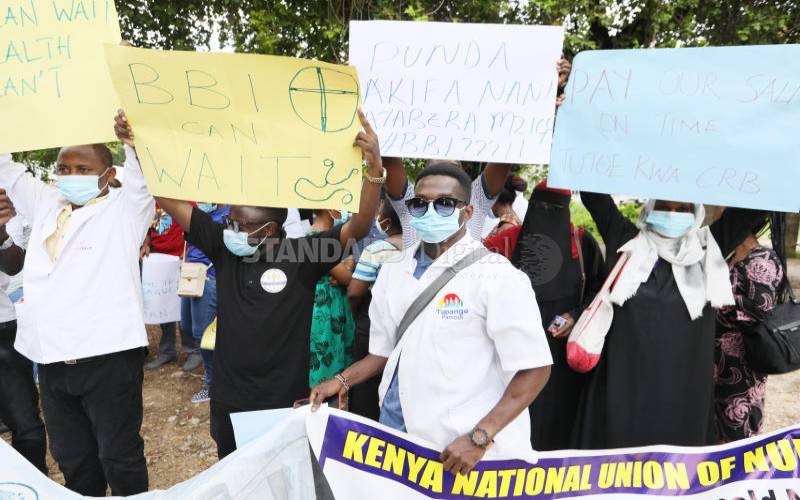 "We have bloated workforce because we inherited many workers from the defunct municipality. All the workers' statutory deductions have not been remitted because we prioritised salaries," she said.
She added: "Mombasa was the second county after Nairobi to be hit hard by Covid-19. It disrupted our local revenue sources just after we had begun recovering from the SGR disruption."
The executive said the county has engaged the national government to cushion it against budget shortfalls to enable it remit statutory deductions.
"As one of the counties that was hard hit by Covid-19 we expected that the national government would cushion us. It is a very complex issue that we cannot have simple solutions to," said Ms Mbarak.
On Thursday, Kenya Medical Practitioners Pharmacy and Dentists Union (KMPDU) admitted that the county had met some conditions, but insisted that all issues must be addressed before they call off the strike.
KMPDU officials noted that the county is yet to address remittance of statutory deductions, erratic insurance cover and promotions. But the county officials said they have promoted 135 heath workers and procured comprehensive super cover of the National Health Insurance Fund (NHIF).
"We have met all their conditions. The only issue we are yet to implement is remittance of statutory deductions," said Acting Health Executive Godfrey Nato.
In the return to work formula signed on October 20, 2019, the union raised 20 issues which have since narrowed down to three.
Dr Nato said the union also wants the county to provide medical cover for the doctors employed on contract and "we have already started engaging NHIF to do it." On Thursday, KMPDU Mombasa branch secretary Abidan Mwachi noted that only 44 out of 200 doctors have been promoted.
During the stormy meeting some doctors accused union officials of being rigid in the talks, warning that doctors would be fatigued by a long-drawn-out industrial dispute.
Meanwhile, Mombasa County Public Service Board Chairperson Farida Abdalla said they had rescinded the decision to sack 86 doctors.
"We did not wake up and decide to sack the doctors. It was a process and to reinstate them it will also be a process but it is something we are willing to do," said Ms Abdalla.