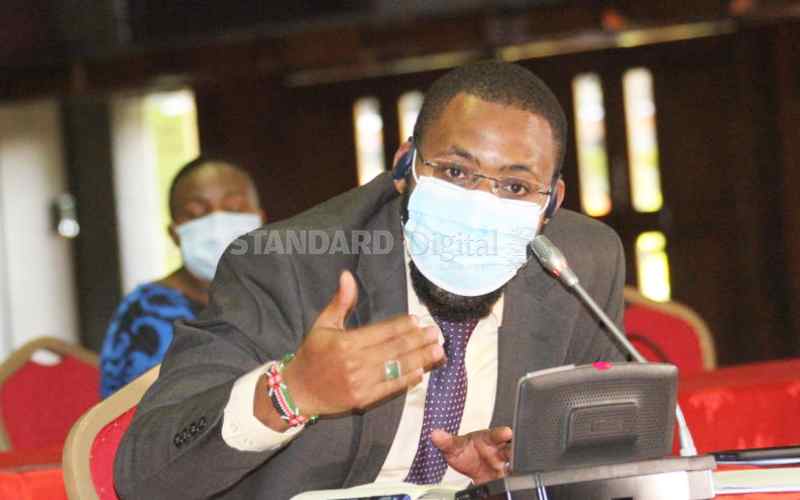 The planned health workers' strike slated for today has been suspended.
In a statement to newsrooms, Kenya Medical Practitioners Pharmacists and Dentists Union Ag secretary general Chibanzi Mwachonda (pictured) said the strike has been suspended for 14 days to allow for dialogue.
He said if the issues will remain unresolved upon the lapse of the 14 days, the strike will commence on December 21.
"All members are advised not to endanger their lives where there are no PPEs."
The announcement came after the National Advisory Council met and deliberated upon the plight of the doctors and the planned strike.
Mwachonda said the union acknowledged the efforts of the Senate and the National Assembly Health committees to resolve the grievances.
KMPDU has further planned meetings on December 9 and 10 with the Senate and National Assembly Health committees.
As part of their demands, KMPDU wants 2,000 more doctors employed while the Kenya National Union of Nurses (Knun) wants the recruitment of 7,000 to take place.
Kenya Union of Clinical Officers (Kuco) wants 3,000 more clinical officers recruited. Additionally, the healthcare workers want the provision of Personal Protective Equipment (PPE), comprehensive medical covers and group life covers.
As it stands, not all healthcare workers have access to comprehensive medical cover including those working in counties and for public institutions as lecturers. Only 19 counties are under the National Hospital Insurance Fund (NHIF).
Healthcare workers in the rest of the counties, it emerged during the meeting called by National Assembly Health Committee, were not covered since the Sh500 million budgeted had not been released.
"The money came towards the end of the 2019/2020 financial year and was returned to the National Treasury since there was no framework on how it would be utilised," said Health CAS Rashid Aman.
One of the 15-point resolutions of the National Assembly Health Committee, which was adopted by Parliament on December 1, directed the Ministry of Health and National Treasury to release the money.
The report also insisted that healthcare workers should be provided with group life cover considering the risk of death if they contract Covid-19.
"The group life cover for civil servants has excluded doctors in parastatals (level six hospitals), and university," he said.
While Labour CS Simon Chelugui argued that there has been progress in averting the strike, he added some of the issues will need time.
Related Topics