Home
/
Health & Science
Counties lack oxygen supply, freeze samples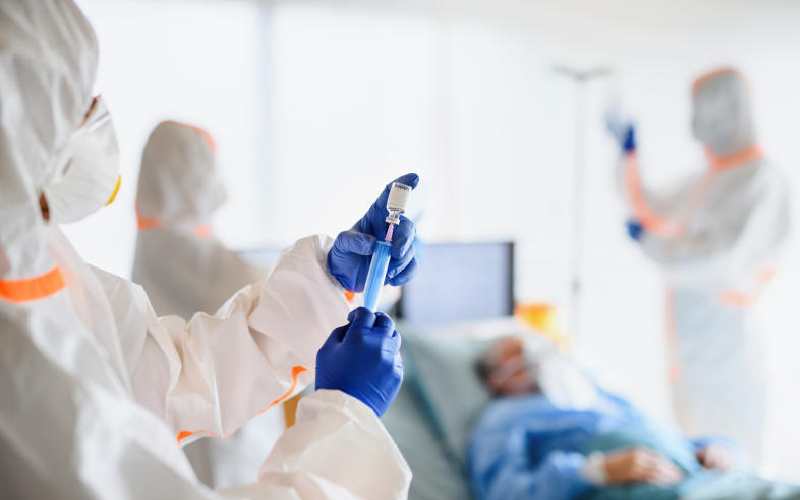 Lack of adequate infrastructure and human resource is derailing efforts to effectively fight Covid-19 in the counties.
Several counties are yet to meet the 300 isolation beds capacity target, set in July by President Uhuru Kenyatta.
A number of devolved units also lack supply of medical oxygen critical for survival of coronavirus patients.
Poor testing strategy, ill equipped laboratories, failure to conduct contact tracing and an overwhelmed healthcare system are hindering efforts to curb the spread of the virus.
Most counties collect samples that are then transported to laboratories in Nairobi while others are frozen due to backlog. Baringo and Kericho counties have been freezing samples due to backlog, raising questions on quality.
A medic in Kericho told The Standard that the county transports samples to Kenya Medical Research Institute (Kemri) in Nairobi, but there is a backlog of two weeks.
In Kericho, swabs for Covid-19 tests are extracted from patients, who present themselves to hospitals for documentation.
The samples are then stored in hospital freezers, as the county waits for way forward from laboratories for supply.
"Contact tracing and surveillance are ongoing, but now, we are not conducting tests. Those willing to have samples extracted are told they will have to wait longer," Dr Betty Lagat told The Standard.
Initially, the county used to take Covid-19 samples to Kemri Kericho and Kemri Centre for Disease Control in Kisumu, but the two laboratories have shortage of reagents and testing kits. A summit of the 47 governors and President Uhuru Kenyatta on November 4 resolved that counties ramp up preparedness.
Take a quick survey and help us improve our website
Take a survey
Specialised care
Baringo County has 70 isolation beds at Mogotio Sub County Hospital.
The county does not have Intensive Care Unit (ICU) beds for handling Covid-19 patients. There are only four ICU beds in Kabarnet Hospital for handling general patients.
"Though the beds are not specific for managing Covid-19 patients, they can be converted if need be, to save patients in need of specialised care," said the county epidemiologist Dr Robert Rono.
A doctor in Nyandarua County said they have 13 ICU beds and they buy medical oxygen from a private processing company in Nakuru.
The oxygen in cylinders are placed in JM Kariuki, Baboo, Ngano and Engineer hospitals that manage virus patients.
According to an October Covid-19 country preparedness and response audit by Kenya Medical Practitioners and Dentists Council (KMPDC) the country has 492 ICU beds, an increase from 319, from the audit of August.
However, the ICU beds are still low, as per the Ministry of Health recommendation of 663 to 796. Isolation beds across the country now stand at 11,513 from 7,612 documented by the council in August.
To properly manage symptomatic patients, the council projects additional 6,930 isolation beds, to bring the total to 18,443.
"The assessed national bed capacity is 11,513 beds plus the projected additional county bed capacity will boost the total capacity to 18,443," reads a report by the council chair, Dr Eva Njenga.
KMPDU representative in Central Region Dr Goody Gor said human resource is stretched in the fight against the pandemic.
She cited Murang'a County, which has 35 ICU beds but is only admitting 15 patients due to inadequate medics.
"The ICU unit is manned by two doctors only, forcing management to admit 15 only patients, at ago," she said.
On storage of samples, Dr Rono said samples collected are frozen at maximum standard temperatures and transported for testing when reagents are available in various laboratories.
End up mingling
"At times we collect samples from sick persons and their close contacts, but because of a challenge of releasing results, some end up mingling with the larger population, an issue that might affect containment measures already in place," said the epidemiologist.
A report on Covid-19 country preparedness and response by KMPDC has noted that most laboratories do not have adequate supplies.
"Lack of well-equipped, dedicated county lab services, reliable transportation, long turnaround time for sample collection and results, were seen as a weak link in the effective management of the pandemic," reads a report by council.
Related Topics